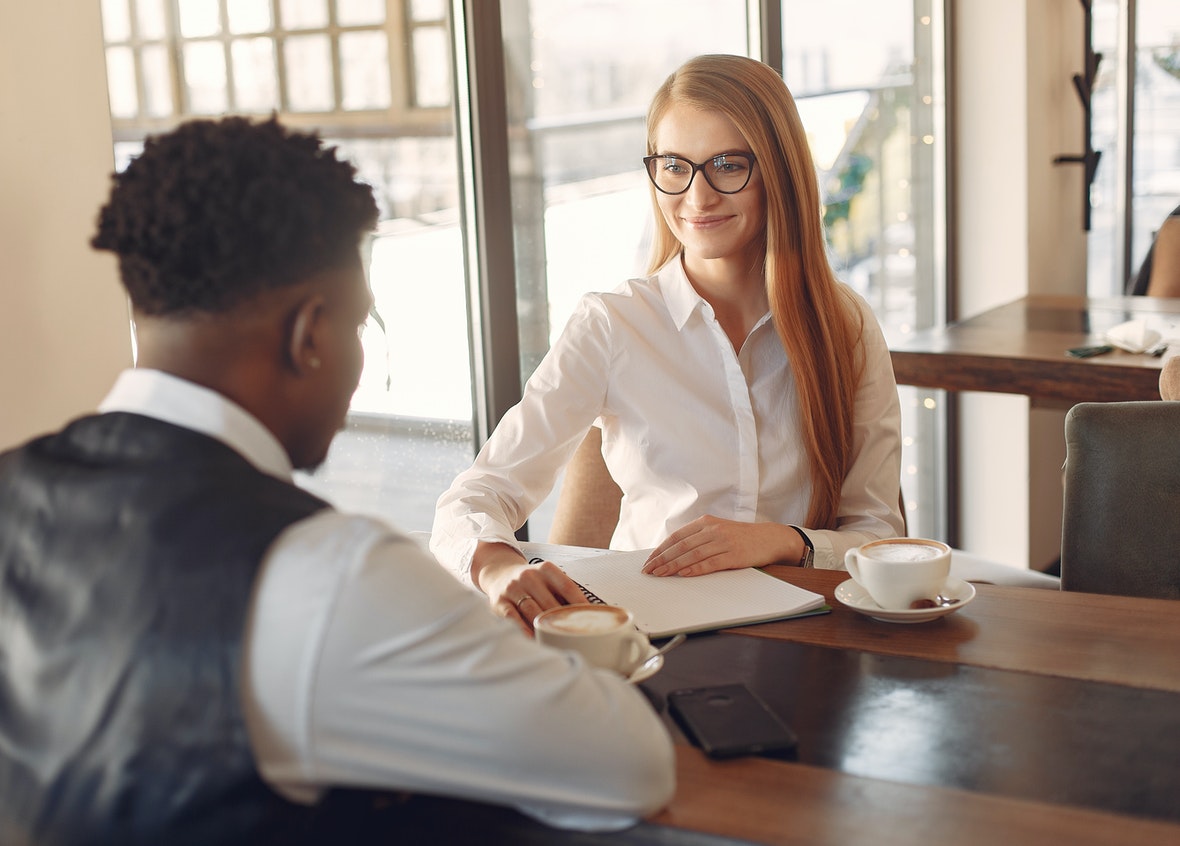 A personal profile is your chance to stand out from the crowd. It's your opportunity to tell a story about yourself and why you would be an excellent choice for a new job. The good news is that it can be easy with just a little bit of planning and creative thinking.
If you can learn how to write a CV Personal Profile, you'll never be left wanting in terms of getting a job.
What is a CV personal profile?
A profile is the first page of your CV. It's an introduction to your personal skills and achievements. It's incredibly important because it sets the scene for everything that follows, including your experience and education. Although it's a brief opening remark, you still need to ensure that you're noted as being someone who is strong-willed, has a positive attitude, and knows how to interact with others. Think of your personal profile as a small monologue. It's your chance to say who you are and what you want. You're going to be judged on the content of this page so pay close attention to what you write, even if it only takes a few minutes.
What do I need to share in my personal profile?
First, think about who is this CV for? Is it for an employer or a potential employer? If it's for an employer, make sure that the information is tailored to them. If it's for a potential employer, make sure that they know what your skills are and what you want to achieve.
Second, think about the job you're applying to. Think about cover letters and job advertisements (and the way that they're used). Make sure that your personal profile is consistent with this.
Third, think about yourself as a person. Once you've done this, consider what makes you different from other applicants? What sets you apart? This might be framed in terms of skills or personality or both. If you can answer these questions, it'll be easier to craft something that is concise and powerful.
How should I lay out my CV Personal Profile?
Try to keep it simple. Focus on the key skills and attributes that are most relevant to the job you're applying for. You can even tell a story about why you're suitable for the position. This is easy if you have a chronological format (it's basically a brief version of your CV).
If you have a functional format, it's still possible to tell a meaningful story. You might start by explaining what you achieved in your previous job or for your degree. Then, describe why you were able to achieve this (your skills and experience). Finally, think about how this relates to the role you're applying for now.
If you're starting to get lost, keep it simple, and don't try to over-think it. What you write will help show that you are friendly, hard-working, and responsible. It will show that you are ambitious and eager to learn.
Here are some tips for writing the CV Personal Profile:
Narrow down your skills and experiences to key points. These can all be in a list or bullets towards the end of your personal profile. But keep it simple and don't bore the reader with too much detail.
Speak to your current and former employers/colleagues. Ask them what impressed them most about you, what you did that worked well for them and what they'd like to see more of from you next time around. This helps draw on real-life examples of your skills and experiences.
It's best to be honest about the things that have gone wrong in your past but try not to dwell on the negative ones too much as those won't help you stand out from the crowd. However, it's important to be realistic about the kind and the quality of work you achieve.
Give a brief summary of why you're looking for a new job, what skills and experiences you have that make you a good fit for the role, what motivates you to succeed and what your objectives are. Then give links where they can be found.
Give details about any other voluntary or paid positions that show a mix of skills and experience. If you have used your skills and expertise to help those less fortunate than yourself then include these as well.
Be sure to include some personal details about yourself too, such as your hobbies, interests and any languages you speak fluently. If you have any special training or accreditations then make a note of those too.
Check out our examples of good CV template for your reference. Also use our free CV builder.
Finally, make sure that includes a little bit of luck and destiny on your side. Tell the reader what made you perfect for the job you're applying for and why they should hire you.
There are a few things to remember when writing your personal profile:
Don't be afraid to be creative in telling your story. It might just work to give the reader a little more information about you than they thought possible. If not, then it could just make you stand out from the crowd.
Be honest. Be truthful about your abilities and your past work. Don't try to cover up the things that haven't gone well or that you might not want to flaunt. If you're willing to take risks then this could just make you stand out from the crowd.
Be confident. Think about what makes you a great person and why others would want to be around you when they read your personal profile. Tell your story with conviction.
How long should my profile statement be?
If you're using a functional format, then it should be 1-2 pages (although it might be shorter if you're applying to a role that doesn't require much detail). If you're using a chronological format, then it should be the same length as your CV.
What is a CV Profile Statement?
A CV profile statement is a short statement that explains why you are applying for the role. The main purpose of a CV profile statement is to show the employer why you're especially qualified or skilled for the position. While your CV provides information about your work experience, education and training, and skills, your profile statement emphasizes the most important aspects of who you are as a person.
What should I avoid when I write a CV Personal Profile?
Don't ramble on in your personal profile about the job or the company or anything else unrelated to them. This will make you look confused and irrelevant. It will also make you seem arrogant or even disinterested.
It's also important not to try too hard to be something that you're not. If you're applying for a highly skilled position then put yourself forward as being highly skilled. Don't make it about things that are unimportant (like your nationality or your religious beliefs). Generally speaking, try to stick to the facts and avoid too much embellishment or exaggeration. Be honest and realistic above all else.
What else should I know?
One final thing to remember is that you can't change your personal profile once it's published. Make sure you are completely happy with what you write. That way, you can avoid a lot of stress and anxiety further down the line. This will ensure that you can then focus on the more important things (like actually getting the job).
If your CV template is well-written and your personal profile is well-crafted, then getting a job should be a relatively smooth process. It'll be a positive experience overall because you have proven to yourself and your new employer that you can do a great job. Good luck with the job hunt!
Check our absolutely free CV examples for your reference.
25+ Best CV Profile Examples:
Here is the list of best job-winning personal CV profile examples for your reference.
1. Student CV profile
Enthusiastic and hardworking freshly graduated accounting student with proven organizational and communication skills, who is able to take on any required task and adapt to changing conditions with a resourceful and hard-working mindset. My professionalism and accuracy are proven in numerous assignments and group projects throughout undergraduate courses and activities.

2. Customer service representative CV profile
Hello, good day! my name is Intan Ryan and I'm 26 years old. I'm about to finish my bachelor's degree journey in November 2019 and am about to seek a new job to gain experience. I am visionary, intuitive, emphatic, and creative. I have experience in retail sales and teaching experience during my internship. I hope my personality and experience fulfill the company criteria and love to see them during the interview. Thank you very much for spending time reading my humble introduction.

3. Customer success manager CV profile
Highly motivated Telco professional with excellent client oversight, issue resolution, and relationship-building skills. Seeking a career that is challenging & interesting and lets me work on the leading areas of technology, a job that gives me opportunities to learn, innovate and enhance my skills and strength in conjunction with company goals & objectives.

4. Human resource CV profile
I am highly motivated and goal-driven, competitive, flexible, resilient, focused on customer needs, team player with a proactive attitude. I'm looking for a next challenge in the field of Human Resources with scope for professional development.

5. IT CV profile
I'm a high-potential and high-achiever. I'm a fast learner and a motivated worker. I enjoy working autonomously and always produce the best possible work. I take on challenges head-on, challenge them first and then implement the solution. I am always able to make quick decisions in emergency situations.

6. Manager CV profile
I'm a hardworking leader who looks for opportunities to create more and better results, with creativity and teamwork. I'm passionate about my role as a leader and committed to providing high-quality support to my team. I've worked in many different roles across multiple sectors covering the full range of HR functions including recruiting, people, training and development, etc.

7. Sales CV profile
As a marketer, I'm able to create an authentic connection with my customers. I'm able to make them feel confident in my product and up-sell it in ways they didn't expect. As a sales professional, I am trained in the art of sales, negotiations, and problem-solving. I am also very determined; when there is a customer that requires help or assistance, I will find the best possible way to do it.

8. Accountant CV profile
I am a practicing accountant who has been working for many years in finance and taxation. I specialize in general accounting, taxation, payroll, and corporate accounting. I am a hardworking individual who is motivated to succeed. I have comprehensive knowledge and expertise in tax computation, accounting, bookkeeping, and reporting.

9. Marketing CV profile
I am an experienced and well-trained marketing professional. I am able to perform a variety of tasks in the marketing department including SEO, social media, advertising, copywriting, emailing, and so on. I have a wide range of skills from my experience and I'm looking to use them in a new role.

10. Doctor CV profile
I am a medical professional with vast experience in nursing, physiotherapy, and occupational therapy. I have over 3 years of working experience and have gained valuable expertise. I have worked in various regions including London, Manchester, Lancaster, and Durham.

11. Nurse CV profile
I am a committed and hardworking Registered Nurse with over 5 years of professional experience. I possess extensive knowledge of general nursing, clinical procedure, medical terminology, medical conditions, etc. I have numerous transferable skills from my work experiences and a variety of responsibilities.

12. Accounts Payroll CV profile
I'm a qualified accountant with over 15 years of practical experience in personal, company, and corporation accounts. I work with financial institutions and private clients as the main accountancy officer. I have multiple transferable skills such as creating balance sheets, profit-loss statements, tax calculations, etc.

13. Finance CV profile
I'm a trained professional in financial planning and financial investing. I've spent many years working in the finance field, gaining experience and being trusted by clients with my financial knowledge. I'm passionate about my job and look forward to doing more work.

14. Sales Executive CV profile
I am a committed and hardworking professional who has acquired practical experience in multiple roles such as retail, selling, B2B, and so on. I have a strong sense of communication skills and have the ability to present myself as open, friendly, and sincere; in other words, I can demonstrate my expertise in sales

15. Scrum Master CV profile
I am experienced in the field of scrum development and I have completed a task. I possess excellent judgment and analytical skills. I understand the role of a scrum master well and can demonstrate my knowledge through my work.

16. Digital Marketing CV profile
I am an experienced professional in digital marketing. I have a wide knowledge of SEO, SMM, PPC, and email marketing. I'm an expert at running affiliate campaigns and can handle a variety of tasks with ease.

17. School teacher CV profile
I am a top-notch graduate. I am passionate about teaching and believe that education is very important. I always try my best to deliver the highest quality of learning to my students.

18. Software engineer CV profile
I am an experienced developer with years of experience in web development; from front end to back end. My technical skills are strong; I'm able to create amazing and cutting-edge websites with ease

19. Web Developer CV Profile
I'm a Web Developer and I have the ability to create a variety of websites for all types of clients. I am an expert in front-end development, back-end development, user experience, design, and marketing.

20. Programmer CV Profile
I am a senior programmer with over 20 years of experience in the programming field. I've worked with many different languages including C/C++, Java, and JavaScript. I'm also experienced in MySQL, HTML5, and CSS3.

21. Data analyst CV profile
I am a professional data analyst. I have gained extensive experience in data mining, predictive modeling, and statistical reporting. I have a background in applied mathematics and statistics.

22. Server administrator CV profile
I am an experienced server administrator with over 15 years of experience. I have the ability to install and configure servers, networks, and other IT equipment such as switches, routers, and firewalls. I'm able to follow procedures, set up security policies, and maintain network settings.

23. System architect CV Profile
I'm an experienced program manager with a vast understanding of IT architecture. I've worked in multiple projects which required me to manage and administer complex systems"; from security policies, user authentication, data definition and archive, configuration management, configuration synchronization, and many others.

24. IT manager CV Profile
I am an experienced IT manager with over 15 years of experience. I have worked in various countries and have gained valuable knowledge; from the IT sector, business management sector, and the human resource sector. I have multiple transferable skills such as leadership, communication skills, and teamwork

25. Business analyst CV Profile
I am a highly targeted and dedicated professional. I work hard to fulfill all my duties with ease. I take pride in my work, I understand the importance of my position and I maintain a positive attitude all the time

Key Takeaways:
Write a polished professional profile
Review your accomplishments and experience
Add keywords to demonstrate your skills, expertise, and areas of expertise
Use formatting features for an eye catching resume
Make sure to include the name, address, and phone number
Make sure to provide a cover letter with your resume
Tweak or edit the resume throughout the review process – you only have one chance!