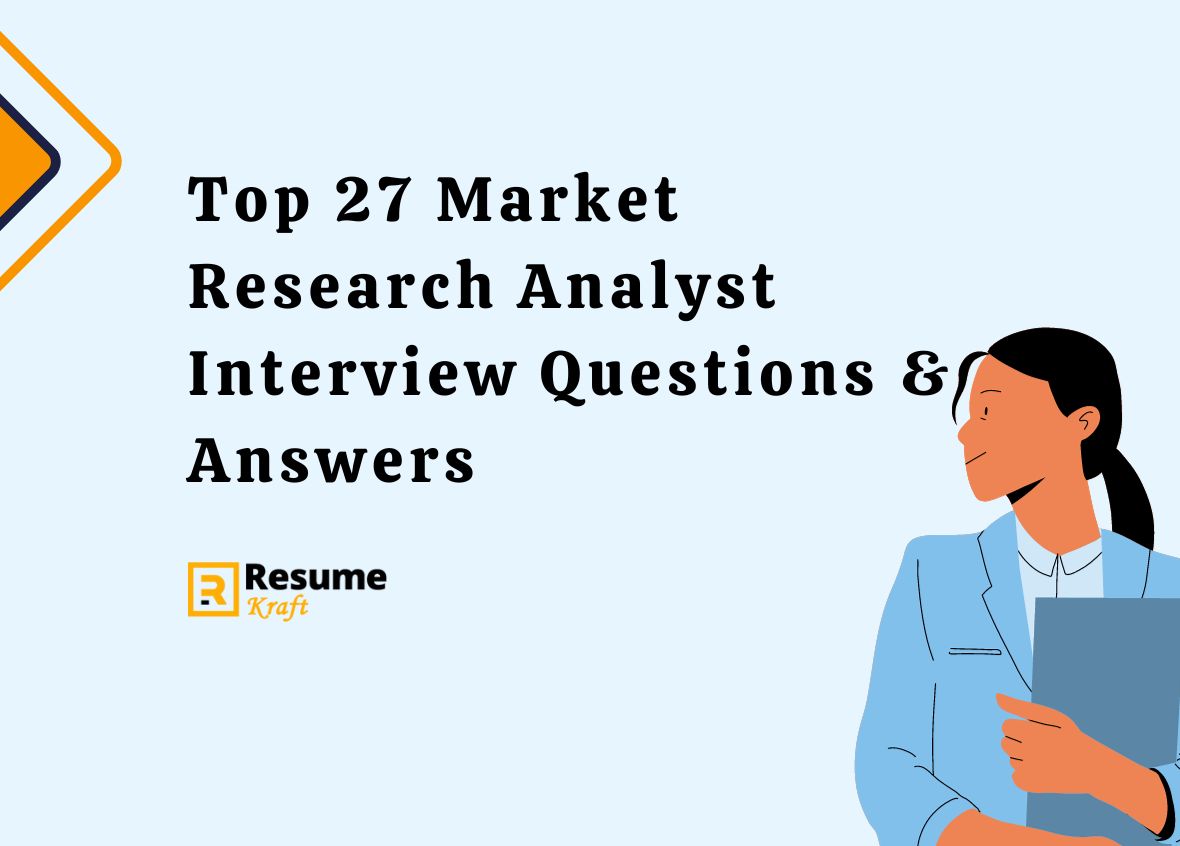 Embarking on a career as a market research analyst promises a future steeped in data-driven strategies and business insights. It is a dynamic role where one can carve out a niche, exploring market trends and translating complex data into actionable strategies. Whether you are a fresher or looking to transition into this role, landing a job in this sphere necessitates an ability to delve deep into the analytics while maintaining a finger on the pulse of the market landscape. We are setting the stage for your preparation with a deep dive into some of the most common interview questions you might encounter.
The interview is a critical stage in securing a job, and with the right preparation, you can face it with confidence. Market research analysts are in high demand as companies seek to leverage data to gain a competitive edge. With this article, we aim to provide a roadmap, a reference guide of the top 27 market research analyst interview questions accompanied by well-articulated answers, enabling you to steer your preparation in the right direction.
Top 27 Market Research Analyst Interview Questions and Answers (with samples)
Now that we've laid the groundwork, let's delve into the heart of the matter — the top 27 market research analyst interview questions that can aid you in presenting yourself as the most promising candidate. Each question is followed by a thorough explanation and a crafted sample answer to fuel your readiness for the big day.
1. What intrigues you about market research?
To answer this, showcase your genuine interest in the domain while emphasizing the critical role market research plays in business success.
Sample Answer
"I find market research fascinating because it is like solving a complex puzzle. It involves delving into vast amounts of data, identifying patterns, and synthesizing information to forge strategies that can drive a business forward. The dynamic nature of this field, where every project brings in a new challenge, is truly exciting for me."
2. Can you differentiate between qualitative and quantitative research?
This question aims to understand your knowledge about the fundamental methods used in market research.
Sample Answer
"Absolutely, qualitative research delves deep to understand the underlying reasons, opinions, and motivations, utilizing techniques like one-on-one interviews and focus groups. On the other hand, quantitative research quantifies the data and generalizes results from a larger sample population, primarily employing structured techniques such as online surveys and systematic observations."
3. Can you discuss a successful market research project you have handled?
Here, the interviewer is keen to learn about your hands-on experience in executing a market research project successfully.
Sample Answer
"In my previous role, I was involved in a project where we assessed customer sentiment towards a product overhaul. Through meticulous market analysis, and leveraging both quantitative and qualitative methods, we could garner rich insights. The final strategy which was derived from our findings was instrumental in guiding a successful product re-launch."
Build your resume in just 5 minutes with AI.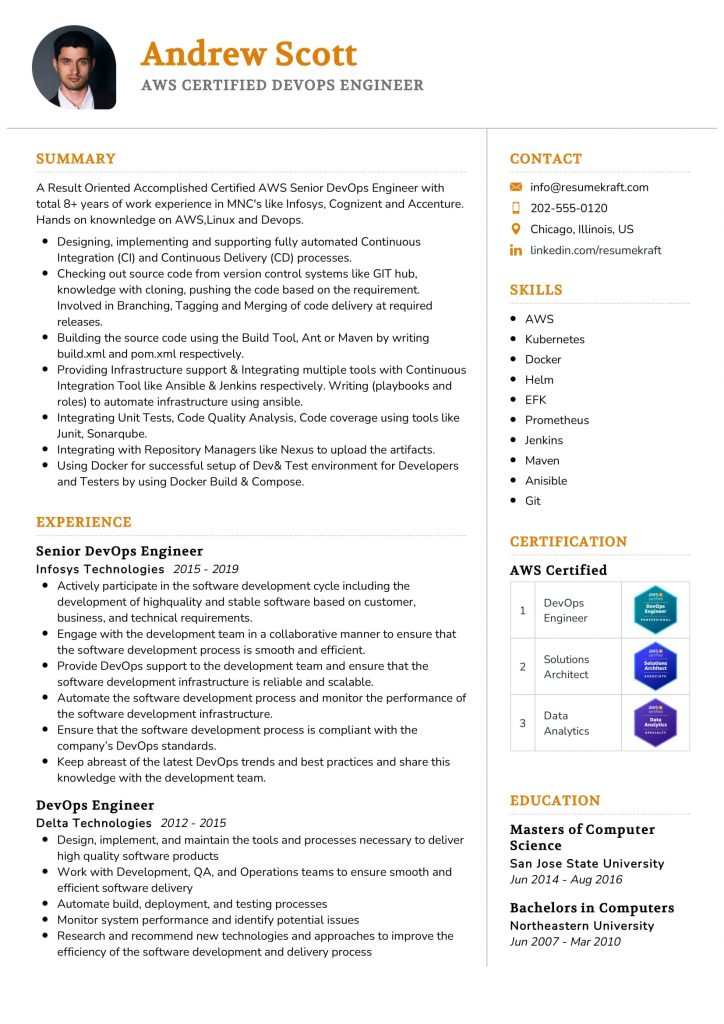 4. How would you deal with a situation where data collected does not align with the client's expectations?
Addressing mismatched expectations is a common scenario in research jobs. This question gauges your problem-solving abilities.
Sample Answer
"In such a scenario, I would ensure transparency and present the data as is, with a robust explanation of the methodologies applied. Sometimes, insights gained from unexpected results can be more valuable. It opens up a route to explore alternate strategies and viewpoints that the client may not have considered initially."
5. How proficient are you with data analytics tools and which ones have you used?
Market research analysts work extensively with data analytics tools. Hence, illustrating your proficiency in using these tools will stand you in good stead.
Sample Answer
"I am proficient with various data analytics tools such as SPSS, SAS, and Microsoft Excel. For instance, I have utilized SAS for predictive analysis, helping businesses to leverage data in foreseeing market trends. My experience with these tools ensures that I can hit the ground running in any market research environment."
6. How would you ensure the reliability and validity of the data collected?
Demonstrating your understanding of maintaining the quality of data is pivotal in landing a market research analyst job.
Sample Answer
"To ensure reliability and validity, I adhere to a systematic approach in data collection, emphasizing well-structured questionnaires and employing a balanced mix of open and closed-ended questions. Moreover, leveraging tools that allow for the elimination of biases and errors further aids in ensuring the data's reliability and validity."
7. How do you stay abreast of industry trends and developments?
Your answer should reflect your proactive approach to staying updated in a fast-evolving industry landscape.
Sample Answer
"I regularly follow industry blogs, webinars, and forums. I also subscribe to newsletters from renowned market research firms. Additionally, attending seminars and networking with professionals in the field provides a rich source of information and diverse perspectives on the evolving industry trends."
8. How would you approach a market research project with a limited budget?
Showcase your ability to optimize resources and still churn out quality results even when working under financial constraints.
Sample Answer
"Working with a limited budget necessitates creativity and precision. I would focus on utilizing cost-effective research methods like online surveys and secondary research
. Additionally, narrowing down the research scope to the most critical aspects can help in garnering substantial insights without overshooting the budget."
9. Can you explain the SWOT analysis and its significance in market research?
Illustrate your understanding of SWOT analysis, a vital tool in market research, by discussing its components and importance.
Sample Answer
"Absolutely. SWOT analysis involves evaluating the Strengths, Weaknesses, Opportunities, and Threats related to a business or a specific market. It is crucial as it provides a structured approach to understanding both internal and external factors that can influence the business, thereby aiding in strategic planning."
10. What are the key steps in developing a market research plan?
Delve into the strategic steps involved in constructing a robust market research plan, highlighting your knowledge and experience.
Sample Answer
"The foundational step is to define the research objectives clearly. Following this, we select the appropriate research method, design the research tool, and determine the sample size and demographics. Post data collection, the next steps involve data analysis, interpretation, and finally presenting the findings in a comprehensible format to facilitate informed decision-making."
11. How do you manage to maintain objectivity in your research?
In market research, maintaining objectivity is fundamental. Your answer should reflect your adherence to this principle.
Sample Answer
"Maintaining objectivity begins with the formulation of unbiased questionnaires, avoiding leading or suggestive questions. Additionally, while analyzing data, I make it a point to steer clear of preconceived notions, allowing the data to guide the conclusions rather than fitting data into predetermined outcomes."
12. Describe a situation where you successfully influenced a business decision through your research findings.
Showcase an instance where your research proved to be a cornerstone in influencing a significant business decision.
Sample Answer
"In my prior role, I spearheaded a market analysis project where we identified an untapped market segment. The insights derived from our research were pivotal in reshaping the company's marketing strategy, directing focus towards this new demographic, which eventually led to a notable increase in the customer base and revenues."
13. What are the most common mistakes to avoid in market research?
Illustrate your awareness of the pitfalls in market research and your strategy to avoid them.
Sample Answer
"One common mistake is not defining the research objectives clearly, which can lead to unfocused results. Another pitfall is relying excessively on quantitative data and overlooking qualitative insights, which offer depth and context. Also, ignoring the current market trends and not validating the collected data can result in flawed insights. I always ensure to steer clear of these mistakes by adopting a meticulous approach at every stage of the research process."
14. How would you handle conflicting feedback from team members during a project?
This question probes your conflict resolution skills in a teamwork setting.
Sample Answer
"In the event of conflicting feedback, I would arrange a meeting where all perspectives can be heard and discussed openly. I believe in fostering a collaborative environment where every team member feels valued. Through constructive discussion and leveraging collective intelligence, we can often arrive at a solution that is mutually agreeable and in the best interest of the project."
15. How do you prioritize tasks when managing multiple projects?
Demonstrate your adeptness in handling multiple projects efficiently by discussing your strategy for task prioritization.
Sample Answer
"I prioritize tasks based on the urgency and the impact it can have on the project's overall progress. Utilizing project management tools, I create a visual representation of all tasks and deadlines to keep track effectively. Regular communication with the team also aids in adjusting priorities as needed, ensuring smooth progress on all fronts."
16. How do you ensure data privacy and ethical considerations while conducting market research?
Highlight your commitment to adhering to ethical standards and ensuring data privacy in your research undertakings.
Sample Answer
"Ensuring data privacy is paramount. I strictly adhere to the legal frameworks governing data protection. Before collecting data, I ensure informed consent from participants, clearly stating the purpose of the research and how the data will be used. Additionally, employing secure data storage solutions and conducting regular audits are steps I take to uphold data privacy and ethical standards."
17. What strategies do you use to ensure high response rates in surveys?
Your answer should illustrate your strategic approach to garnering a high response rate in surveys, an essential aspect of market research.
Sample Answer
"To achieve high response rates, I focus on crafting concise and engaging surveys, avoiding overly technical jargon. Leveraging a multi-channel approach, such as online and telephone surveys, can also enhance response rates. Furthermore, offering incentives or expressing the value that the responses would bring to the study can encourage more participants to respond."
18. How would you assess the effectiveness of a marketing campaign?
Discuss the metrics and analytical approaches you would utilize to evaluate the success of a marketing campaign.
Sample Answer
"To assess a marketing campaign's effectiveness, I would focus on key performance indicators like engagement rate, click-through rate, and conversion rate. Analyzing the ROI (Return on Investment) is also a crucial metric. Besides quantitative metrics, gathering qualitative feedback through surveys or focus groups can provide a more rounded view of the campaign's impact."
19. How do you handle tight deadlines without compromising the quality of the research?
Illustrate your ability to work efficiently under pressure while maintaining the quality of the output.
Sample Answer
"Handling tight deadlines necessitates a well-structured approach. I begin by clearly delineating the tasks and allocating sufficient resources to each. Leveraging automation tools for data collection and analysis can also save time. Despite the pressure, I maintain a strong focus on the research objectives to ensure the quality is not compromised."
20. What, according to you, are the most critical skills for a market research analyst?
Share your perspective on the vital skills that a market research analyst should possess to excel in their role.
Sample Answer
"In my view, a market research analyst should have strong analytical skills to dissect complex data and derive meaningful insights. Moreover, excellent communication skills are essential to convey findings effectively. Being proficient in data analytics tools and having a knack for problem-solving are other critical skills that enable a market research analyst to thrive in their role."
21. How would you validate the results of a market research study?
Discuss the approaches you undertake to ensure the validity of a market research study's results.
Sample Answer
"To validate the results, I adopt a multifaceted approach, including cross-verifying the data through different sources and employing statistical methods to assess the reliability of the findings. Conducting pilot tests before the full-scale study and seeking feedback from peers in the field can also aid in validating the results."
22. Can you give an example of a time you identified a trend from your research data?
Showcase a moment where your analytical skills played a pivotal role in identifying a significant trend.
Sample Answer
"In a previous role, I noticed a recurring pattern in the customer feedback data, indicating a growing preference for eco-friendly products. Identifying this trend early on allowed the company to pivot its product development strategy, focusing on more sustainable options, which was well-received in the market, setting a positive trend in sales."
23. How do you keep yourself motivated during a long and complex market research project?
Demonstrate your strategy to maintain motivation and enthusiasm during lengthy and intricate market research
projects.
Sample Answer
"During long projects, I keep myself motivated by setting short-term goals and celebrating the milestones achieved. Regular team meetings to discuss progress and hurdles also foster a collaborative spirit, which is energizing. Personally, the thrill of unveiling insights and the impact it can have on a business's strategy is a significant motivating factor for me."
24. How would you adapt if asked to switch to a project in an unfamiliar industry?
Discuss your adaptability and readiness to delve into projects spanning various industries, showcasing your learning agility.
Sample Answer
"I view such opportunities as a learning curve. I would begin by immersing myself in industry-related literature, reports, and trends to build a foundational understanding. Networking with professionals in the industry and leaning on the expertise of my team members would also be a strategy I would adopt to swiftly adapt and deliver on the project's objectives."
25. Can you name some sources you would use for secondary research?
Highlight your resourcefulness in leveraging various sources for conducting secondary research.
Sample Answer
"Certainly. For secondary research, I often rely on governmental publications, industry reports, academic journals, and credible news outlets. Online databases like Statista and Google Scholar also offer a rich source of reliable data. Additionally, company websites and white papers provide insights into industry trends and competitive landscapes."
26. How do you handle feedback on your research findings, especially if it is critical?
Your answer should demonstrate your receptiveness to feedback and your professional approach to handling critical reviews.
Sample Answer
"I welcome feedback as it offers a fresh perspective and an opportunity for improvement. When faced with critical feedback, I take time to understand the concerns raised, analyzing it objectively without taking it personally. Engaging in a constructive dialogue to address the issues and willing to revisit the research process if necessary, helps in maintaining the integrity and quality of the research."
27. What do you believe is the future of market research?
Round off the series of questions by sharing your insights on the future trajectory of market research.
Sample Answer
"I envision the future of market research to be greatly influenced by advancements in technology, with AI and machine learning playing pivotal roles in data analysis, offering deeper and more nuanced insights. Additionally, I foresee a stronger focus on real-time data analysis, enabling businesses to make informed decisions swiftly, staying a step ahead in the highly competitive market landscape."
Conclusion
As we reach the conclusion of this comprehensive guide, we hope that it serves as a valuable resource in your journey towards becoming a market research analyst. The above curated list of questions and answers aims to equip you with the knowledge and confidence to excel in your interview. Remember, while these answers serve as a foundation, infusing your personal experiences and insights will undoubtedly leave a lasting impression on the interviewers. So gear up, and wish you all the very best in your upcoming interview.
Remember to utilize resources like AI Resume Builder, Resume Design, Resume Samples, Resume Examples, Resume Skills, Resume Help, Resume Synonyms, and Job Responsibilities to create a standout application and prepare for the interview.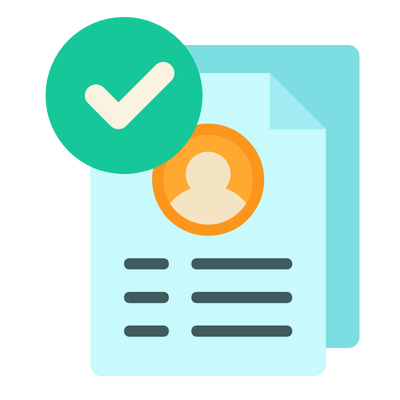 Build your resume in 5 minutes
Our resume builder is easy to use and will help you create a resume that is ATS-friendly and will stand out from the crowd.