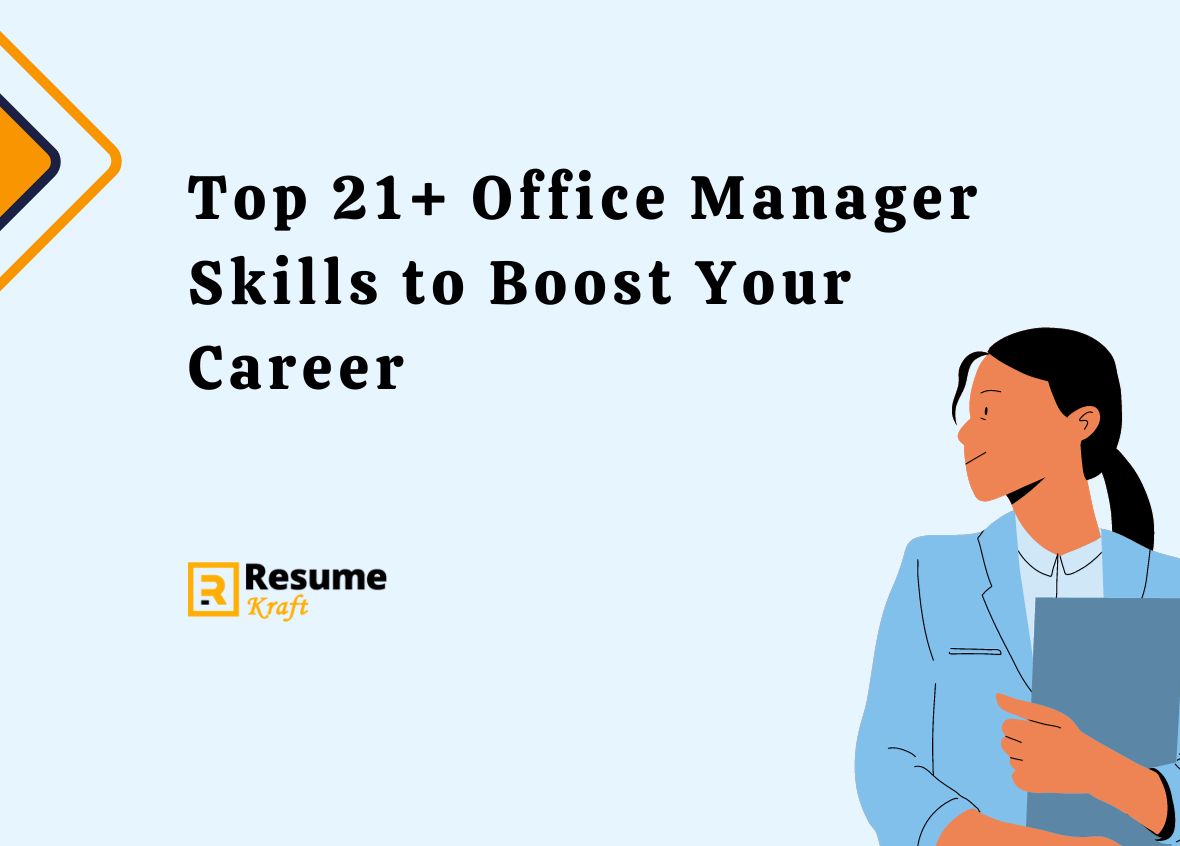 Office managers are the backbone of many organizations, ensuring that daily operations run smoothly and efficiently. Their role often includes a wide range of responsibilities, from administrative tasks to human resources, financial management, and more. The skills required for this multifaceted role are diverse and essential for success.
In this article, we'll explore the top 21+ office manager skills that can boost your career, whether you're an experienced office manager or aspiring to step into this vital role.
Top 21 Office Manager Skills for Your Career
1. Organizational Skills
Office managers must juggle various tasks and responsibilities. Strong organizational skills help in prioritizing tasks, managing time, and keeping everything in order.
2. Communication Skills
Effective communication with team members, executives, clients, and vendors is crucial. This includes both verbal and written communication, as well as active listening.
3. Financial Management
Managing budgets, handling invoices, overseeing payroll, and understanding basic accounting principles are often part of an office manager's role.
4. Human Resources Management
Office managers may be responsible for recruiting, onboarding, employee relations, and benefits administration. Understanding HR best practices is essential.
5. Leadership and Team Building
Leading a team and fostering a positive work environment requires strong leadership and team-building skills.
6. Problem-Solving Abilities
Unexpected challenges arise in any office environment. An office manager must be able to identify problems and implement effective solutions quickly.
7. Technical Proficiency
Familiarity with office software like Microsoft Office, Google Workspace, and specific industry software is often required to manage documents, spreadsheets, and presentations.
8. Customer Service Orientation
Whether dealing with clients, vendors, or internal team members, a customer service mindset helps in building positive relationships and handling inquiries or concerns effectively.
9. Attention to Detail
Accuracy in tasks like data entry, document preparation, and financial tracking requires meticulous attention to detail.
10. Adaptability
The office environment is dynamic, and an office manager must adapt to changes, whether it's new technology, company growth, or shifting priorities.
11. Conflict Resolution
Managing conflicts between team members or addressing employee concerns requires diplomacy, empathy, and effective conflict resolution skills.
12. Project Management
Coordinating projects, meeting deadlines, and ensuring that all aspects of a project align with goals and standards requires project management skills.
13. Vendor Management
Negotiating with suppliers, managing contracts, and ensuring timely delivery of products or services are part of vendor management.
14. Decision-Making Skills
Office managers often make decisions that impact the office environment, team dynamics, or budget. Sound judgment and decision-making skills are essential.
15. Multitasking
Handling various tasks simultaneously without losing focus or efficiency is a common requirement in the fast-paced office environment.
16. Knowledge of Legal Compliance
Understanding legal requirements related to employment laws, health and safety regulations, and industry-specific compliance is vital.
17. Networking Skills
Building and maintaining professional relationships with vendors, industry peers, and other stakeholders can provide valuable support and opportunities.
18. Creativity and Innovation
Finding new ways to improve office efficiency, motivate the team, or enhance client engagement requires creativity and innovative thinking.
19. Emotional Intelligence
Understanding and managing one's emotions, as well as empathizing with others, contributes to effective leadership and relationship building.
20. Sustainability Awareness
Implementing environmentally friendly practices and promoting sustainability within the office may be an increasingly important aspect of the role.
21. Continuous Learning
The office manager's role is ever-evolving. Engaging in continuous learning through workshops, courses, and self-study helps in staying abreast of new trends and best practices.
How to List Office Manager Skills on Your Resume
When listing your office manager skills on your resume, consider these tips:
Identify Relevant Skills: Analyze the job description to pinpoint the most relevant skills for the position.
Provide Specific Examples: Include examples of how you've applied these skills in your previous roles.
Quantify Achievements: Use numbers to demonstrate the impact of your skills, such as cost savings or efficiency improvements.
Use Action Verbs: Start each bullet point with a strong action verb to make your skills stand out.
For more guidance on crafting an impressive resume, explore resources like Resume Help.
How to Develop Office Manager Skills
Developing office manager skills can be achieved through various means:
Formal Education: Consider courses in business administration, management, or related fields.
On-the-Job Experience: Gain hands-on experience in administrative or managerial roles.
Professional Development: Attend workshops, webinars, and conferences to enhance specific skills.
Mentorship: Seek mentorship from experienced office managers or business professionals.
Jobs That Demand Office Manager Skills
Office manager skills are applicable across various industries and roles, including:
Administrative Manager: Overseeing administrative functions and support staff.
Executive Assistant: Supporting executives with scheduling, communication, and project coordination.
Operations Manager: Managing the day
-to-day operations of a business or department.
Office manager skills are versatile and valuable, opening doors to various career opportunities and growth. Whether you're an aspiring office manager or looking to enhance your existing skills, focusing on these key areas can significantly boost your career prospects. Check out Job Responsibilities for more insights into these roles.