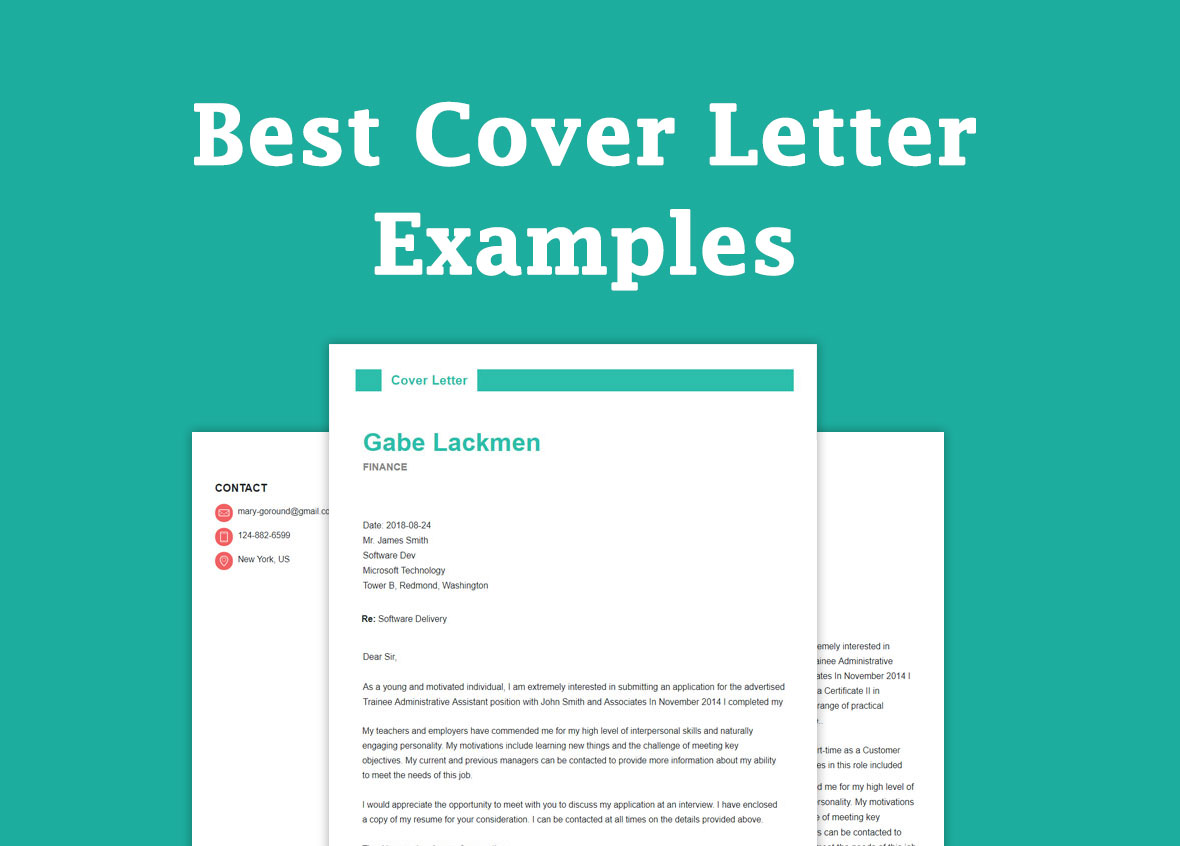 A cover letter is a key that unlocks the doors to your dream job and gets you started on your journey of building a successful career. It is the document that highlights your talents and demonstrates to prospective employers why you are a perfect fit for the position. The cover letter is your chance to woo potential bosses with your skills, abilities, and work ethic.
Everyone is always looking for a job, but not everyone gets an interview. If you don't have much experience, then you need to be sure you send the best cover letter possible and present yourself in the best way possible. The following are some of the best cover letters examples that will help land your dream job this year and beyond!
How To Write an Effective cover letters:
Start with an honest cover letter. Don't be afraid to share details about yourself and your skills in the cover letters you will write. Instead, be confident in your abilities and communicate much more than just what you are applying for.
Also prepare for your first job interview in the cover letter itself, as it is often the first impression an employer will have about you. If you are asked why you want the position then answer this question or it might make it look like that is what you are really after!
Focus on your own strengths, not on what they need from a new employee. Many employees pitch their strengths because they think that what they do for a living is the most important thing, but in fact, what you do matters only to you.
Put your writing skills to work in a cover letter. Did you write and publish a textbook recently, or maybe one of your own from scratch? it doesn't matter if it is fiction or non-fiction, but sharing your writing experience will give you an edge over the competition!
Know how to use grammar and speech words in the cover letter. Know that there are different kinds of letters that should be used at each stage of the hiring process, such as on-campus interviews, job applications, and cover letters to accompany these documents.
In some cases, you may not even get an interview from the cover letter that you are sending, but if it is well written and concise then you still have a very good chance! Focus on your accomplishments as a person rather than what your professional skills may be.
It is also important to use a standard business format when writing your cover letter. This will provide the potential employer with a template of exactly what they should be looking for in applicants.
Check our article about how to start a cover letter.
Elements of a cover letter:
The normal cover letter contains the following elements:
The salutation is the first thing to appear in a cover letter, and should be used to let the individual know how you are going to address them. Although formal protocol would dictate using Mr., Mrs., Dr., or Ms. before the salutation, you should avoid this, since it will only act as a deterrent to the person that you are trying to impress.
The first paragraph, or opening paragraph, should include a strong note about why you are writing the letter. This is known as your "hook" and it should be used to grab the reader's attention immediately. You can use it to highlight a personal experience with them or something that they did that stood out for you in some way.
The second paragraph or body of the letter is where you focus on the job that you are applying for. You can expand on the job description, adding any additional information that you may feel is relevant to your application.
The third paragraph is a good place to talk about your skills and qualifications in relation to the job opening. You can also use it to discuss why you would be a good fit for that particular position.
The final paragraph, or closing paragraph, should always thank the individual for taking the time to read your application and offer any additional information that they might need from you in order to make their decision.
How to Format a Cover Letter?
Here is the best format guideline to follow:
Fonts:
Most hiring managers prefer to read cover letters that are only on one page, and as such, you should try to keep the letter to half a page at most. When preparing your cover letter, you should use a simple yet well-known font such as Times New Roman or Arial.
Avoid using fancy fonts or ones that appear difficult to read. Fancy fonts can also be distracting to a reader and may cause them to lose focus on the actual content of your cover letter.
Try not to use any color in your cover letter or avoid it altogether if possible. If you do choose a colored format, then you should use it sparingly and only for headings that stand out more than the body copy of the letter.
Spacing:
The spacing between the lines of a cover letter is very important, as it can break up the letter and make it much easier to read. Try to leave about one and one-half line spaces between each paragraph in your cover letter.
This will give you more room to have more paragraphs without giving the appearance that your letter on top of itself or looks crowded. It also allows for a quick glance at any section of the letter to get an idea of what part it covers without having to read through the entire thing.
Use a single space after each sentence with no additional spacing before or after any sentence or paragraph in a cover letter.
Length:
Your cover letter must be no more than one page to be successful. Never use more than one page in length for a cover letter.
Use about one and one-half paragraph spaces per line in your cover letter, which will allow you a little more room if you have additional content than is typical.
You should also avoid long paragraphs or anything that is too wordy and will make it difficult for the person reading your letter to see what you are trying to say without skipping too much content. Use bullet points and short sentences whenever possible to maintain easy-to-read writing that is professional.
Margins and alignment:
The margins that you use in your cover letter should be one inch on all four sides of the page. This makes your cover letter look more professional and well put together.
The alignment that you use for a cover letter should always be centered so that the content is easier to read and the appearance looks much better as well.
Never left-align or right-align a cover letter since this makes the text flow in odd ways that are difficult to read. Choose a center alignment every time for ease of reading.
Cover letter format example:
Here is a cover letter format example.
James Dow
(12) 345-678910210
james.dow@email.com
January 22, 2022
Dear Ms. Joy Smith,
I am writing to you about the Sales Manager position at ABC Company. I am a recent graduate with strong experience in sales and marketing and I am interested in this exciting career opportunity.
I am a hard-working and enthusiastic person that is looking for a company that shares my interest in helping customers. You can see from my resume how my skills will contribute to your sales department, but I would also like to share some of my personal strengths with you as well.
At high school, I was captain of the basketball team and led us to two State Championships. After graduating, I went on to play for the University of Georgia Bulldogs where I was named player of the year for three seasons in a row. I was also named to the All-American team for three years as well.
I believe that passion for success and the ability to inspire a team are essential skills for any manager. I think you will find that my resume shows that I have these attributes and more.
Thank you for your time and consideration. I hope to speak with you soon and tell you more about how I can help increase sales at ABC Company.
Sincerely,
James Dow
Cover letter examples: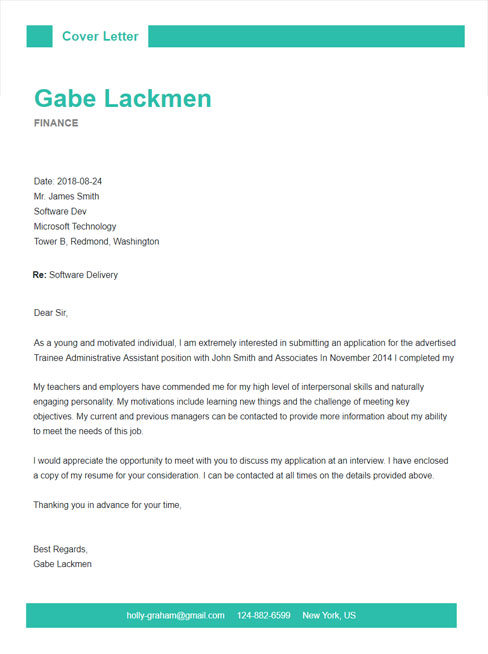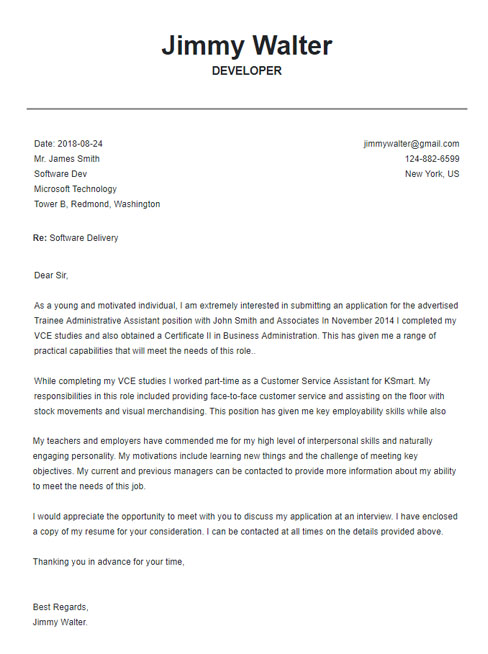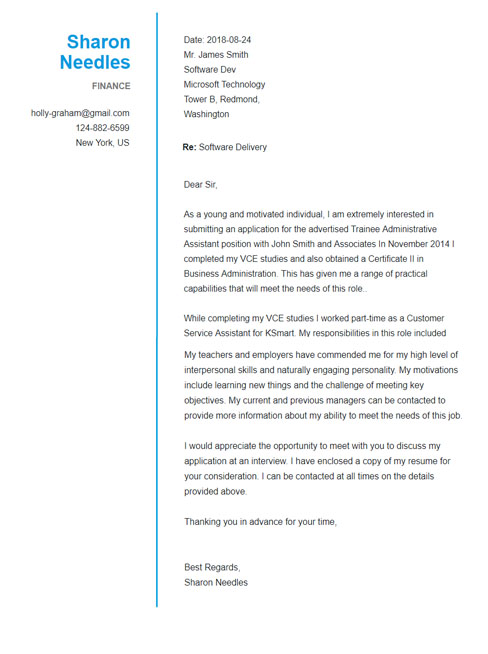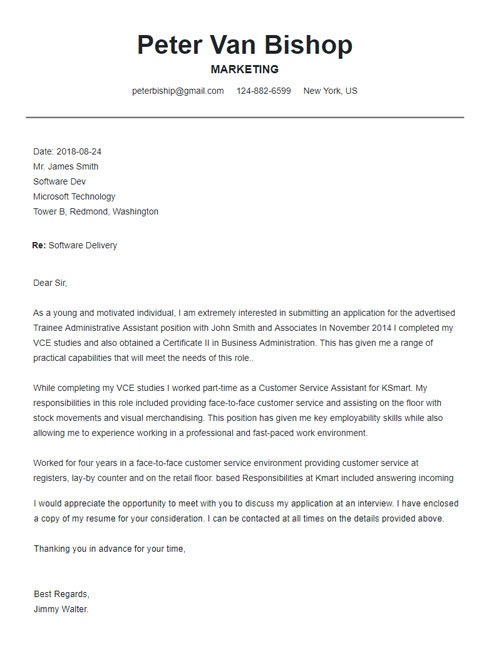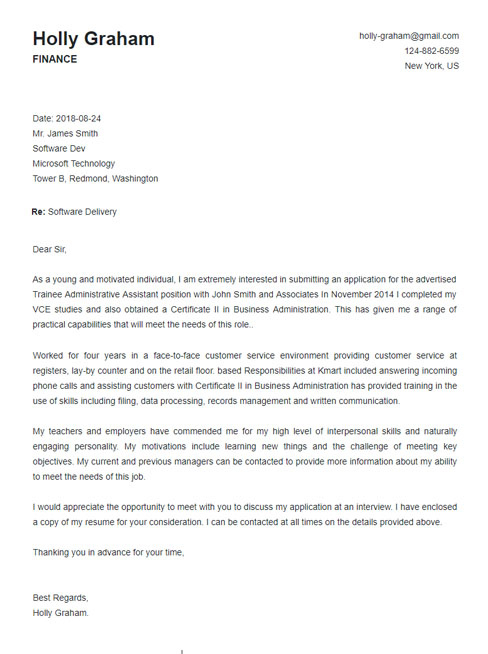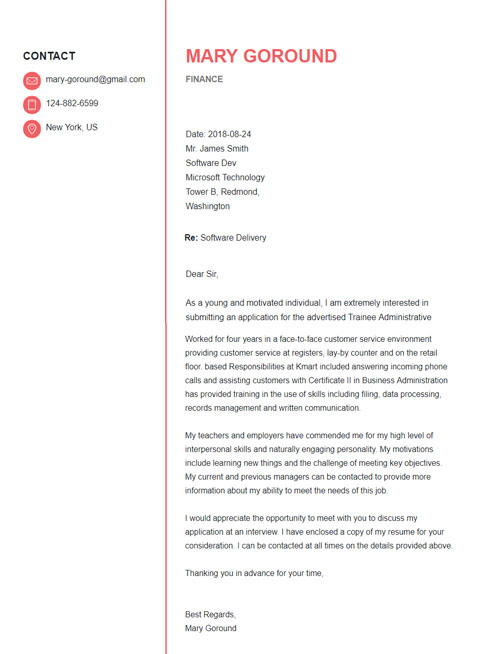 Recommended Reading: