A financial analyst is a professional who performs financial analysis, which is a type of work that is concerned with forecasting financial performance and managing financial risks. Financial analysts are employed in a variety of industries, including banking, insurance, accounting, and investment.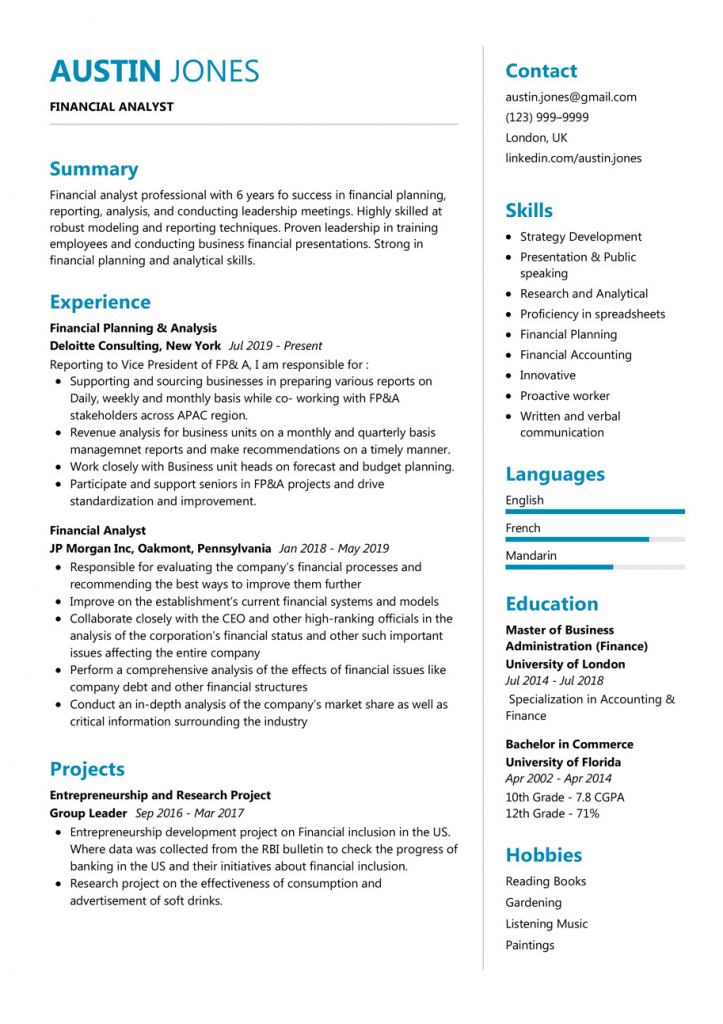 How to list Financial Analyst Skills on resume:
The skills section is one of the most important parts of your resume. It is where you can show potential employers that you have the skills and abilities they are looking for in a financial analyst.
There are two main types of financial analysts: buy-side analysts and sell-side analysts. Buy-side analysts work for organizations that purchase securities, such as mutual funds, insurance companies, and hedge funds. Sell-side analysts work for organizations that sell securities, such as investment banks and stockbrokers.
Financial analysts use a variety of tools to perform their analysis, including financial statements, spreadsheets, and statistical software. They also use their knowledge of economics, accounting, and finance to interpret this data and make recommendations to their clients.
The job of a financial analyst can be both challenging and rewarding. It is a challenging job because it requires a great deal of analytical and critical thinking. It is a rewarding job because it can be very financially lucrative and it can also lead to a career in finance or investment.
Top 20 Financial Analyst Resume Skills:
Soft Skills:
Communication
Critical Thinking
Interpersonal Skills
Organizational Skills
Problem Solving
Time Management
Writing
Hard Skills:
Accounting
Economics
Financial Analysis
Financial Modeling
Excel
Investment
Management
Marketing
Mathematics
Project Management
Real Estate
Research
Statistics
Jobs That Demand Financial Analyst Skills:
Financial Analyst
Investment Banker
Financial Planner
Accountant
Auditor
Budget Analyst
Business Analyst
Economist
Financial Manager
Loan Officer
Portfolio Manager
Risk Manager
Stockbroker
Tax Examiner
Tax Manager
Treasury Analyst
Venture Capitalist