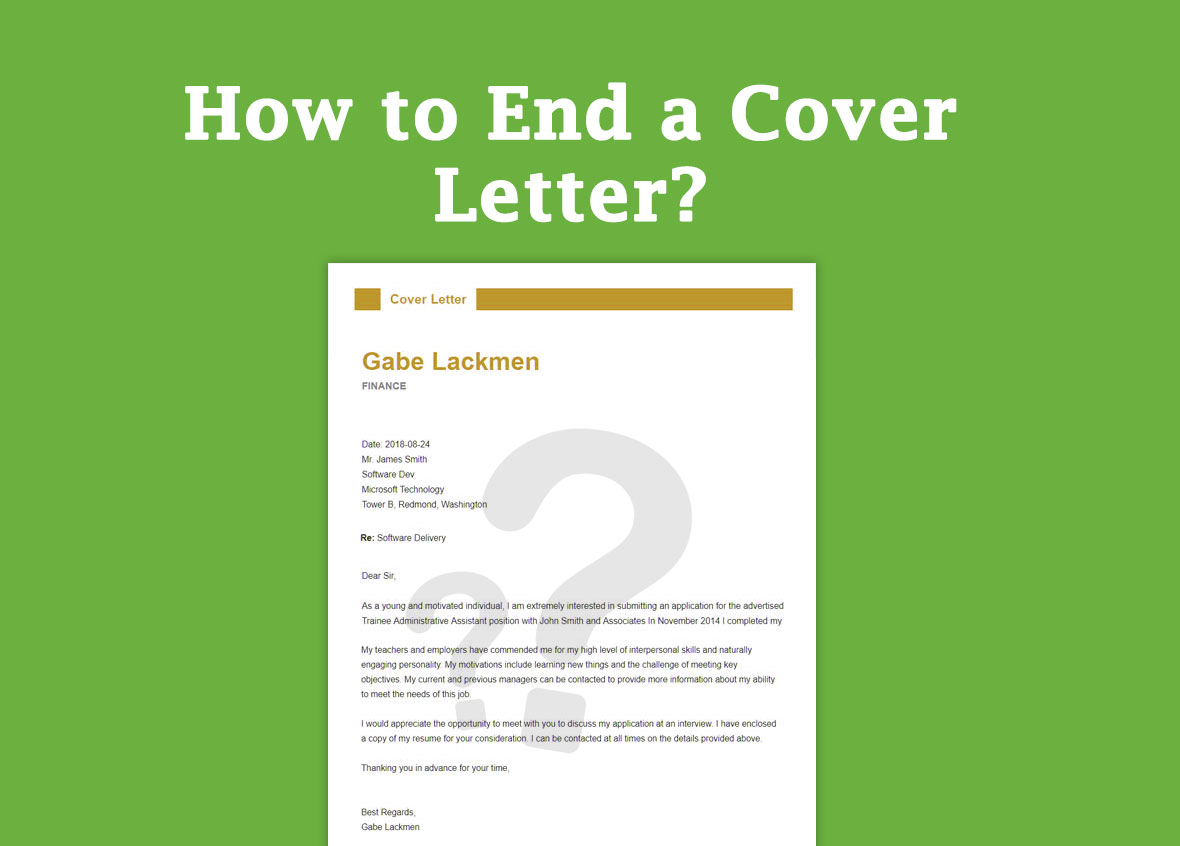 Finishing the cover letter is as important as starting it. You need to provide information about your availability, salary, and anything else that doesn't fit in the introductory paragraphs. In addition, you should end on a firm note that leaves the employer wanting to contact you further.
The most important thing to remember about the end of your cover letter is to remain professional. Don't get too excited, and don't make any unnecessary personal comments.
It's also okay if you repeat yourself a bit and include the same information you did in the introductory part of your cover letter. This is particularly necessary if you're emailing your application and are unable to include anything else with it.
(Remember that you need a complete cover letter even when e-mailing your application. It's best to include it as an attachment. See Writing an Effective Cover Letter for more information.)
If you're mailing a hard copy of your cover letter, you should reiterate the date and your contact information right next to your typed signature. Include this information below or above the signature line.
Whatever method you use to send your cover letter, be sure that everything is consistent. Don't end on a personal note, and don't add any other information that isn't related to the purpose of your letter.
There are also many cover letter examples that show how to end a cover letter properly. These include how to end a cover letter using both e-mail and paper. You should be familiar with some of these before you start writing your own cover letters.
Here is a list of ways to finish your cover letter:
Here are some more reasons why I am uniquely qualified for this position: (Provide examples)
"I look forward to hearing from you about the next steps in the process.."
"I would appreciate the opportunity to discuss my development and future goals in more detail."
"My goal is to increase my knowledge and skills, as well as grow professionally."
"I look forward to receiving additional information from you, so I can better understand how I may be a good fit for this position."
"Thank you for your time."
"Yours truly"
"I believe that my strong communication skills, as well as my proficiency in writing, will be an asset to (Swami Corp). Please contact me at (my contact information) to discuss further. I look forward to hearing from you. Thank you,"
Things to taken care before ending the cover letter:
Here is the list of things that you need to take care of before sending the cover letter.
Contact information
Add any contact information that you feel will help the hiring manager get in touch with you if they choose to do so. You can include an email address or a mailing address in case they want more paperwork from you.
Time frame
It is not uncommon for a company to ask for the applicant's availability during certain time frames in order for them to get back with an interview time. This will be discussed in more detail in the hiring manager's section so make sure you have any information or details that they may need to see while you are applying for the job.
Sincerely
Ending with a sincere thank you to the reader for taking the time to read your letter is a must. Even if your cover letter doesn't get you an interview, it makes you stand out as a professional to show your appreciation for someone else's time.
Thank you
A closing of the letter with a thank you will also do wonders for your resume and in-person interviews because it shows your follow-through skills and professional attitude.
Conclusion
Before you put away your pen and close the cover letter, it is important that you put some thought into the conclusion. Don't just write that you are done writing because it may make them wonder what else you have to say. Write a conclusion that will shock them and leave them wondering how in the world could someone be so amazing and great at what they do. You want to make them want you to come in for an interview.
Personalization
Finally the most important part of any cover letter: personalization. Make sure that you are addressing the letter to a specific person and not "To Whom It May Concern." Be sure to do your research on the company and see who the hiring manager is so that your letter is tailored specifically to that person's needs and wants.
Examples of How to End a Cover Letter:
"I am interested in this position due to my previous experience in the field. I have recently attended a management training program with a mentor and gained confidence in my ability to lead and help others succeed. I have also worked on personal projects that have helped me learn real-life business skills."
"My experience working in a customer-support company prepared me for this job. During my time, I learned how to work in a team environment and I was able to develop new skills that will help me excel at my new position."
"I would like to take this opportunity to thank you for your time and consideration. I look forward to hearing back from you soon."
"Thank you for the opportunity to apply for this position, and it was very thoughtful of you to consider me. I can promise you that I will work hard and show my best self at all times. I am looking forward to hearing from you soon."
"Let's discuss my potential. I have six years of experience working in the field of health care marketing and I've completed a sales internship at a law firm that deals with corporate health care benefits. My most recent position was with the Marketing Director for our hospital, and as part of my job there, I conducted market research on patient demographics for their marketing campaign."
Key Takeaways:
A cover letter needs to be personalized. You want it to sound like you are speaking one-on-one with the hiring manager in order to get hired for the job.
Proofread your cover letter thoroughly before sending it out. There are many free tools online that will help you check for mistakes or typos before sending it off to a hiring manager.
Don't just simply relay the information found on your resume. Make the cover letter an extension of it.
Let hiring managers know what you will bring to the table so they can make an informed decision on whether or not they want to bring you in for an in-person interview.
Recommended Reading: