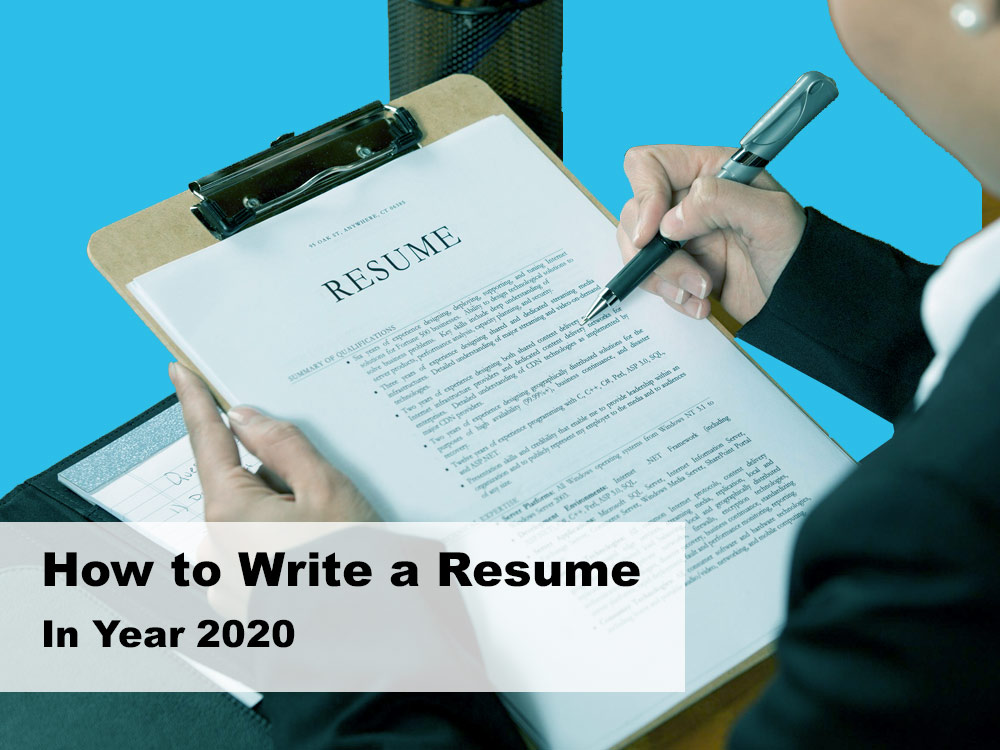 How to Write a Resume in 2023?
So, you want to write a resume but you aren't entirely sure what it's supposed to contain, exclude or even look like. Don't worry, you aren't alone. Without question, learning how to write a CV is an art form, but the good news is that it can easily be taught.
Resume Format
The first thing that you are going to have to do is to determine the resume format. There are three options that you choose from. These are:
Reverse chronological: The most common format, focuses on listing your work experience, education and awards in reverse chronological order. This is often recommended for those who are specifically looking to display their ability to progress through job pedigrees or job titles over time.
Functional: When you are applying for a specific job where skills and awards become especially important (and need to be expanded on), a functional resume focuses its goals on that. This relates most to those higher tier jobs or those with professional, high-level skills that are relevant. This is also helpful if you don't have a lot of job experience or change jobs frequently.
Combination style: Want a little bit of both? Take it with the combination style. This still highlights skills and high-level training right at the top, but it also leads to ample space for previous work experience and related education.
Contact information
Now that you've got the right style picked and you understand how to set it up physically on the page, you should start, filling in the sections. You'll want to include contact information. This should include your phone number, civic address, email, social media accounts, and a portfolio, where relevant.
Create your professional resume for free using our resume builder!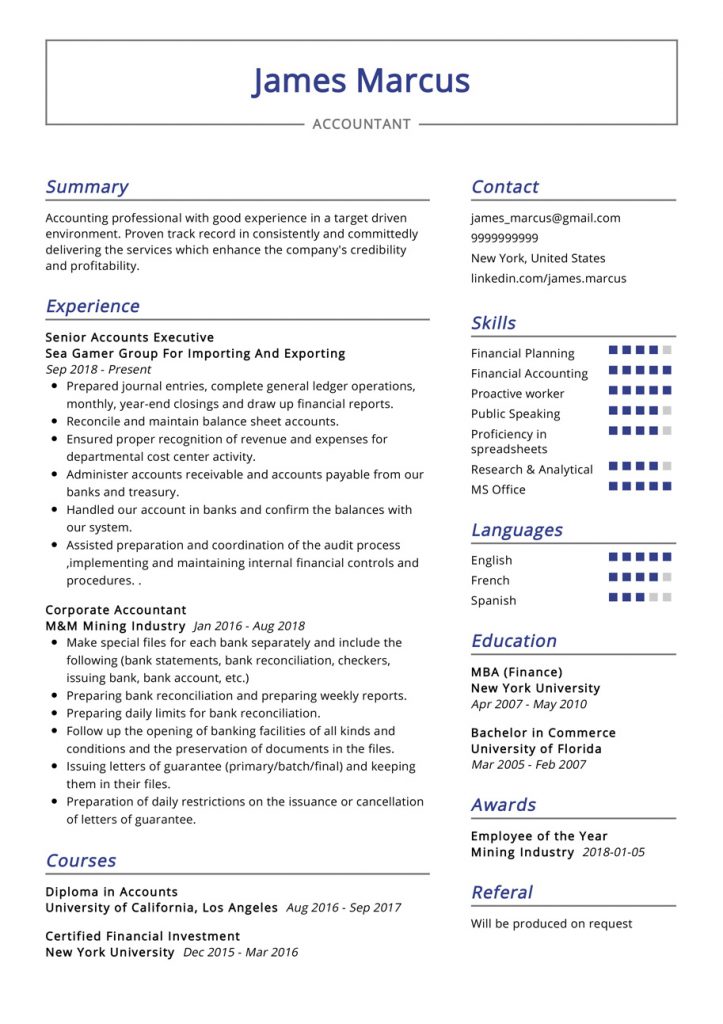 Write an introduction
This is entirely different from a cover letter. This is a succinct and focused introduction to your resume itself. It could be a qualifications summary (a spot in which you list your relevant and high-level qualifications specific to the job), a career objective (what you want to accomplish in the position itself), a combination of the two, which is called a professional profile (this involves writing about your related qualifications and how they'll help you to achieve your goals for the job position), or a resume summary. This will focus on your main job-related successes, ideally using your qualifications to do them. It's important that these should be easy to verify as successful (ie: quantifiable).
Create a section for relevant work experience
While the reverse-chronological format of your resume implies that you must list every job you've ever had, this is not always the case. Try to focus on picking only relevant work experience when you create this section. To put it simply, a professional employer is not going to care if you were a pizza delivery person 10 years ago (unless you're applying for a related job, of course).
Carefully choose and refine (as needed) your relevant work experience section so that it is professional and properly outlines your job positions within the jobs themselves (this can be in bullet point form or just a few lines of prose).
Focus on professional education
In your education section, you can do away with your high school or other standard educational achievements. You'll want to build your resume into a professional one, and that means focussing on high-level education. This should include university or college and outline any degrees and other academic achievements (including your GPA) that you have.
Check our Free resume builder now.
Spend time on both soft and hard skills
In the section where you are listing your skills, you'll want to have a nice mixture of soft (organizational skills, trustworthy, empathetic, etc) and hard (multilingual, CMS experience, bookkeeping, etc) skills to show that you are well-rounded and, of course, multi-talented. It also shows that you know the importance of both kinds of skills.
Don't forget awards and certifications!
There's a lot of competition for the job that you are applying for, so make sure that you leave time and mental effort for the section with awards and certifications. This could include details such as CPR or First Aid, or it could refer to publications or even industry-related awards. These details will help your potential employer know that you not only have the experience, you are also good at what you do and that you aren't afraid to show it.
Make it look pretty
Yes, it may be superficial, but looks to matter on a resume. Have it organized with proper margins, font, size, and color (or lack there-of). Add in lines (ie: eye breaks) to section up your resume and show that your areas and sections are all organized efficiently. This will also make it easier for the eye to skim if needed.
Proofread, proofread, proofread
If you want a job-winning resume, make sure you triple and quadruple check your resume for typos, errors or mistypes. Even the smallest one could be enough to cause a potential employer to go with someone else instead. It seems harsh, but it is the reality.
This also applies to proofread the job application as well. Has the employer asked for references? If so, make sure there is space for them. Has the application specifically requested (or specifically not requested) a cover letter? All of these details should be checked several times so that you aren't carelessly handing in a resume that isn't focused on what the employer has expressly asked for.
Frequently Asked Questions
What should be included in a resume?
The answer to this question will depend on the person's individual career goals and experience, but there are some common elements that are generally included in most resumes. These can include:
1.Contact information (name, address, phone number, email)
2. A brief summary or objective statement
3. A list of skills
4. Work experience
5. Education
6. Other relevant information (such as awards, publications, or professional memberships)
What are some common mistakes people make when writing a resume?
Some common mistakes people make when writing a resume include:
1. Including too much or too little information
2. Failing to proofread and edit the resume
3. Using outdated information or slang
4. Making the resume difficult to read or understand
5. Including irrelevant information
How can I make my resume stand out?
There are a number of ways you can make your resume stand out from the competition. Some tips include:
1. Using a professional and easy-to-read font
2. Making sure the layout is clear and easy to follow
3. Highlighting your most relevant skills and experience
4. Using strong action verbs to describe your accomplishments
5. Avoiding mistakes and typos
What are some tips for writing a great resume?
Some tips for writing a great resume include:
1. Keeping it concise and to the point
2. Highlighting your most relevant skills and experience
3. Using strong action verbs to describe your accomplishments
4. Avoiding mistakes and typos
5. Making sure the layout is clear and easy to follow
6. Asking someone else to proofread your resume
What's the best format for a resume?
There is no one "best" format for a resume, but there are some common formats that are generally used. These include chronological, functional, and combination resumes.
How long should a resume be?
Most employers prefer a resume that is one to two pages long.
What's the difference between a chronological and a functional resume?
A chronological resume lists your work experience and education in reverse chronological order, with your most recent experiences and achievements listed first. A functional resume, on the other hand, emphasizes your skills and abilities rather than your work history.
Conclusion
There is a lot of competition out there that is going to be applying for the job that you want. When you want to make sure that our name stays in the running and that you will, ideally, get the position at the end of the interview process, a professionally designed and accurate resume is going to be a huge stepping stone that should not be overlooked. These tips will help you get that resume up to date, looking great, and ready to be submitted for your dream job when it comes up for a new placement.
Check our Free resume builder now.