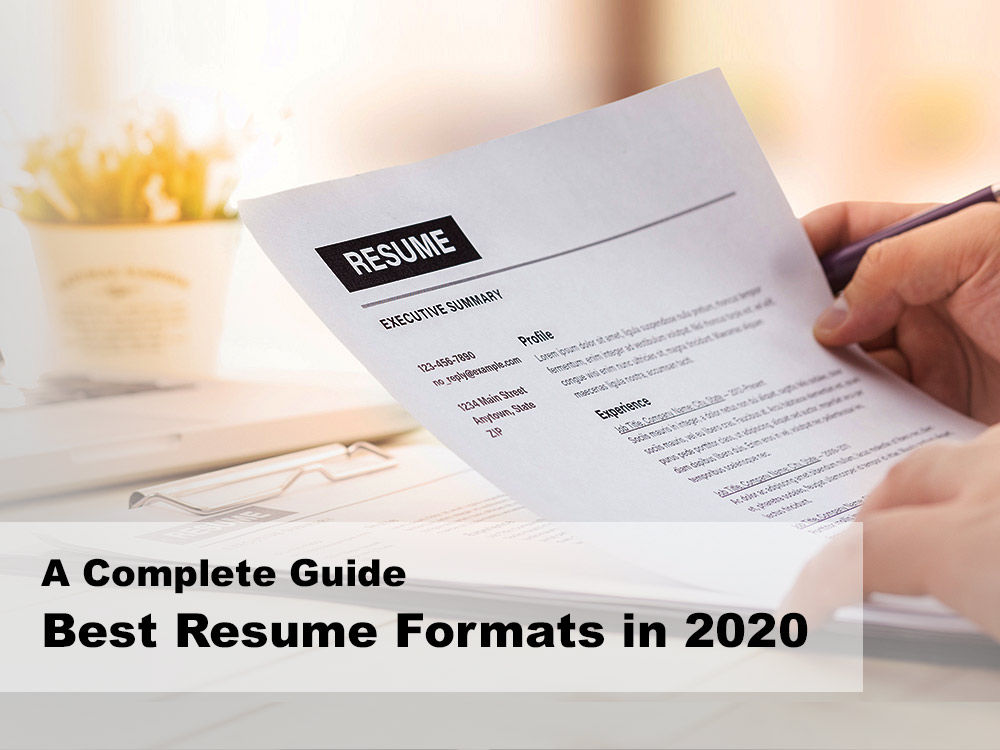 Best Resume Formats in 2023
When you apply for a job, the way that you design and format your resume are going to matter as much — if not more than — the resume contents itself. Sometimes, you'll want to even adapt the resume style to suit the job that you're applying for. Sure, it's a pain, but showing that you are the right candidate for the job is the most important thing, right? Here's what you should know about resume writing.
Three professional resume formats
There are quite a few resume formats out there, technically, but these are the most common and professional options that you will find specifically for job hunting in 2021.
Chronological: This can refer to either chronological from the first job to last, or reverse chronological which puts your most recent job first, and works backward. As far as preferences are concerned, most resumes should be in reverse chronological order, including education. This puts the focus on the positions that you've worked before now and your education as well. Its purpose is to prove that you do have work experience and you've successfully held jobs for longer than 6 months.


Functional: This kind of resume is more about what you're actually putting on the resume as far as details and content. This design focuses more on the skills and abilities that you possess and that are considered to be relevant to the job for which you are applying. While your work history is still present on this resume, it's considered to be less of a central focus. You can check more details of functional resume formats with writing guides and tips.


Combination: This last resume format is a combination of both chronological and function to take advantage of both format advantages and minimize both format disadvantages as much as possible. It combines the relevance of the functional resume with the reminder of successful work experience that comes from a chronological resume.
Create your professional resume for free using our resume builder!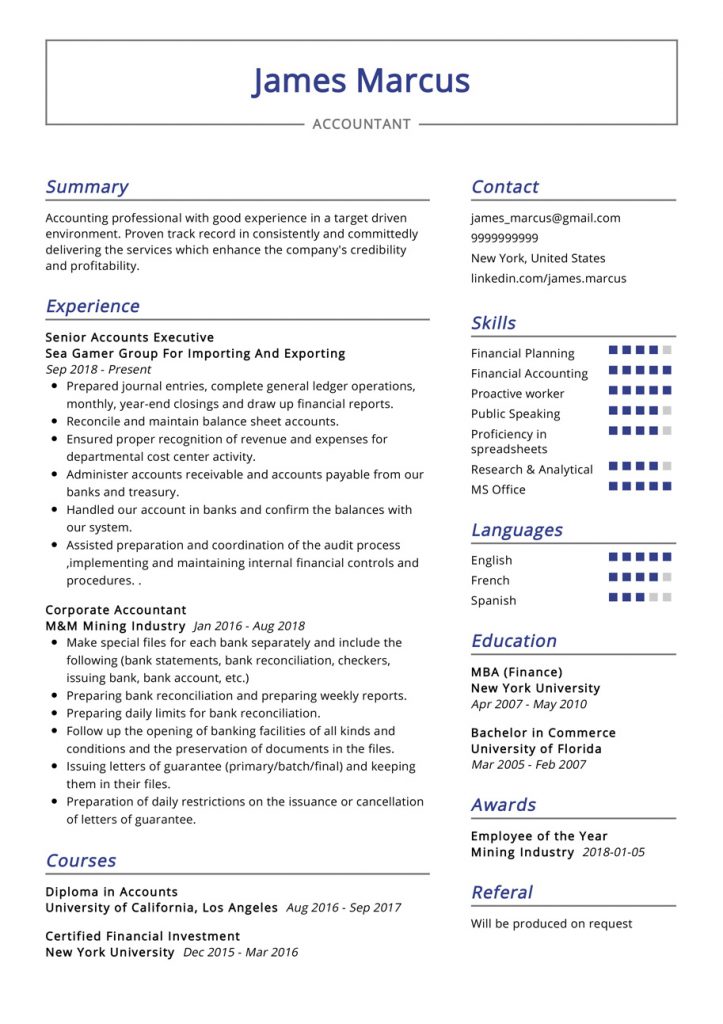 How to choose the right resume format
If you're looking at all three of these and you're entirely sure which format to trust when you want to format a resume, that's okay. These three formats all have pros and cons specific to your needs and it's important to take the time to figure out the right format. Here are some helpful points for each one.
Applying for a job within your niche: If you are simply looking to change jobs within your niche, the focus on skills isn't quite as important accentuate in your resume. Since you are simply shifting positions or companies, your relevant work experience (especially if it shows you moving through the ranks), is going to be critical to show off. In this kind of example, a chronological resume would be best.
Taking a break from work and education: For whatever reason, if you're looking to get back into the work world and it's been a while since you've held a position, the functional resume would work best. You're putting the focus on your skills and education as well as certifications that are relevant. Your work experience is still there, but it's less of a focus, which is helpful in getting potential employers to dismiss the gap. This is also helpful if you've got a lot of skills that you want to show them.
You've got a lot going for you: When you know that both your work experience and your skills and education should be accentuated due to working hard at creating both of them, the combination style is probably going to work best. You can focus on both without one outweighing the other. This is also great for those that are applying for higher-level job positions, where both focuses have a lot of merits.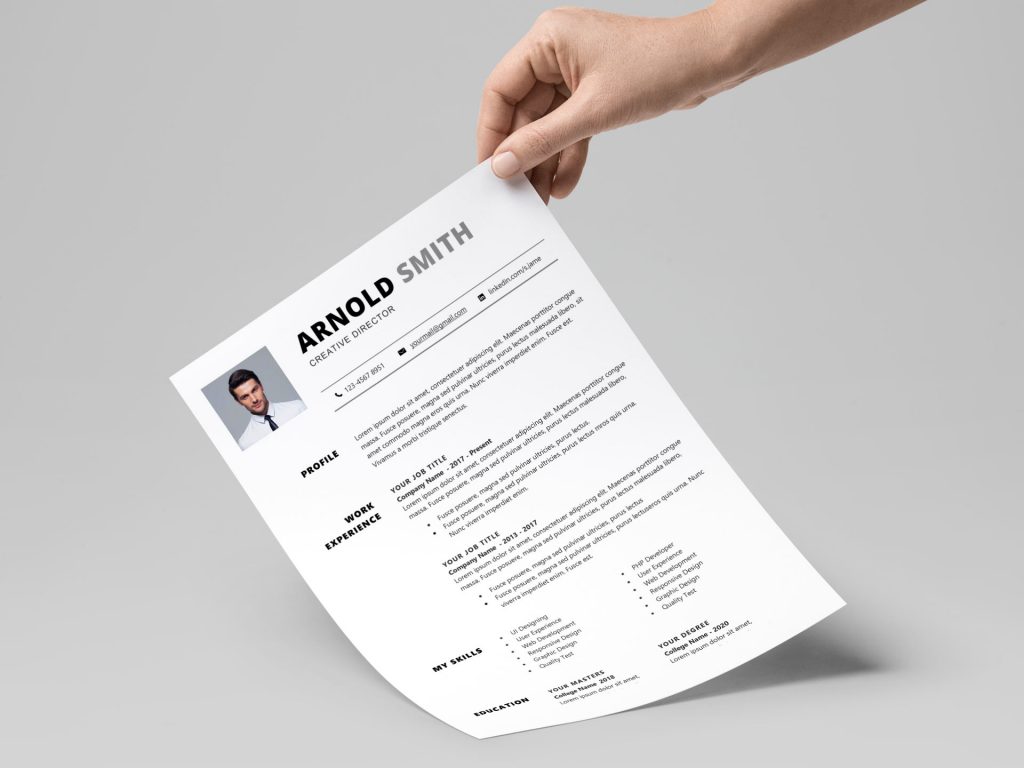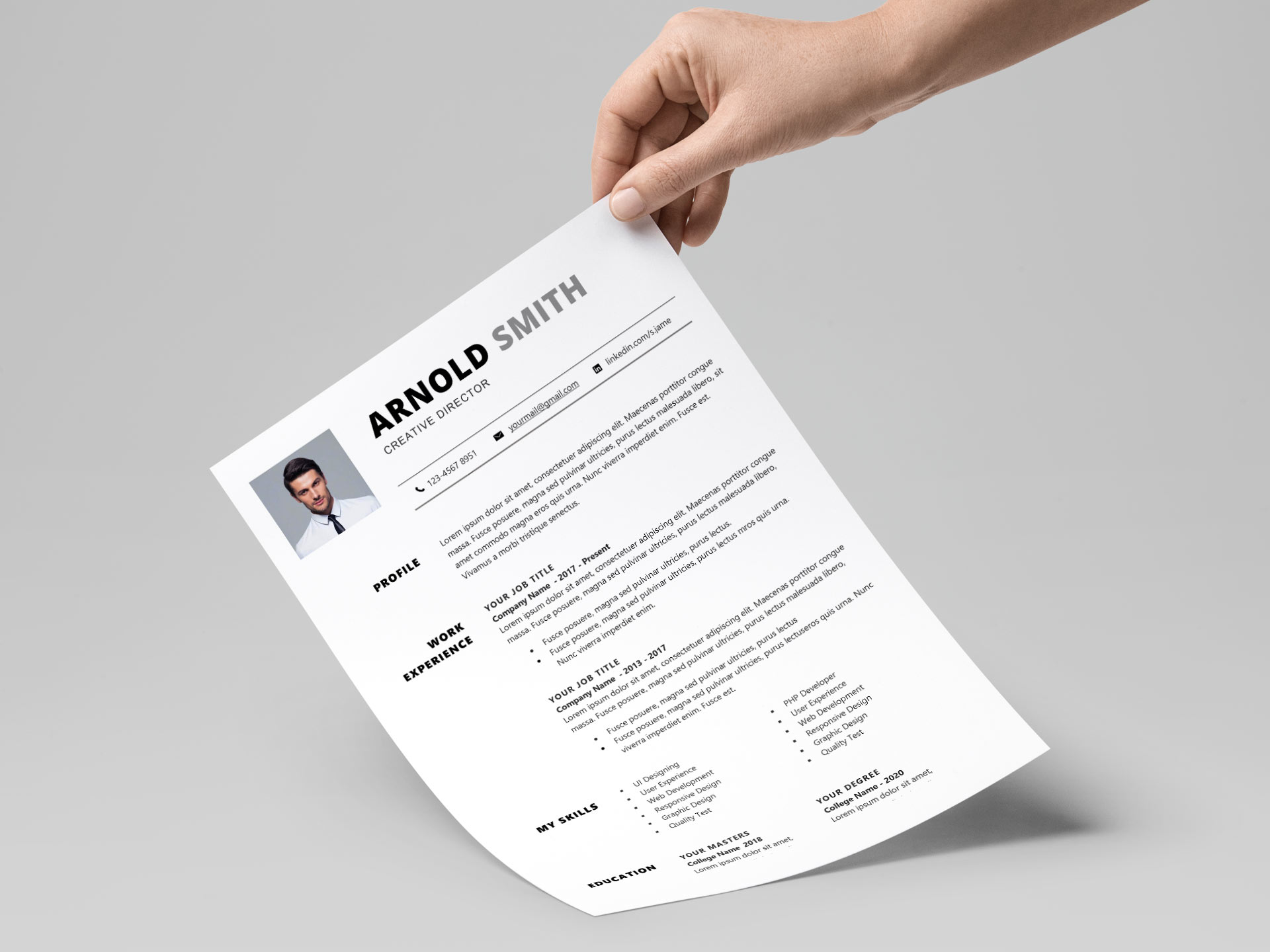 Tips to format a resume properly
Now that you've figured out the best format, you need to make sure that you actually put that CV format together in the proper way. There are quite a few options as far as the actual formatting itself within the relevant kind of resume that you are creating. Here are some general tips to keep in mind throughout the process.
Keep it short: Unlike traditional CVs that span for pages, you'll want to make sure that it's one page or, at the very most, two pages. Most committees will not read through your entire resume, so the first page becomes critical to get right. If you need two pages (especially those who are looking at the combination resume format), make sure everything that absolutely needs to be seen is on page one. That way you're covered, still, if they don't bother to flip to the next page.
Don't go fancy: Regardless of the job you're applying for — or its prestige — resist the urge to play with font style or size. Just, don't. Go with a size of 10.5-12 points and stick with approved, clear fonts such as Cambria, Garamond or Arial. This needs to be formal and official from one detail to the next. Sizing and font style will play a huge role in how your resume is perceived. This should go without saying but stick to black unless otherwise noted specifically by the job application itself.
Consider a resume builder: From online templates you can download and import into your word processor, to online generators that you can export yourself after you've finished, and consider the help and support of a resume builder. Not only will it guide you on proper placement and margins, but it also takes some of the stress and memory effort out of actually building the resume itself. You'll find countless options that are separated into all of the most modern resume designs (including the three formats above).
Check our Free resume builder to create Job winning resume in just 5min.
Frequently Asked Questions
What is the best resume format for a job seeker?
The best resume format for a job seeker is the chronological resume format. This format emphasizes your work history, with your most recent experiences listed first.
What are the differences between various resume formats?
There are three main types of resume formats: chronological, functional, and hybrid. Chronological resumes list your work experience in reverse chronological order, with your most recent experience listed first. Functional resumes focus on your skills and abilities, rather than your work history. Hybrid resumes are a combination of the two, and are becoming increasingly popular.
What are the benefits of using a certain resume format?
Each resume format has its own advantages and disadvantages. Chronological resumes are the most common and well-rounded, but they can be less effective if you have gaps in your work history. Functional resumes are good for emphasizing your skills, but can make you look like you lack experience. Hybrid resumes are a good compromise between the two, and can be customized to emphasize the aspects of your background that are most relevant to the job you're applying for.
What are some common mistakes made when using a resume format?
One of the most common mistakes made when using a resume format is to simply list your work history in chronological order without any regard for the format. This can make your resume look cluttered and difficult to read. Another mistake is to use a functional resume when a chronological format would be more appropriate. This can make you appear to lack a solid work history.
How can I ensure that my resume format will be effective?
The best way to ensure that your resume format is effective is to tailor it to the specific job you're applying for. Use a chronological format if you have a solid work history that is relevant to the job. Use a functional format if you want to emphasize your skills and abilities, or if you have gaps in your work history. Use a hybrid format if you want to combine the two.
What are some tips for using a resume format?
Some tips for using a resume format include:
1. Tailoring your resume to the specific job you're applying for
2. Using a chronological format if you have a strong work history
3. Using a functional format if you want to emphasize your skills
4. Using a hybrid format if you want to combine the two
5. Making sure your resume is easy to read and understand
Conclusion
Without a doubt, you deserve to get the job that you're applying for. If you've never considered any other format other than chronological, you certainly aren't alone. However, making a change to a better style — whatever that may be — could just be the kind of detail that will not only put you at the top of the list but will earn you the job itself. Sometimes it really is the small details that make all of the difference when it comes to standing out from the competition.
Recommended Readings: