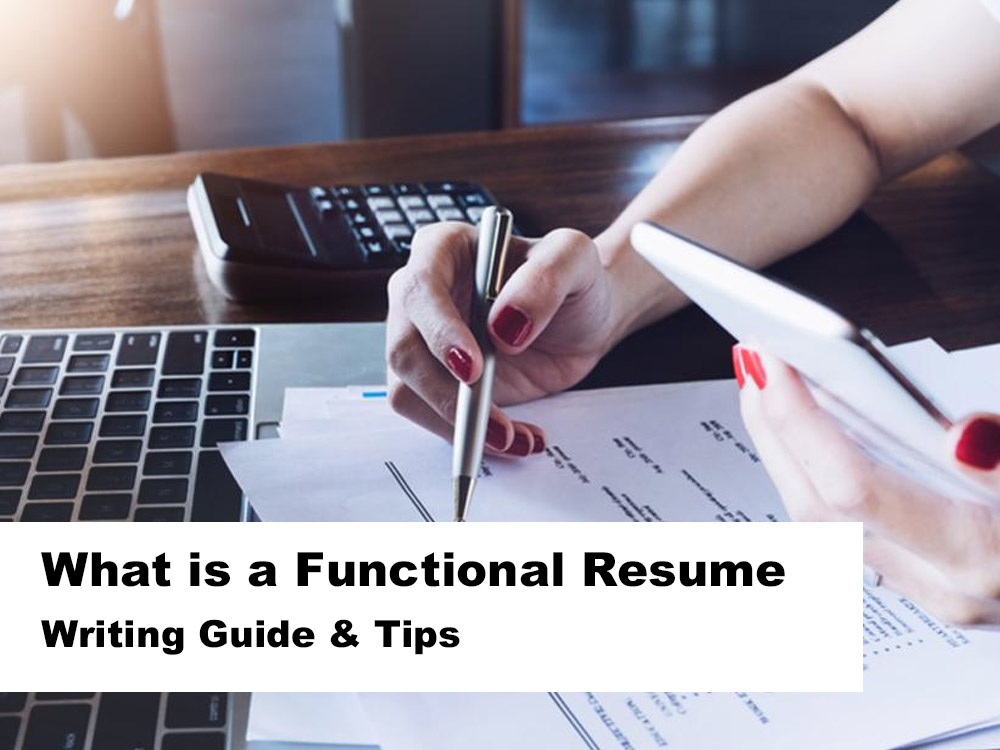 What is a Functional Resume?
Despite what those around you may tell you, there is more than one way to write a resume. There are quite a few options out there for resume format and the one that you choose doesn't necessarily have to be the same as the person beside you. What works for one person doesn't necessarily work for all. Interested in making a functional resume work for you? Here are some tips to do just that.
Why a functional resume is used:
To determine if this is, in fact, the right resume format for you, let's take a look at why it's used in the first place. This appropriately named resume is for when you are someone who wants to show off their function (or, importance) as a candidate. You craft a resume that shows off all of your job-specific perks and gives the reader a sense of who you are a professional person.
The focus of the functional resume is on qualifications, skills, experience, and accomplishments. The experience section (normally the work experience area that has dates and descriptions on a traditional chronological resume) is still taking into consideration the experience that you do have, but it's not as focused on timing or amount of time spent in the job itself. It's more the role and its relevance to the job that you're applying for now.
This kind of resume is going to be really effective if you have gaps in your education or work experience, regardless of the reason. It forces the employer to see you as a qualified individual and reminds them that timing isn't everything.
How to make the most out of your functional resume
Now that you've decided that this is the kind of resume you want to use, it's important that you take the time to make the most out of this format for yourself as an individual. Here are some tips for guiding points to show you how it's done.
• Focus on suiting it to the job description: When you write a resume, you'll want to take the time to really know what you're applying for and get a feel for the company as a whole as well. If the company likes short sentences with short paragraphs, match that with short bullet points and to-the-point explanations. If they use flowery language, do the same with your resume. The format is still the same, the technique just changes.
• Make sure you match it with a strong cover letter: Even if a cover letter is not specifically asked for, create a cover letter to go with the resume. It should highlight the same details that are emphasized on the resume and it should also match in tone, style of writing and word use. The only time NOT to include a cover letter is if the application instructions state that cover letters are not accepted.
• Don't go after this format to hide anything: The last guide to help you make the most out of your resume is to remember that this format is not used to hide anything. You aren't hiding the fact that you only worked in one position for 6 months, or you took a 4-year break from work to go to school. If that is your main motivation for using this resume, it's important to take a look at why. This is simply another way of stating the same things with more of a focus on the skills. All details will still be there for them to see, as they should be. They're just less of a focus.
Create your professional resume for free using our resume builder!
Tips for writing a functional resume:
When you're ready to sit down with the format and plug your information in, here are some tips to make it as effective as possible.
1. Use a template: there are all sorts of templates online that you can read through and download to put your own information. Don't go about it on your own if you have the help freely available to you, ready to go.
2. Choose a template that resonates with who you are as a candidate: When it comes to choosing the right template (color use, justifications, amount of space per section, etc), you'll want to make sure that you have a template that represents who you are, too. Even though the resume should be tailored to the job you're applying for, not at the expense of who you are as a person. It will be a reflector of you, after all. Make sure it's an accurate one!
3. Use keywords wisely: Within each section, go back to the position information and pull keywords to use. They'll appreciate the time it takes and it will make your resume stronger because you'll be explaining clearly that you are qualified for the job itself.
4. Categorize it by theme: When creating the resume and listing your skills (this is often the biggest part of the resume itself), you'll want to categorize it by theme and then elaborate in bullet points. Don't have 40 unique skills listed. Use headings to group them together. They'll be easy to scan and will still give out the right information to the potential employer.
Conclusion
The moment that you decide to apply for a job that is right up in your area of expertise, a functional resume could be just what gets you there. It accentuates the details that make you a good candidate, it highlights that you have experience in the industry, and it lessens the importance that you haven't worked a job for a few months. The focus is on how professional land right you are or the job that you're applying for.
Is a functional resume right for every single job application and/or applicant? No, definitely not. But knowing when to use it and how to use it best will give you the power to make sure that you put it to use when and where applicable. The right resume can win you the job of your dreams if you know when to use it and what kind of information to put on it.