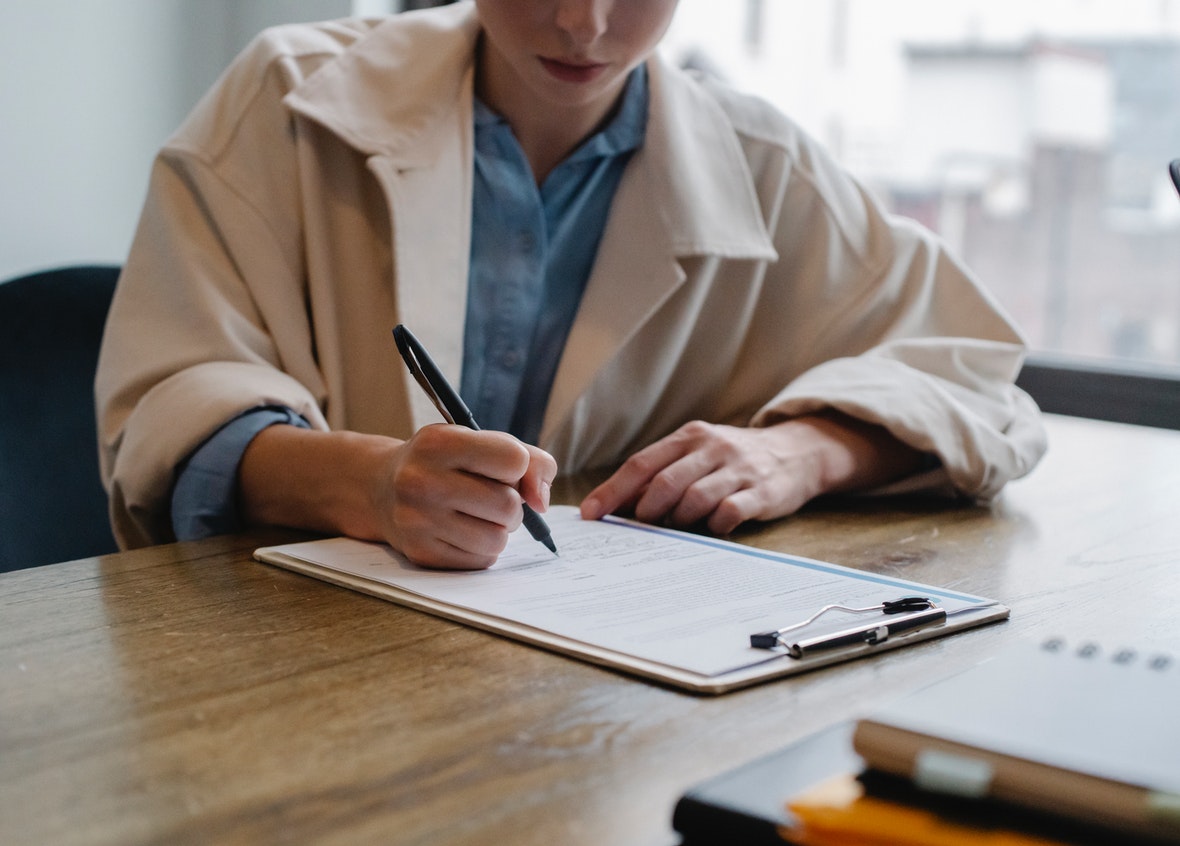 Reference writing can be one of the most difficult tasks on a CV. It is important to remember that you are required to write a reference for every job you have had, and this is often not an easy task. In order for a reference to be well-written, it needs careful thought and planning. What makes up references? What does it take to create a good one? How do you format them? This article explains how making good references is not as difficult as it might seem.
Reference writing is as important as CV writing, and should not be overlooked. It is generally believed that one must have a reference letter at least three times the length of one's CV when applied for a new job. The first reason why one would need references is that if you do not have references, you might not get an interview to begin with. If you are willing to work hard and show the potential employer of your abilities, chances are good that your application will be accepted and the interview will happen.
People who work in the field of human resources are usually required to have references. These can be friends and former teachers, employers from a previous workplace, clients, or people you have met through an activity. The kind of references you write depends on the position you seek.
Related article: CV format and CV Skills
Example of a CV references section: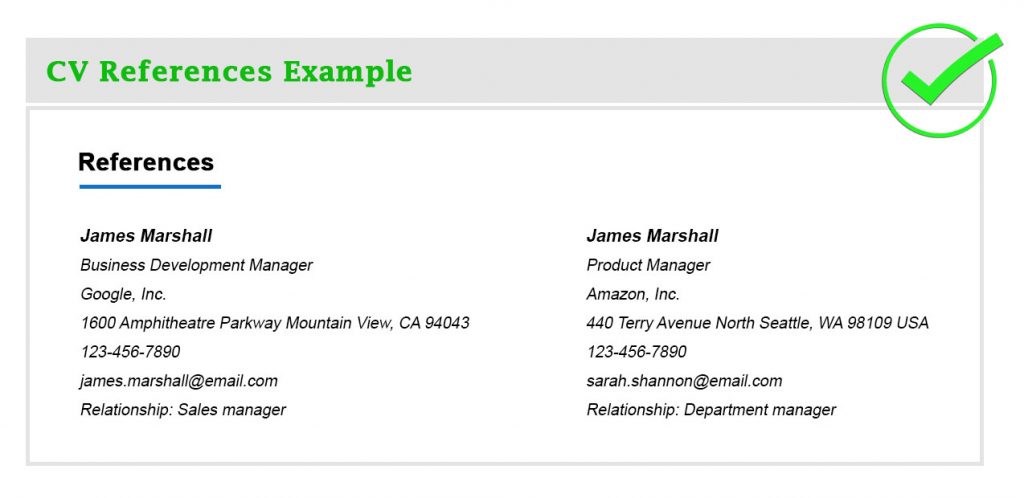 How to include references in your CV:
When writing references, it is important to keep in mind that you are writing for people who have not met you. This means that your reference should be in a formal and polite tone. You should write it in the third person (he or she) and use a positive, but professional tone.
References should be brief and clear. For example, an effective way of including them would be to write on the back of your CV: "References available upon request". This way, your references are available, but the employer is not required to go through them before deciding to call you in for an interview.
One of the most difficult things about making references is that every professional's needs are different. A reference writer needs to be skilled in taking a person's skills and achievements and being able to put them into words that an employer will appreciate reading. For example, one very talented individual may have minimal experience on paper, whereas another could have a great experience with little information or skill.
Here are several specific individuals who would make good references for your CV:
Your recent supervisor – Works in a similar field to that of your own.
Your family and friends – These could be people who have worked with you on various projects, or they could be people who know you personally such as family members, teachers, friends or former employers.
Your bosses from previous jobs – They will want to know what qualities you have that made your previous employer decide to hire or keep you.
Someone who has been involved in the same non-profit or community work that you are interested in.
Anyone else who can help to explain your skills and experiences.
How to format references:
Make your references look professional. This means using a font that is clearly legible such as a standard typeface, avoiding underlining or using all capitals, and making the font size 12 points at least. Fonts such as Times New Roman tend to appear more professional than Verdana or Comic Sans, for example.
There are a few standard formats for references, depending on the kind of job you are applying for. Each one includes specific sections, such as name(s), title, address, and contact information. The most common format is:
This form is often used in reference writing. It can be found in the majority of CVs out there. People usually just put down the name of their supervisor or manager from their previous job and their titles (if they have them).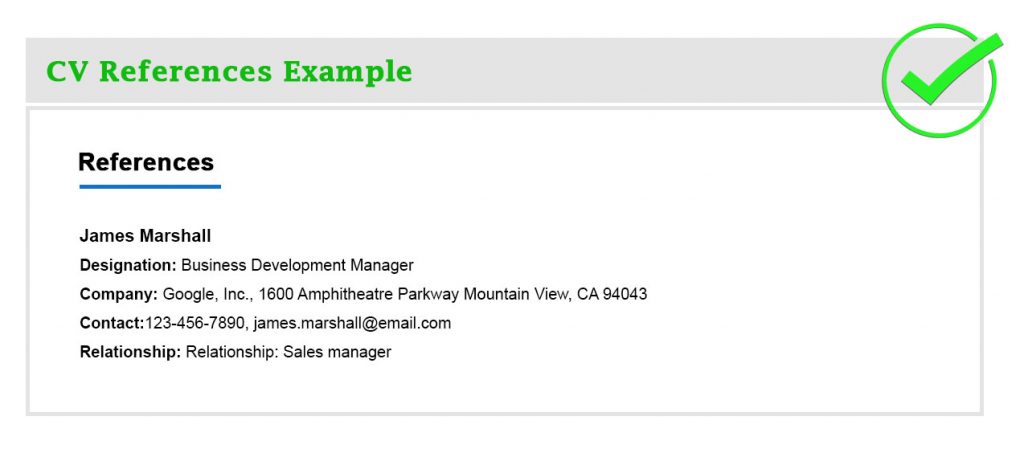 Tips:
Write down the name of your supervisor, and not just your manager. It is important to make sure that whoever you are giving a reference to is able to get in touch with them. If you use your manager as a reference, they will be the ones to contact.
Make sure that you include a title if they have one.
Use a period after the place of employment and after the position title (if applicable).
Use quotes to make the text stand out and look more professional (for example, "I have worked in this position for 6 months").
Write down your phone numbers where you can be reached easily by the recipient.
Here is a sample of how one reference might be written:
Reference Name: Mr. James Dow
Reference Title: Sales Manager, Amazon Inc.
Address: 440 Terry Avenue North Seattle, WA 98109 USA (This address should be accurate. If you are not sure about the address, use the one that is on your resume.)
Phone number: 123-456-67890 (Include a phone number where you can be easily reached.
When should I include references in a CV?
References should never be left out of a CV. In general, CVs can include up to 2-5 pages, depending on the job you are applying for and the position you have held. This means that you have a lot of space to write everything down and make it look great. Precious space is often put aside just for references, so it is important that they are included in your CV as well.
A Reference Letter is a letter of recommendation from an employer, teacher, or another individual that you worked with on a project or at an event. It is essential to have references in order to have your application accepted for an interview.
The goal of writing a reference letter is to highlight specific qualities possessed by the person receiving the letter. It needs to comprise enough detail on the applicant's job performance and capabilities so that the employer would be able to understand clearly and quickly what they could expect if you're hired as their employee.
When shouldn't I include references in a CV?
You shouldn't include references in your CV if you feel that the potential employer does not care for them. They may not request for one or there might be an option to leave it out.
There is no need to include references in the following situations:
If you're applying for a summer job. In this case, references will be unnecessary as your performance is yet to be seen, evaluated and commented on by the employer. Only resume is needed.
When applying for a short-term job. In this case, references will be unnecessary as your performance is still being evaluated and commented on by the employer. Only resume is needed.
If you're applying to apply for a co-op or internship position in a college or university. In this case, references will be unnecessary as your performance is yet to be seen, evaluated and commented on by the employer. Only resume is needed.
Common Uses for References:
A letter of recommendation can be used in any kind of application, especially when applying for a job.
You may want to use it when applying to a college or university when you're looking to get accepted.
You can use a letter of recommendation as a form of certification if you are trying to apply for something like exams or requirements in order to show that you have the necessary skills and knowledge required. This could be provided by an individual, organisation, business or government agency.
The letter can be used to prove that you have the qualities of a respectable employee in order to secure a new job.
Some employers will use a letter of recommendation when an employee has been terminated.
How to include references in job applications:
There are several advantages to including "References Available Upon Request" at the bottom of your CV. If you do this, you can include as many references as you want and employers will not be required to contact them. This saves time and also prevents confusion in the mind of the employer. Also, if more than three references are given, then it is preferable to use a different font or font size for each one. On one's CV, it is best to give out as few references as possible.
A common format for a reference letter is a formal letter. References can be written on the back of your CV and are usually given in the third person (he or she), and are in the present tense (ex: he works…).
References can be presented in different ways, depending on what is more suitable for you.
If you are applying for a job in business, you need to make sure that the references are written in business-friendly English. You should also make sure that your contact information is complete because an employer will need to put you in touch with them and others.
Including references requires a bit of preparation. You need to know what your references look like and it is best if they have done work related to the job that you are applying for or similar work.
Writing Up a Reference Letter:
There are certain guidelines and specifications for writing up a reference letter. Here are some simple rules and tips to keep in mind when telling your story, at least in some detail:
Use good punctuation and grammar – Write as if you were speaking.
Help the reader to understand through your writing what you have to say without making your story too long.
Organise and structure your thoughts into a coherent, logical and clear story.
Use a variety of phrases so that your letter will be interesting for the reader.
Write in standard English (like "I have worked with this person on a volunteer basis" or "this person is a very skilled person").
Interested to write a stand-out CV so please check our examples of good CV template for your reference. Also, use our free CV builder.
Where to Add Reference in CV?
It is very common to find your references on the inside back of your CV. It is not really needed to include them there, but it can look a little extra nice. It is a good idea to put them there if your CV is a long one. People might not bother to go through the whole thing just to get some references information.
Tips:
To make sure that your references are legible and easy for people to read, make them in block letters (for example, Arial) – Do not use too big of a font.
We do not recommend putting your photo on the inside back of your CV.
If you are creating your CV online, do not add references there. Just put them on the inside back of your resume.
You may also choose to put references in a different part of your CV, such as the end, or on a seperate sheet of paper. It is up to you. It depends on how many references and how much information you want to include in your resume.
If you need more space than what is available at the back, add it at the end of your CV.
Example of a reference list for your CV:
Here is the order of sections in which a reference list for your CV should be written:
Reference Name
Reference Title/Organisation
Position Held/Department (when applicable)
Duration of Employment (if relevant)
Phone # and Address (if relevant)
Examples References:
Sarah Shannon
Product Manager
Amazon, Inc.
440 Terry Avenue North Seattle, WA 98109 USA
123-456-7890
sarah.shannon@email.com
Relationship: Department manager
James Marshall
Business Development Manager
Google, Inc.
1600 Amphitheatre Parkway Mountain View, CA 94043
123-456-7890
james.marshall@email.com
Relationship: Sales manager
Wisent Grover
Head Researcher
National Medical Center for Research
125 Rover Avenue North Seattle, WA 98109 USA
123-456-7890
james.marshall@email.com
Relationship: Research professor
Key Takeaways:
References should be included in a CV only when requested by the employer.
References should be checked and double checked before sending them out.
Whenever possible, you should use personal contacts as references to make it more credible.
If you have no personal contact (which is more likely), then list the ones that are more familiar with your work and performance.
Make sure your contact details are correct and updated.
Recommended Reading: