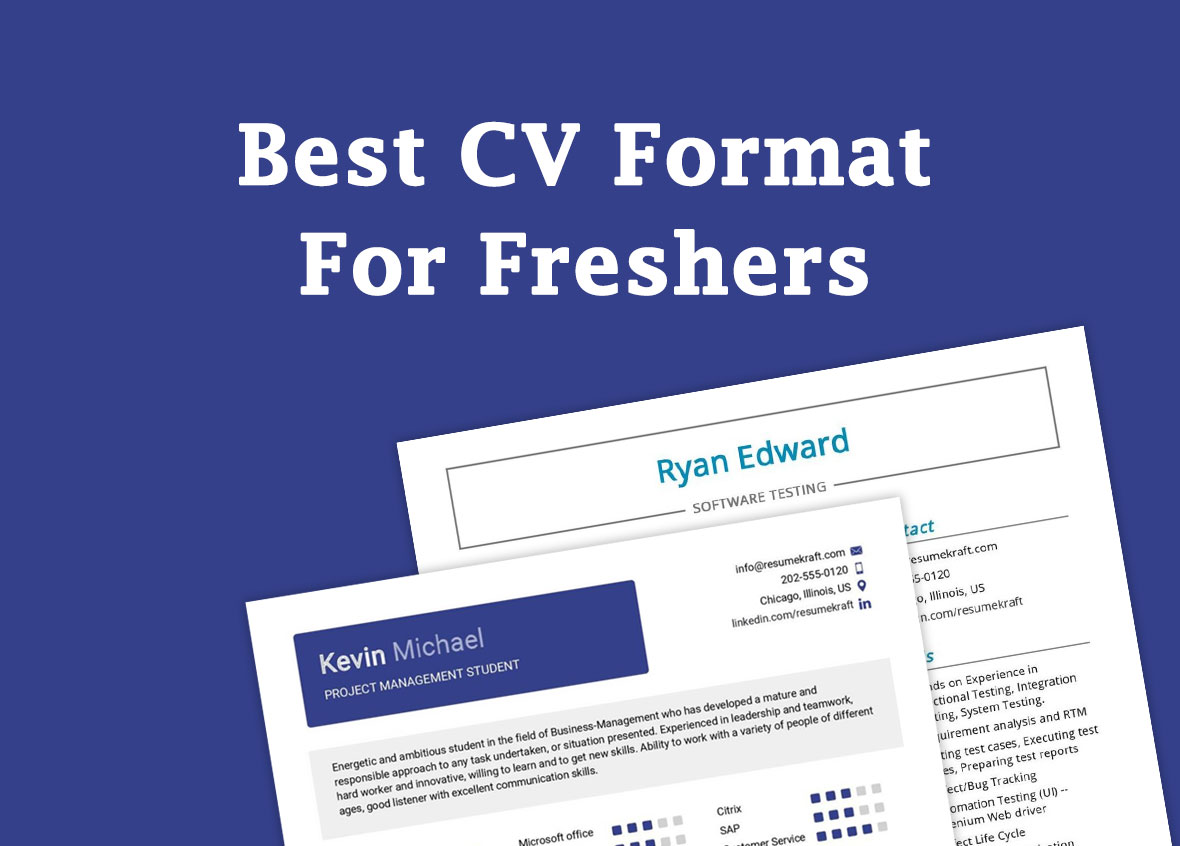 The CV is an important document, written for employers to decide if they will hire you or not. It can be hard to tell how to make your CV stand out, especially when you're a fresher!
So today, we've written up a guide on how to write the perfect CV that catches the eyes of HR professionals and future employers alike.
What is a fresher CV?
A "fresher" is someone with less than a year of experience. In other words, no work experience whatsoever. A fresher CV is an important part of your job hunting process because it gives you the opportunity to show employers what you're all about and how you go about doing things at work.
However, to get a proper CV format doesn't need to be written exactly like the one given below. It's up to you what type of information and layout you want to use. Just remember to keep it clean and crisp so that your future employers can easily find what they want.
In addition, it's important that you don't veer too far from the structure! If the employer looks at your CV and they can't quickly tell what kind of information is on there, then they won't bother reading through it at all. This is why keeping your resume as simple as possible is so important.
How to write a fresher CV?
In order to write a proper CV, it's essential that you include all your current and recent work experience in one single document. This is the main reason why we recommended that you format your resume as a PDF.
Just like with any type of CV, the layout and the format play an important role. We have found that there is a perfect way to layout a resume for fresh graduates.
You should use the following order:
The heading area includes your personal information in addition to details about your educational qualifications.
Make sure all the information is listed neatly and comprehensively, without any spelling mistakes! You can even include your GPA (Grade Point Average) if you wish – it may give potential employers something extra to judge you by. You should also include any awards that you've won or any examples of work that you've completed in the past.
The industry section is what your prospects are looking for. If this is the case, then make sure to list your education levels, any awards, and all the relevant information. You can also talk about your previous experience if it's relevant to the company that you're applying for.
The work experience section is where you'll tell employers about the work that you did throughout your time at school and during placements. Include dates as well as details like what qualifications or skills were required to carry out a task while working at different jobs.
The projects section is where you list any successful projects that you were involved with. This includes the name of the company and the main role you played within it.
The last part of your CV is an optional section in which you can include any research or training that you did on your own to help you on your way.
How to Format a CV For Freshers?
In this guide, we'll give you some guidelines and tips on how to make a fresher CV stand out so that it's not ignored by potential employers.
The layout of your CV should follow a standard format. You should include the following information when writing it:
Name
List your full name (as it will be printed on any job attachments that the employer may require). Address, telephone number, and email address are also essential.
Education
List all possible dates from school as well as details about the course that you're applying for. The content must be interesting enough to let employers know what you can do on the job. You can talk about some of your past experiences and how they've shaped your skillsets for the future (experience in certain fields is always good).
To make it interesting, include awards that you've received. If you have a specific skill that the company values, then (ideally) talk about it.
Internship
As with all other CVs, internship experience is extremely important. It's a good practice to include it on your CV. Likewise, employers are also interested in this area of experience because it shows them what you're all about and how you'll fit in at their company. You should include the following:
If you've done anything in the field (such as volunteering, tutoring or consulting) then talk about this also.
Skills
If you have any knowledge of languages or software then it's a good idea to include this. Make sure to mention how fluent you are and what your accomplishment has been. That will give employers something to remember about you when they look over your resume.
So that's it! Keep things simple, concise, and clean and you'll be sure to create a CV that gives you the best chance at landing your dream job!
Employees and Employers
Include details about who your current employer is and when your contract/internship is running out. This way, employers will know that you're eager to get working straight away!
If possible, try to write a bit about yourself at the top of the page (eg "Hi, this is my CV"). If there are other important details like dates or contact details at the bottom of your CV then make sure they're mentioned first so that you don't lose track of them during your job search.
Additional Information
Many students want to include additional information about themselves, as is their right. However, there is a fine line between information and trash. It's up to you what you want to include. Just make sure that it doesn't end up distracting from the most important sections of the CV itself: education, work experience, and industry-related projects.
How long should my fresher CV be?
A fresher CV generally ranges from 1-2 pages long. Obviously, the length of your CV is going to depend on the type of job you're applying for. A full-time job will usually require more information than a part-time position or internship. However, this is an area where we recommend you to err on the side of caution. The last thing you want is to write a 2-page long curriculum vitae for a part-time position that can be covered in only 1 page!
A basic guideline, as well as general recommendation that we can give you, is that: The length of your fresher CV should be proportional to the type of job you're applying for. Full-time positions will require more content than a part-time or internship.
Types of CV formats and their differences:
There are different types of CV formats that you can use to develop your curriculum vitae. Each has its own advantages and disadvantages. Let's take a look at them:
Chronological CV Format
As the name suggests, this type of format lists your details in chronological order. The advantages of using this type of format are that it's easy for the reader to find information and also helps in providing a seamless transition from one section to another. However, because it is more structured, there is less room for creativity.
Chronological CV Format Tips:
Use bullet points to make your CV crisp and structured
Include relevant projects, conferences and presentations to show off your skills.
If you're applying for a job which requires a lot of interaction with people, then you may want to include details about teamwork/ leadership skills.
You can use bullet points to show different projects you've worked on.
Keep it short and concise! Write in the style of the job that you're applying for.
Using a CV format like this will make it easier for the employer to find all of your relevant details at a glance.
As we've mentioned above, your CV shouldn't be overly lengthy or boring as that would only harm your chances of landing that dream job! Therefore, think very carefully about how much information to include and break down what should be included on which page of your CV.
Functional CV Format
The functional format will suit those who want to demonstrate their skills and experience in different fields and leave out all the personal information. Like all other CV formats, the functional CV format can be tailored towards your needs. It is usually best to include your education (or at least a brief description of it), and then move on to any internship experience and the skills that you have developed over time.
Functional CV Format Tips:
Include skills that are relevant to the job you're applying for. Make sure to give examples of how this skill or knowledge has helped you, or is helping you progress in your career.
List only the most relevant information about yourself under each section of your CV, eg if you've written about a course in your education section, then leave out details about other courses or training programs from different institutes.
If you have experience in different areas, then include them all. Just make sure that your text is short and concise for easy reading.
Keep the content of the CV consistent with the job requirements.
Make sure to use bullet points to make it easier for the employer to read through your CV.
Functional CV Format Guidelines:
If you're applying for a specific position or job, then it might be a good idea to include details about what you have learned during your education as well as any relevant information which can contribute towards helping you do better in the field that you desire! The functional format doesn't require too much detail in terms of personal details such as age or contact details.
Combination CV Format:
If you're writing a CV for the first time, then it might be best to use a combination format. This allows you to add both the chronological and functional formats into your CV without having to make too many adjustments.
Unlike the functional format, this will include more details about your personal life (such as your education) which is relevant for certain jobs. It should make it easier for an employer to get a sense of who you are as a person, apart from just focusing on your professional strengths and qualities.
Combination CV Format Tips:
It is best to use this format for jobs where the employer requires you to write a lot of details down, and also for situations where you don't want your resume to just focus on one aspect of your life.
If you have a lot of personal details which you want to include in your CV, then it might be best to use this type of format.
You can be creative with the combination CV format as well. Just make sure that your CV is clear and easy for the employer or recruiter to read!
The choice of which CV format that you should use depends on the type of job that you're applying for and also how much information you want to include in each section. Make sure that you still keep the content concise and relevant for the job that you're applying for. By keeping in mind these points, you will be able to make your CV stand out from other applicants!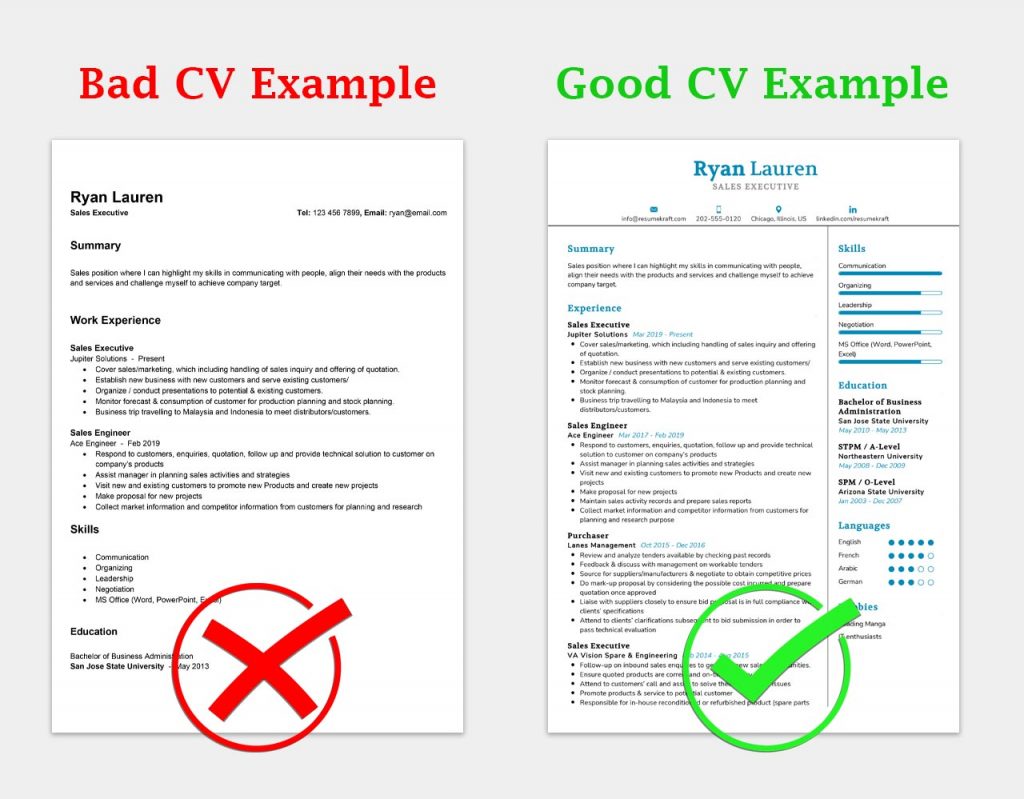 Best CV examples for freshers:
Here is the list of best CV examples for freshers to start with. It's very simple to customize and download in the best PDF format.
Student CV Example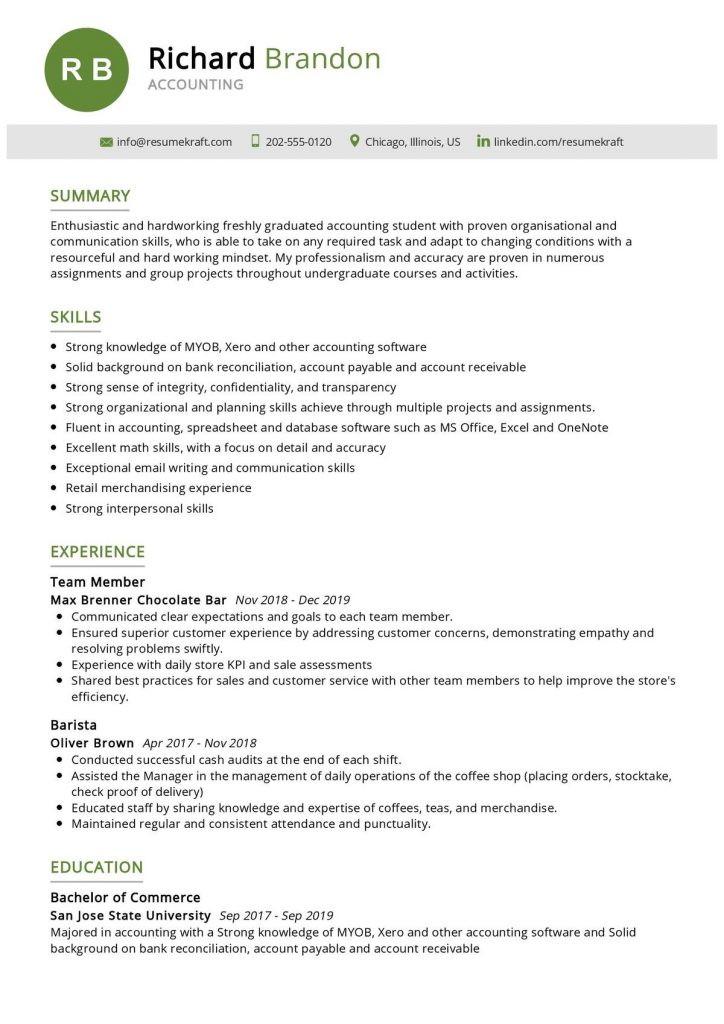 Software Testing CV Example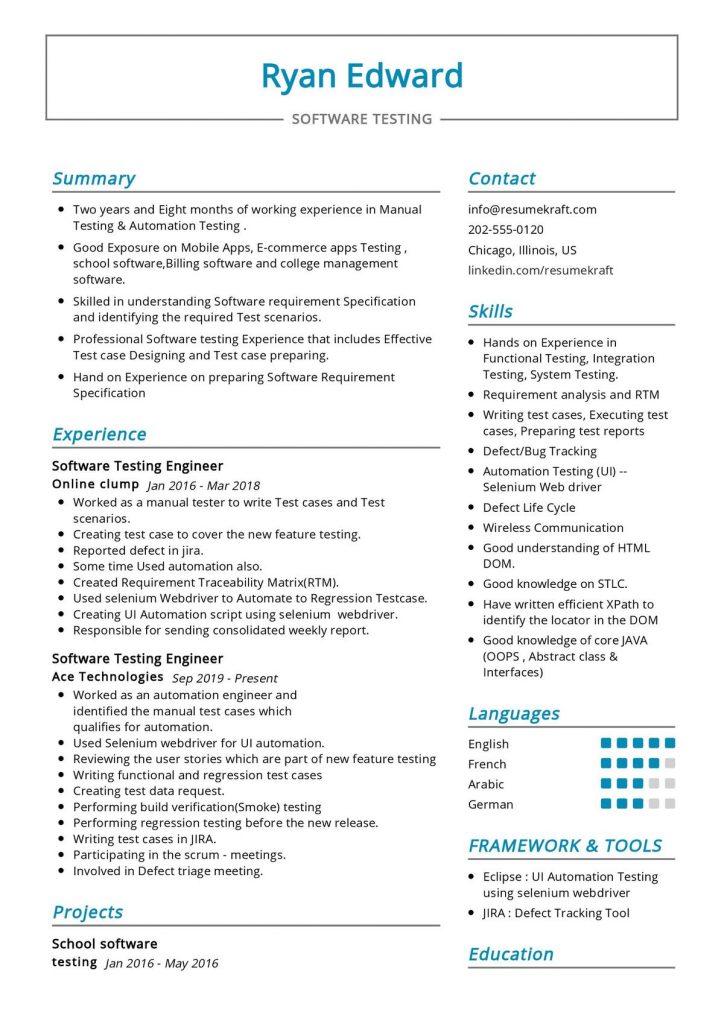 Intern CV Example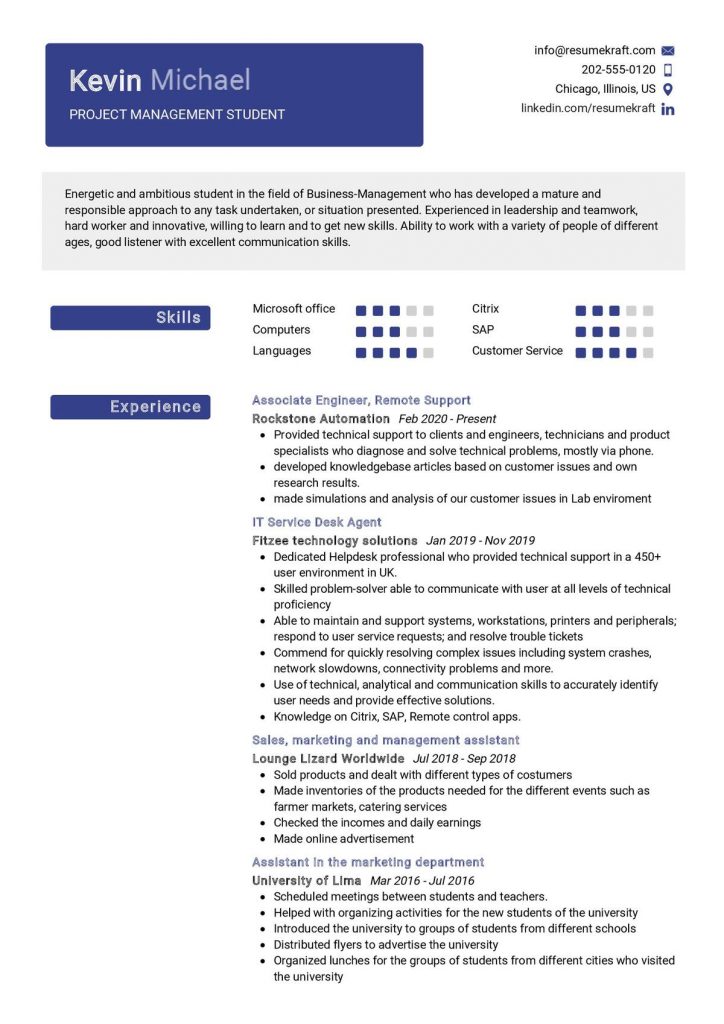 Graduate CV Example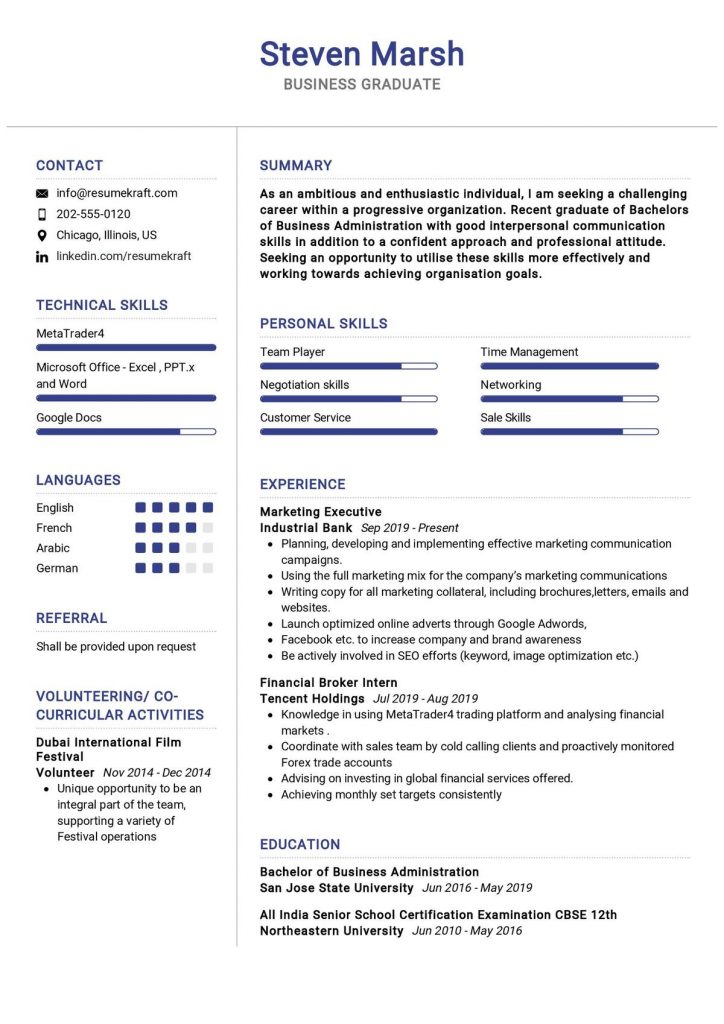 Consultant CV Example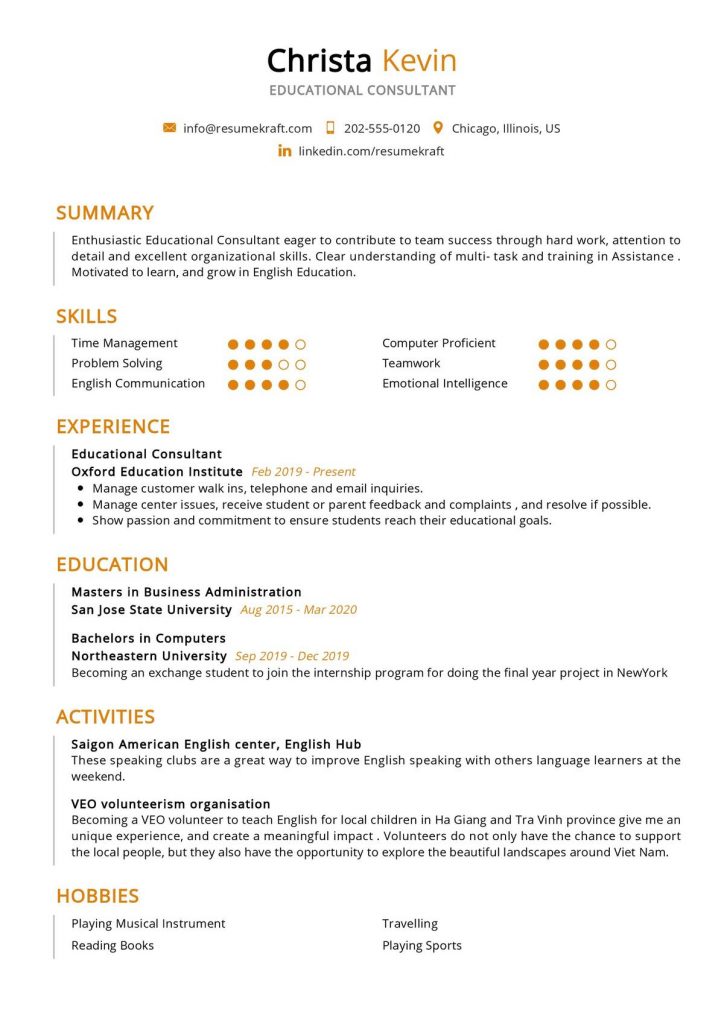 Computer Scientist CV Example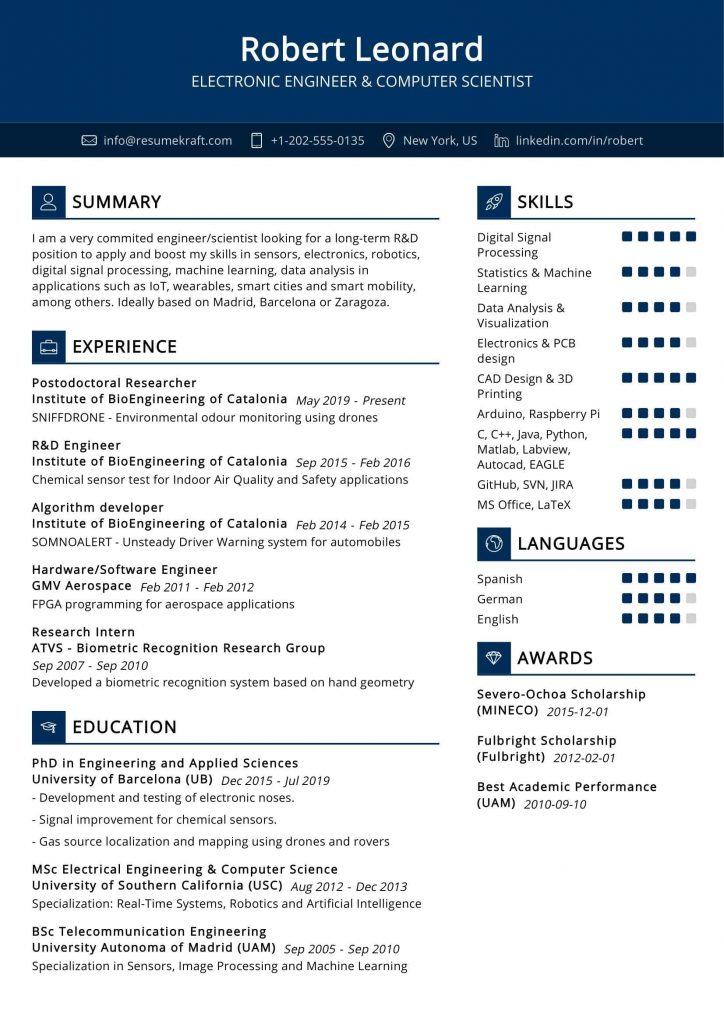 Check More CV examples for freshers

How to know the best CV format for freshers?
Before we begin, you should decide on how you want your CV to appear. Generally, there are two types of CV formats – the UK Format and the US Format. While they differ in features, both formats have some specific elements in common: Name, Contact Details, Education details, Employment History, and Skills/Interests.
What is UK format CV?
UK format is a very simple way of structuring your CV. It lists information in chronological order with only the most relevant information at the top of the page. It lists optional information at the bottom which can be used when applying for a job.
Tips to write UK format CV:
Do not list your references or referees – You can either put a full stop at the end of the education section and begin employment, or you can mention it after you have listed all the jobs that you have held above.
Do not include your age and date of birth in any section apart from Contact Details.
Leave out any unnecessary information – Only include what is relevant.
No need to list you English level – it would only be relevant if you are applying for a job which requires you to speak English.
Include your contact details in the "Contact Details" section. In a UK CV, it is usually best to state your name and address at the end of the CV.
Use one line per job – This is to make sure that your CV is concise and easy for employers/recruiters to read.
What is the US format CV?
US format is very simple and easy to understand. It lists your name, address, phone number, and email address. These are all mandatory fields as they are relevant to the employer down the line. This format is recommended for those people who either have or want to learn English; however, it's not suitable for those with no experience or education in the UK or US.
Tips to write US format CV:
In the US format, you should include brief information at the top of the page.
You should include your name, address, cell phone number and email id at the very top right corner of your CV.
Below this, add your personal details. State your full name, address, contact details like telephone number and email address as well as date of birth.
You can later add education details to this section if you have them relevant to the job that you're applying for.
If you have skills relevant to the job that you're applying for, then include them in a separate section titled "Skills." This will help employers notice your strengths easily.
Key Takeaways:
A fresher CV is a very important document that you should pay a great deal of attention to when writing it. Be sure to use good quality paper so that your employers can call back, and don't settle for something that doesn't contain enough information or one with spelling mistakes!
CV should be written in simple and concise language.
Write the CV using simple English (without any official jargon).
Keep the content crisp, clear & precise.
Don't write essays in paragraphs; take bullet points.
Employer is interested in your education and work experience only.
Recommended Reading: