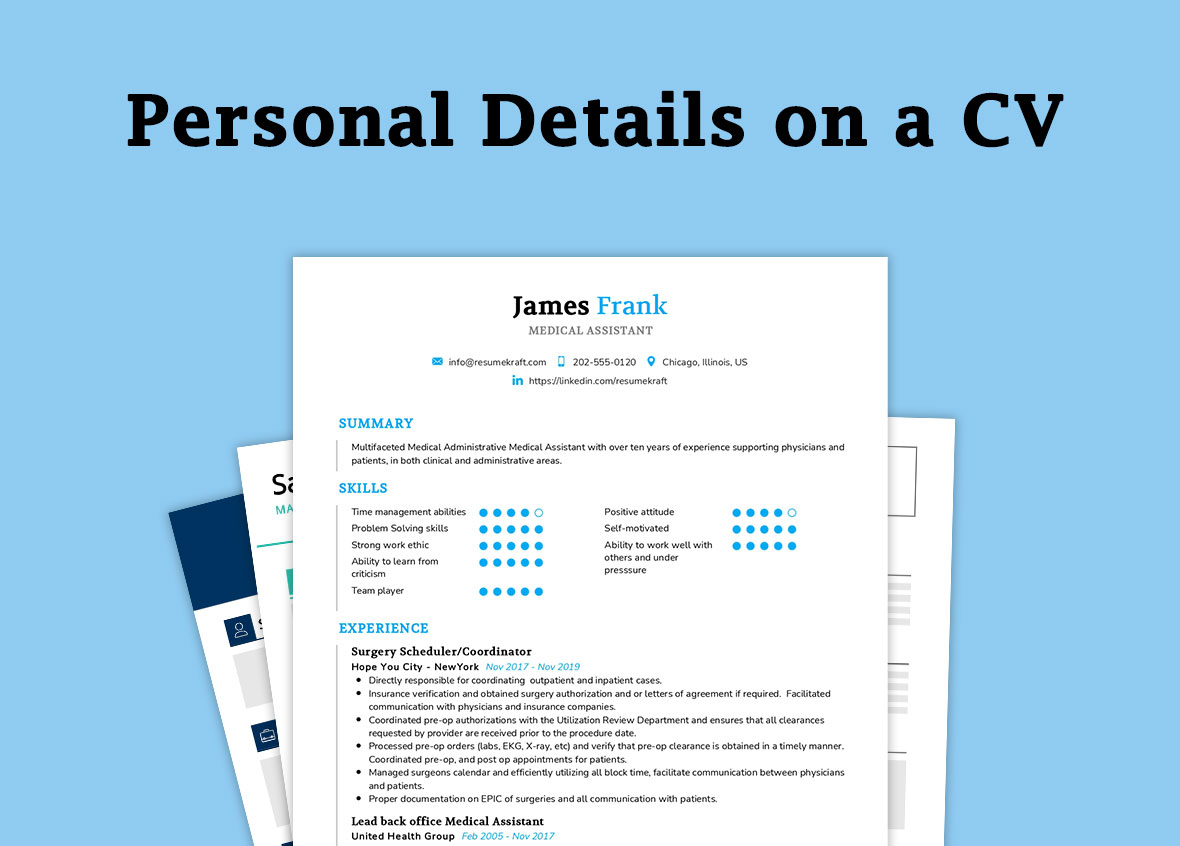 A job seeker's CV is their most important tool in the job search. It gives an employer a good idea of who the candidate is, what they have done, and what they can do for them. But with so many different things to include on a good CV and so many conflicting opinions on how to best maximize its effectiveness, it can be tough for a job seeker to figure out exactly what should go into their CV.
If you're in the process of updating your CV, it's important to know what personal details to include. Your CV template is an accurate representation of who you are and what you have to offer, so it's important that all your information is up-to-date and true.
Personal information example:

Read on to find out which personal details you should include or exclude from your CV.
Personal details to include in your CV:
There are many different ways you can present yourself on a CV, and it's up to you to decide how closely you want to emulate a professional persona. However, if your goal is to land an interview for a particular job, it's probably best that you emulate the way professionals present themselves in their jobs.
The personal details section contains the following key information about you:
1. Name
Your name is one of the most important parts of your CV because it's the first thing a potential employer sees. It's important that this is exactly correct, so double-check your details if you have any doubts.
It's also important to ensure that you include your full name, rather than an abbreviated version. Many job seekers abbreviate their first names in order to save space, but there's no need to do this – your full name should be on there anyway.
2. Address
The address section is where you can include the most information about yourself. It's also one of the most important parts of your CV.
Including the right address on a CV can be critical for finding work, but it's easier said than done. If you're not sure what address to include, consider asking family and friends for advice first, and then make any necessary changes afterward.
3. Telephone number
It's important to include your telephone number on your CV, but you need to be very cautious about what phone number you use. If possible, try to use a work or mobile number rather than a home phone.
A work or mobile number indicates that you're willing to work and are confident in your ability to do the job, whereas a home phone number may be seen as weak or insecure.
4. Email address
It's important to include an email address on your CV, but be careful about what you use. If possible, try to find a work email address rather than a personal one.
A work email will indicate that you're trying to secure employment, whereas a personal one may make you seem like a job hunter rather than a job seeker.
5. LinkedIn
In addition to a full CV, the personal details section should also include a link to your LinkedIn profile or another professional social media account.
LinkedIn is a great way to showcase your professional qualifications and is easily searchable, so it's best that you include it if you have one.
Personal details not to include in your CV:
There are a few things you should leave off of your CV for different reasons. 1. History
It's important that your CV is up-to-date and shows that you're current and professional, so it's best to keep any shocking or negative history out of your CV. Even if the information isn't entirely accurate, it could reflect badly on you anyway.
The following is a list of personal details that you should better not include on your CV unless if required:
Nationality
Date of birth
Place of birth
Gender
Marital status
Photograph
Current salary
Religion
Driving license details
Health status
Country
Why you should not Include the above list in your personal details:
Employers consider nationality, date of birth, gender and marital status as an important element in a candidate's profile. However, your nationality is not really important while applying for jobs in other country, date of birth and gender can be easily modified by changing photo or simply leaving it blank. Marital status is also irrelevant in many countries including US.
Place of Birth: Do not include your place of birth unless it is included on the resume header. Feel free to leave it blank.
Photograph: It is preferred not to include any photograph on your resume, but if you are applying for a glamour industries or fashion show related jobs, then by all means you can upload the photograph in your resume header.
Current salary: Feel free to leave it blank.
Religion: Most of the job seekers have different religions and leave their religion blank in their resume however this is not a good practice as employers may consider religion as an important factor while hiring you. You can always say that you are Hindu or Muslim or Congressite in your interview.
Driving license details: If you are applying for jobs related to your driving license then by all means mention it in your resume. Otherwise, avoid putting unnecessary details.
Health Status: This is another unimportant detail which is better left blank.
Country: Do not include country of residence unless you are applying a specific country specific jobs like USA jobs or UK jobs or Australia jobs etc as employers may consider this as an important factor while hiring you.
Sample CV with Personal Details: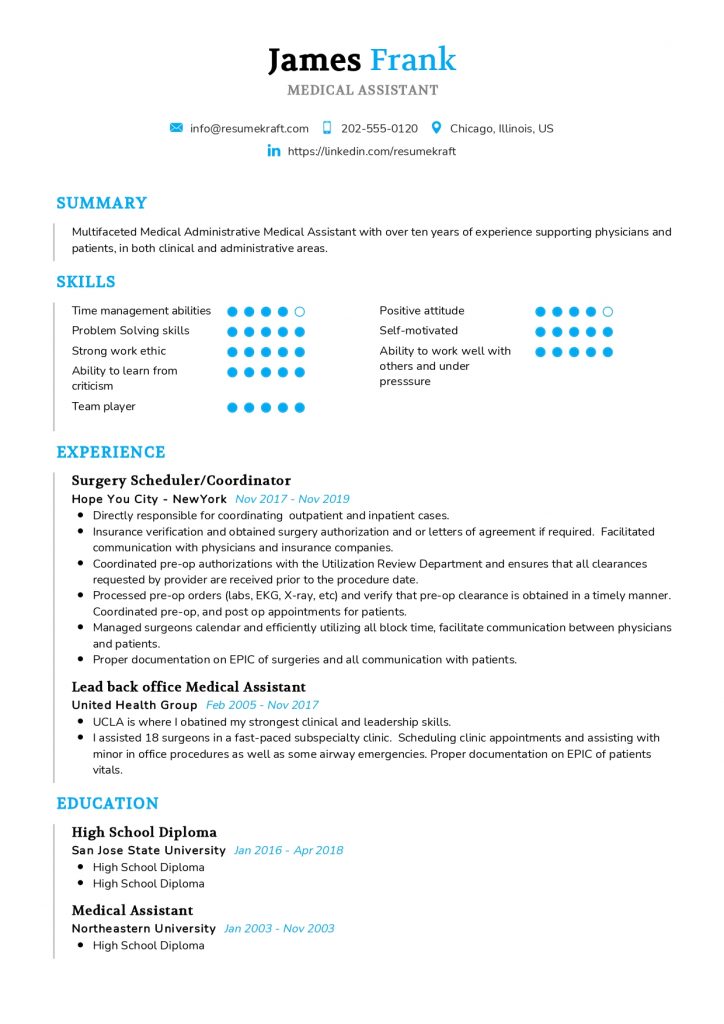 Tips to Write a Personal Details on a CV:
If you have a long name, shorten it and keep the abbreviated version on your CV.
Include as much information about your personal details as you can in a few words.
To highlight one line in your resume, place a "*" at the beginning of the line.
Use bullets whenever possible for highlighting your abilities and skills on your resume with more impact!
Using reverse bullet points is also recommended in some cases like for an extended period of stay abroad etc.
Personal details like contact information should be placed in the right hand corner of the resume.
Address your name properly before sending your CV.
Make sure to mention a postal or email address that is easy to remember and use the same one while applying for jobs online in order to make it short and crisp.
You should include your e-mail address in your CV, however don't use it unnecessarily as it can be misdirected easily and become misused.
If you have a mobile number, insert it on the cover memo of your CV.
Key Takeaways:
Use sample blank cv template to start.
A CV that is well-formatted, interesting, and doesn't include irrelevant personal details is more likely to be read and passed on.
A job seeker needs a way to get employers interested in them, so including your personal details into a CV can be very useful – but only if they're relevant to the job you're applying for.
It's better not to include anything too sensitive on a CV, because it's better that you leave yourself an out if there are any problems with how you present yourself on paper.
If you are applying for jobs in a specific country, it's better to include your nationality and date of birth to make you seem more professional.
A CV format should be accepted internationally. If it is not accepted internationally, your chances of getting shortlisted may become zero to none.
Recommended Reading: