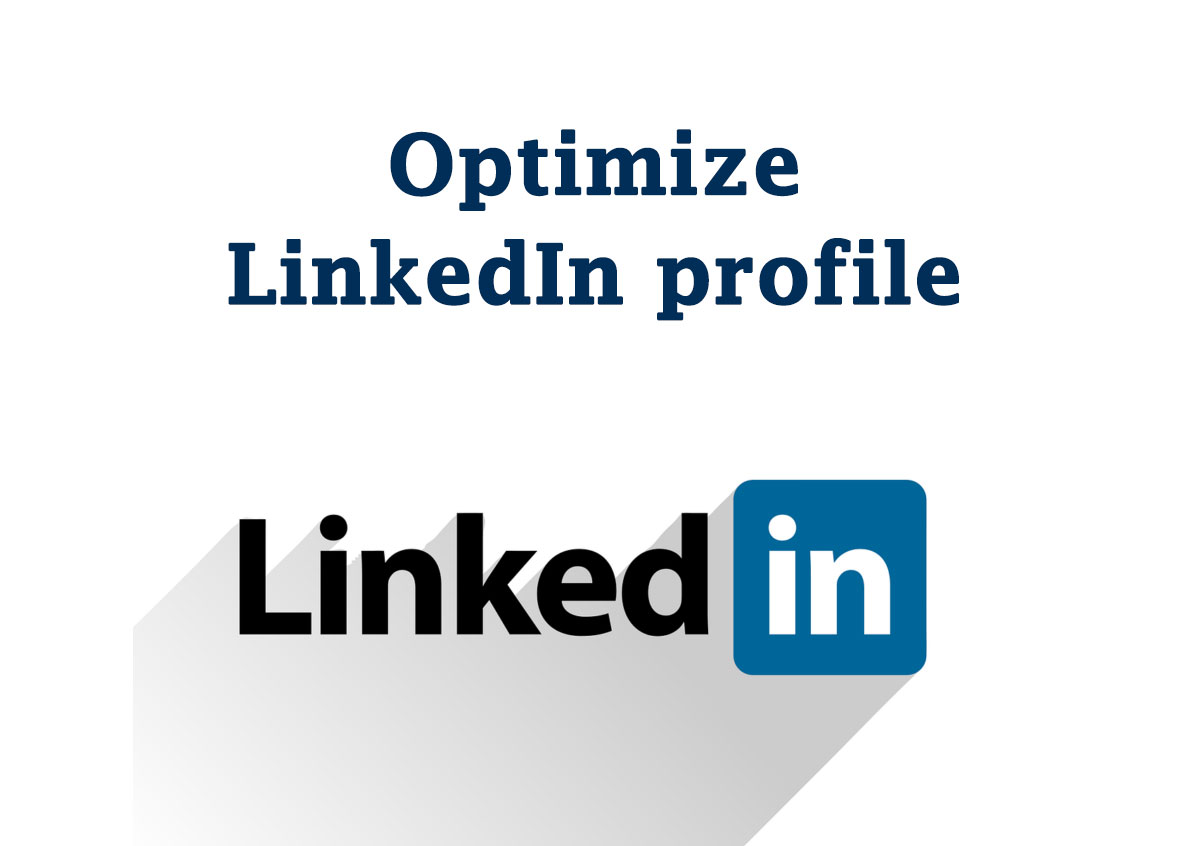 LinkedIn profile is a powerful marketing and branding tool that you should optimize as best as possible. By leveraging your profile strategically, you can increase the number of job opportunities you get and get noticed on a more global scale.
This post will show you how to do so by giving tips on what to include in your profile and how to make it look polished with some amazing visuals that are undeniable.
Table of Contents:
How to edit your LinkedIn profile?
Writing a professional LinkedIn profile
Tips to write a perfect LinkedIn profile
What not to do in your LinkedIn profile
Tips to optimize your LinkedIn profile
How to edit your LinkedIn profile?
You can edit your LinkedIn profile by simply clicking on the "edit profile" button that you'll find beside your photo in the top-right corner of your homepage. When you're inside, pay close attention to the following elements:
There are two parts of the editing process – editing of public information and editing of private information.
Editing of public information
For this part, you need to upload your picture, write a linkedin summary and some keywords. The third one is especially important, as it will get even more job opportunities for you.
Editing of private information
This is the part that employers pay attention to the most. Here, you have to explain why you are looking for a job and what do you like about your current occupation/current employer.
Use attractive linkedin background photo.
Writing a professional LinkedIn profile:
A clear profile gives a strong first impression and opens up a lot of opportunities for you.
To be able to write a professional LinkedIn profile, you need to have some basic knowledge about LinkedIn.
LinkedIn is the world's largest professional network that connects people who work in similar professions worldwide. There are more than 200 million members at LinkedIn, and over 1 million members are active daily on the platform.
LinkedIn is used by individuals looking for jobs or businesses looking to recruit employees or partners as well as recruiters and hiring managers.
For this reason, it's vital to have a strong LinkedIn profile that will get noticed. This post will tell you how to do it.
In order to have a great profile, you need to include the following:
Profile picture:
All LinkedIn profiles should have at least one photo, but make sure that the image is clear and professional-looking. If you don't want your employers to see your picture, then you can choose to write a nice text description next to it.
Profile headline:
This is the most important field in LinkedIn. It's the headline that will be displayed when people search for professionals who have similar skills and experience to you. In this section, you must include a sentence that will say why are you on LinkedIn (i.e., how you are going to use LinkedIn in your daily jobs).
Summary:
This is the first sentence of your profile that should be well-written. It should be always coherent with the headline and make it a paragraph that will get noticed by employers.
If you want to have a stronger LinkedIn profile, then let's go through some examples of great LinkedIn profiles.
"I am a technology consultant focused on software development and support teams of clients, employees, and investors. I use my skills to develop reliable, robust systems for businesses that depend on their IT systems."
This is a very professional LinkedIn profile with an awesome headline that's directly linked to the summary. This profile reflects the skills and experience of the user as he/she is going to be hired by a software development company focusing on supporting teams.
Media files:
In this part, you need to add links to your articles, blog posts or any other media file related to your field of work.
You should upload and link to your relevant media files:
a) Photos
b) Videos
c) Interviews
d) Resumes and CV's.
Make sure that the file size is less than 10 MB. Also, keep in mind that it is against LinkedIn requirements to link to videos containing copyrighted material.
Skills and expertise:
This is an extremely important area for employers as it helps them judge how good you are in your field. It's also a great chance for you to show that you are experienced in a specific area. In this section, you can add your skills and expertise, as well as different projects that you worked on in the past. Also, it's important for you to list your certifications and training. Keep in mind that employers want to know how you will fit in their culture and industry.
Qualifications and awards:
This section is a great opportunity to highlight your qualifications and experience. It's also a great chance for you to show that you have experience in different fields, as well as in different companies. When it comes to languages, it's a good idea to include your native language and your proficiency levels. Try to reflect on things like international experience and whether you have worked on projects in different countries.
Experience:
This section is directly related to the description of your experience in your summary. It's a great chance for you to include more details about the companies you have worked for and the different positions that you have held.
It's essential for you to give details about how much time did you spend at each job, your role while working at those companies and what did you accomplish. Also, add projects that you worked on during your career and achievements that are relevant to the position that you are looking for.
Projects:
This is an important part of the profile. It's a chance to show your skills and experience in different projects that you worked on in the past.
You can add a link to each of them as well as an approximate date when they were created.
This section is essential for you to highlight your professional competence and it will also help employers decide if you are the right candidate for their job vacancies.
Publications:
This is a great chance for you to link to your published articles. It's also important for you to add where and how often do you publish your work.
It's recommended to link to only one article or blog post per publication website, as it will help employers see your most recent work in an easy way.
This section helps employers understand the extent of your experience and credibility in the professional world, so it's essential that they find the content that you have created useful and interesting.
Interests:
This section allows you to add a short statement about what you like and what motivates you to do your job. It's a good idea to include the most interesting achievements that you have accomplished in your professional career.
Tips to write a perfect LinkedIn profile:
First and foremost, your profile picture should be recent and specific to your profession.
Write a clear description of yourself that is honest yet highlights the best assets to potential employers/people who can connect with you.
Introduction/summary should be less than 80 characters in length, so keep it short and crisp and avoid sentence fragments (as they appear unfinished).
Skills & Expertise section should have at least 5 skills listed with each skill having a specific example. Specific examples are recommended since they make you appear more human and relatable. Also, be sure to highlight both soft and hard skills in your summary/experience section.
Post at least 5-6 recommendations from various people/professionals who have worked with you or know you well in your professional capacity. These people should be genuine since fake recommendations can be seen right away by the person reading it (and may even hurt you if they are the hiring manager or a potential employer).
Update your profile once a month to include new skills, experience, promotions, work highlights and learnings from the current workplace. For example: "January 21, 2014 – I learned how to use Google Docs for the first time; January 22, 2014 – I helped move a family member to another city; January 23, 2014 – I am reviewing resume's applying for open roles within my department.
Linked-in is a place for professionals to connect with others in the professional sphere. There is no such thing as "a bad connection" when it comes to LinkedIn. In fact, your connections are the best way to expand your professional network—and hiring managers and recruiters have extensive access to these connections. So make sure you are connecting with the companies and people that can help you get ahead through their networks.
Create a list of relationships that will be helpful (e.g. recruiters, companies you want to work for, friends of friends, alumni from your college) and connect with them.
Reply to others' posts and share their updates so that it shows up on your profile and in your feed. This is a great way to get noticed by recruiters. It also creates networking opportunities when people look you up after they see their updates on LinkedIn.
Add external recommendations to your profile using the When you recommend others to add them as connections, it gives you a chance to show details about you and what your skills are that will be visible when people look at your profile.
Use relevant keywords for your job title since recruiters use these terms to help search for people like you and also provide a wide range of suggestions for appropriate roles.
Keep your profile updated and relevant by adding information about new projects and job experiences that have newly come to light.
What not to do in your LinkedIn profile:
A profile that is not optimized is 60 times less likely to be viewed by recruiters and 53 times less likely to be viewed by employers.
Having more than one picture in your LinkedIn profile will decrease the likelihood of employers viewing your profile by 7%.
Using a headshot photo, as opposed to a shot of yourself in an office or posing with your family, will make you seem 8% more professional.
Make sure your profile photo is modern and not an old style of headshot. Specifically, no sunglasses, hats or crazy hair colors. A high quality photo will be 17 times more likely to be viewed by recruiters and employers.
Your headline is one of the most important elements in your profile and must be 25 characters or less (typically not more than 90 characters).
Use keywords from the job listing in your summary to improve search results for recruiters and employers. Using 20 to 30 keywords will increase your chances of a successful outcome by 6%.
If you're using a personal website or blog, be sure it's complete. Your LinkedIn profile requires much more characterization and in-depth content than your personal website. Maximize the information on your profile to increase the chances of a successful outcome by 15%.
Also make sure that everything in your profile is accurate (i.e., correct spelling). Careless mistakes and typos will decrease your chances of a successful outcome by 8%.
A summary in your profile that's longer than 2-3 lines will decrease the chance of employers viewing your profile by 33%.
Use action words in your headline and summary, rather than passive words. For example, "Tap into my experience" versus "Experience."
Don't add Super Icons or indicators to your headline or summary because it will make you look like you're bragging.
Tips to optimize your LinkedIn profile:
Here are the top tips to optimize your LinkedIn profile:
Upload a professional photograph of yourself:
LinkedIn is the first place that recruiters search for potential candidates, so it is important that your profile picture gives an impression of professionalism.
Add a tagline or headline to your profile:
Your headline can be the first thing to be read when a recruiter visits your profile, so make sure it communicates well what you are about and what value you can offer. It should also be no more than 3 lines long.
Add keywords:
The recruiters are using search engines to look for candidates. They can only find your profile when you use the right keywords to describe yourself. So make sure you add your core competencies and key skills into the headline and profile summary.
Upload a professional cover photo:
It's a good idea to have a photo of yourself on the top or bottom part of your profile page. Make sure that the image is professional and eye-catching, and that it communicates what value you can offer.
Connect with others:
LinkedIn is not just about your professional profile, it's also about getting to know people. By connecting with others you don't only start a conversation, but also create an impression that your profile is worth looking at.
Have a link to your blog or website:
LinkedIn won't allow employers to reach your blog directly, they will have to search for it on the Internet (for example by using Google). So make sure that your website has a name that is easy to remember and easy to search for.
Have a summary of your profile:
Most visitors just read the first couple of lines when they read your profile, so make sure to start with a powerful sentence. You've got only about 3-4 seconds to catch the reader's attention here, so keep it short and snappy.
Keep it up to date:
It's easy to forget about updating your LinkedIn profile, but the recruiters are using this site regularly and if they discover outdated information they will move on to the next candidate.
Apply for jobs:
One advantage of LinkedIn is that you can get contacted by job opportunities that are relevant to your profile. This can often result in a free phone interview, so be sure to do this regularly and make sure that your application is perfect.
Recruiters will also leave comments on your profile:
If you don't display your comment history, people may think that you are not quite as professional as you claim to be. So make sure to keep track of what recruiters say about you.
Build a network of connected people:
There's more than one way to get new connections on LinkedIn. You can find people using LinkedIn's advanced search option, or you can use your existing contacts to get introductions.
Show your connections that you're worth connecting with:
The first impression is important when meeting someone for the first time. Recruiters will also judge you on the quality of your network before deciding whether to approach you or not. So make sure that your network gives an impression of high professionalism and intelligence.
Key Takeaways:
The most important part of a LinkedIn profile is your professional photo.
While your headline should be no more than 3 lines long, it should engage the reader and communicate what value you can bring to the table.
Add keywords to describe yourself to make sure that recruiters find you through a search engine when they look for new candidates.
Upload a professional cover photo so that your profile will give an impression of professionalism and competence directly on the first page of search results within its domain: LinkedIn.com
Connect with others to show them that your profile is worth looking into.
Make sure that your contact details (email address, phone number and website) are displayed prominently on your profile to make it easy for people to contact you in the future.
Keep it up to date by updating your profile regularly and adding new content regularly so that you always stay at the top of everyone's mind when thinking about potential candidates for a job opening.