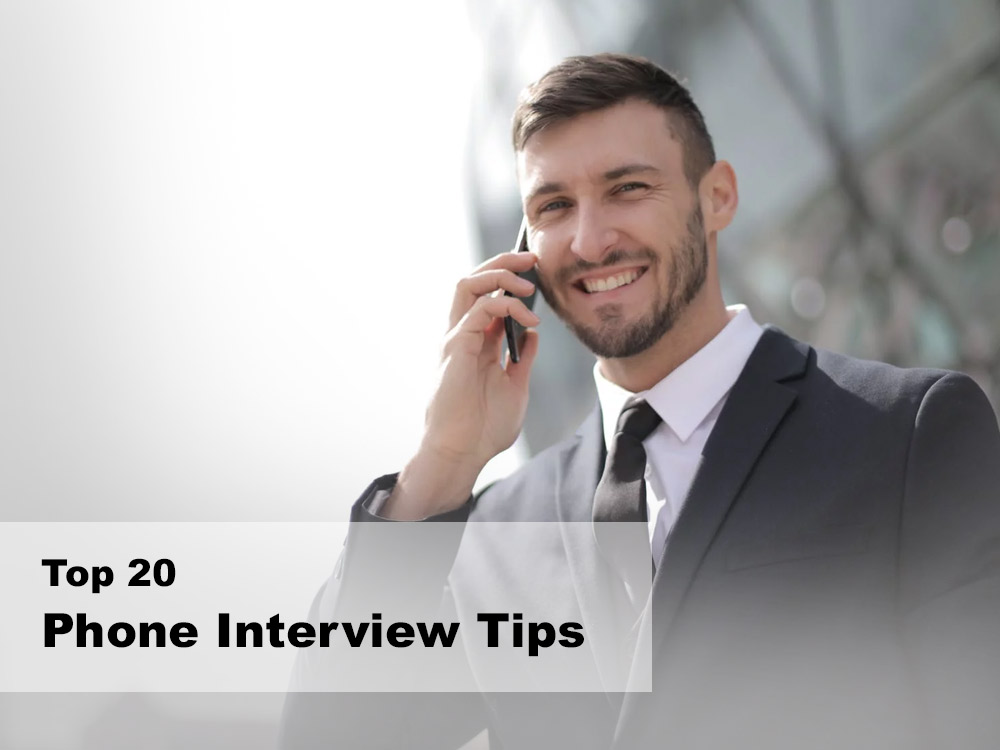 Top 20 Phone Interviews
It's so exciting to think that you could have a simple phone interview with all of the standard interview questions that you're used to, and then get the job. That's the magic of modern technology. However, the seemingly "casual" way of having an interview does have its tricks and tips to know about.
A phone interview is not just another phone call, after all. It's a formal interview that must be taken seriously. If you've got an important interview coming up, here are some interview tips to help you land that dream job the right way.
1. Charge your phone:
Since most of us have cell phones, a low battery can be a problem. Make sure your phone is fully charged and ready to go about 15-20 minutes before the scheduled time of the interview.
2. Do a test call:
To make sure that there are no hiccups, ask a friend to give you a call about 30 minutes before the scheduled interview time. This will also help you test audio levels on their end as well as your own.
3. Dress for the call:
Even though it's a phone call, it's best to dress to impress. This will make you see that it's a professional call and you will be in the right state of mind.
4. Find a quiet space to take the call:
This is especially important if you live with family members or roommates. Find a space that is quiet and free of interruptions so that you can hear the interviewer easily and they'll be able to hear from you, too.
5. Answer the call promptly:
When they call, answer quickly so that they know you were waiting for it. Most people will answer on the second ring. Don't let it go four or five rings, as it implies you are running late.
6. Know who is calling you:
It's a good idea to know the name of the person calling you so that you can greet them personally if the situation presents itself.
7. Do your research on the company:
Before the call, just like any other interview, you'll want to do your research on the company in all ways applicable to what you're applying for.
8. Make sure you're familiar with the job description:
Understand the job that you are applying for, including the expected background and education as well as tasks assigned to the position itself. This will make sure there are no surprises.
9. Try to anticipate questions related to the description:
It's still a good idea to go over common interview questions in advance so that you know how to answer some of the trickier ones. Hesitation can often be more palpable on a phone interview.
10. Engage with the speaker:
Make sure to exchange pleasantries and made acknowledgment sounds when they are explaining something to you. It shows that you are an active listener and engaged with the conversation. They can't see your body language like in a traditional interview, so audio cues become important.
11. Have a professional tone:
In your speaking, make sure that you keep a professional tone. Speak at the right volume with the right cadence and use professional language. A phone call is casual, but an interview is not.
12. Don't rustle in the background:
From paper to gum wrappers to radio, all background noises will be amplified on a phone call. No rustling to distract from the call itself even if it seems harmless like clicking a pen out of nerves.
13. Don't be fooling around with something during the phone call:
The moment that you start playing around with something around you, you become distracted. This distraction will be easily picked up by the interviewer and it will reflect poorly on you. Focus on your notes and resume (or whatever you have for the interview) and stay focused.
14. Don't interrupt and smile often:
While interrupting can be easy on the phone, do your best to keep from interrupting. Allow a gap of a full second before replying to tonsure your speaker has finished. If you do interrupt, stop talking and apologize. Also, smile often. The speaker will be able to hear it and it will help you seem more professional.
15. Keep your resume and any questions you have ready:
Your resume and notes, as well as questions that you have, should be kept at the ready so that you don't need to hop off your bed or something in order to grab them. Again, professionalism and preparedness will be questioned.
16. Speak slowly and calmly:
We all talk fast on the phone. But, slow down and speak slowly and calming to ensure that the other person isn't getting the garbled conversation that they can't understand. This should be done even if the other person is talking quickly.
17. Don't get distracted:
Whether it's a tablet screen, someone moving in the doorway, a pet, keep it all out of your interview space. Keep reminding yourself that this is a formal interview and ignore everything but that person's voice.
18. Turn off your phone notifications while on the call:
Social media, games, text messages can all interrupt a question or, worse, your reply, easier than you'd imagine. Turn them all off as soon as the phone call starts.
19. Send a follow-up email with thanks:
After the interview, send an email thanking the person for their time and interest. It shows that you saw that phone interview as a professional one and it goes a long way to show how much you love your job.
20. Learn from your performance and tweak it for the next one:
Positive or negative, learn from how the phone call went so that you can adjust your performance and make it even better for the next interview.
Create your professional resume for free using our resume builder!
Your dream job is waiting and all that stands between you and it is a phone interview. Make sure that you are properly prepared by, well, treating it like a formal interview. It will do wonders for their first impression of you and you'll feel like you're a true professional as well.
Check our Free resume builder now.
Related Articles:
How to Write a Resume
What is a Functional Resume?
Best Resume Formats