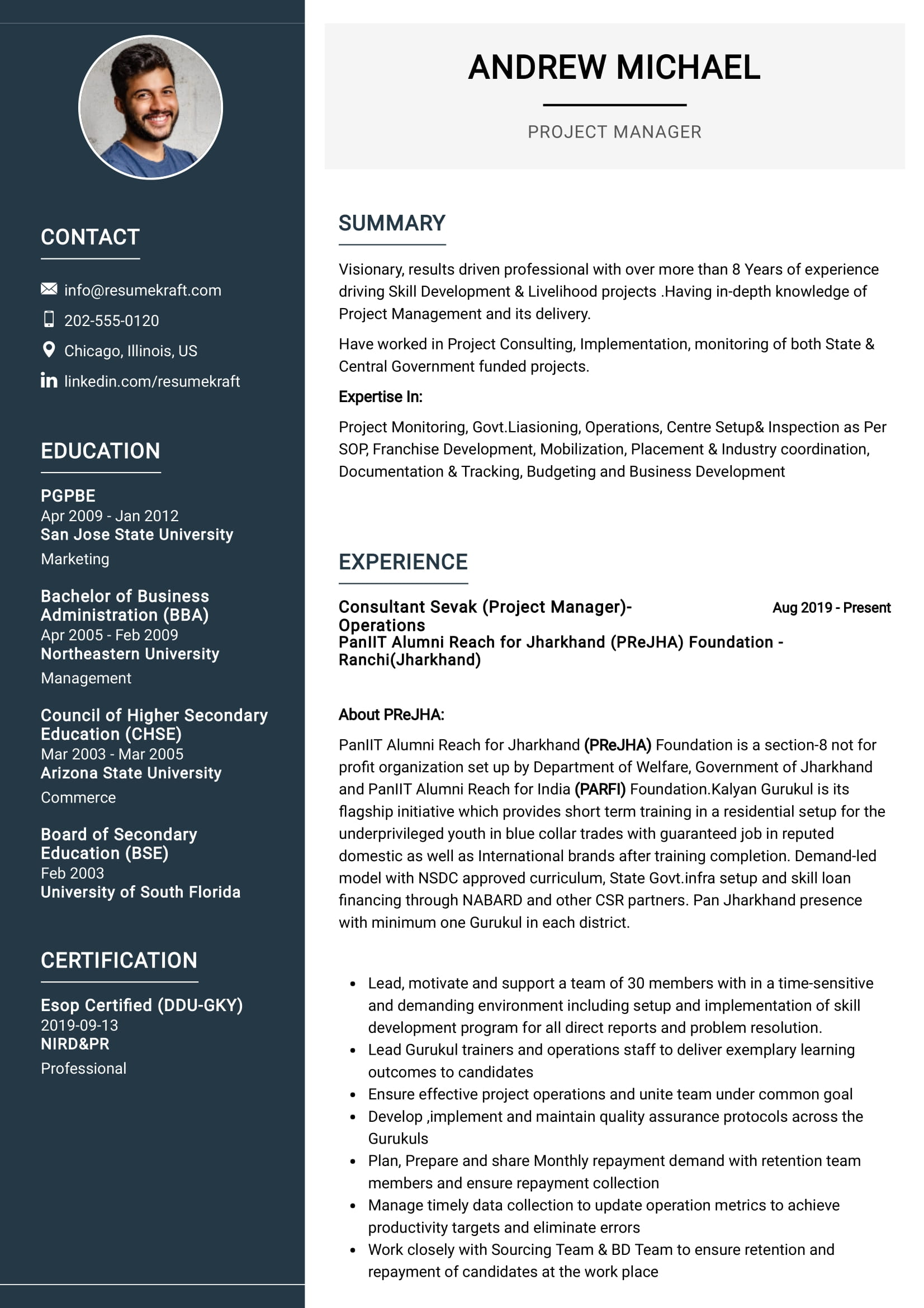 Discover 19 actionable Project Manager Resume examples for the job in 2023! Dive deep into skills, summaries, roles, responsibilities, and industry-specific resumes like construction project management. This comprehensive guide includes examples and tips for both experienced professionals and entry-level project managers.
In the fast-paced world of project management, having a robust and compelling resume is crucial. After all, it's the first impression you give to your potential employer. If you're striving to level up your career game in 2023, this guide will provide you with 19 influential Project Manager Resume examples to secure your dream job. We'll explore everything from essential project management skills to entry-level resumes, and even the specific case of construction project management. Buckle up and let's steer your career to the next level!
As a project manager, your job is to plan, execute, and oversee the completion of projects, but your first project starts with crafting a standout project management resume. A successful resume showcases your abilities in leadership, problem-solving, and organization, while highlighting your skills and experience that are most relevant to the job at hand. Here's an in-depth guide on crafting the best project management resume that will impress your potential employers.
Explore and choose from the resume templates below, tailor them to your needs, then download your customized version in PDF format. Get started now!"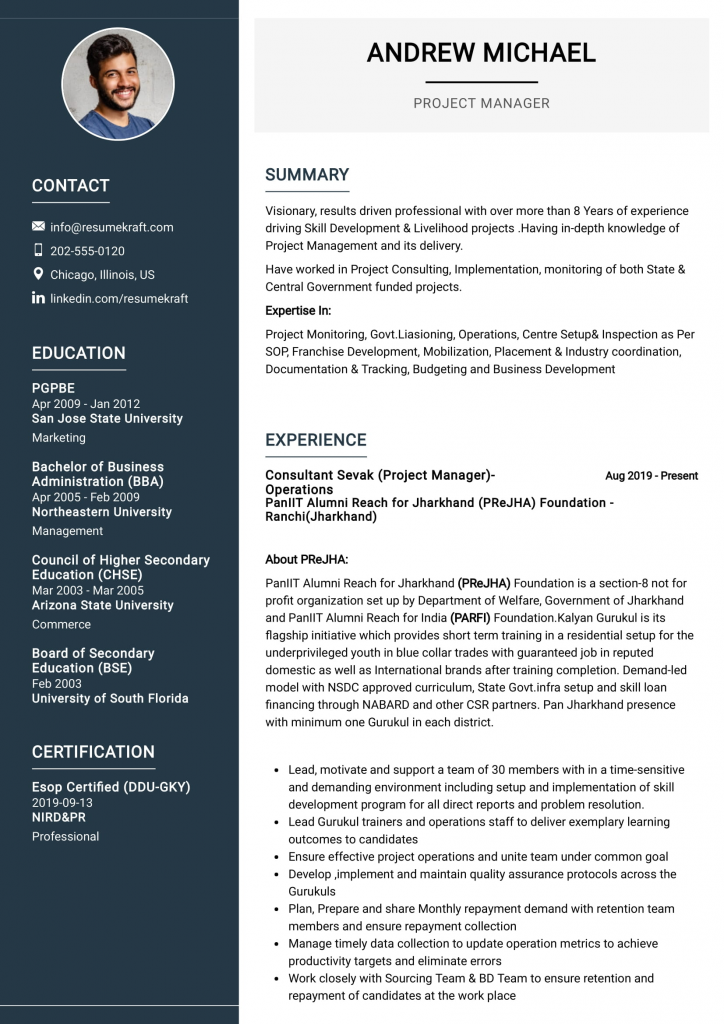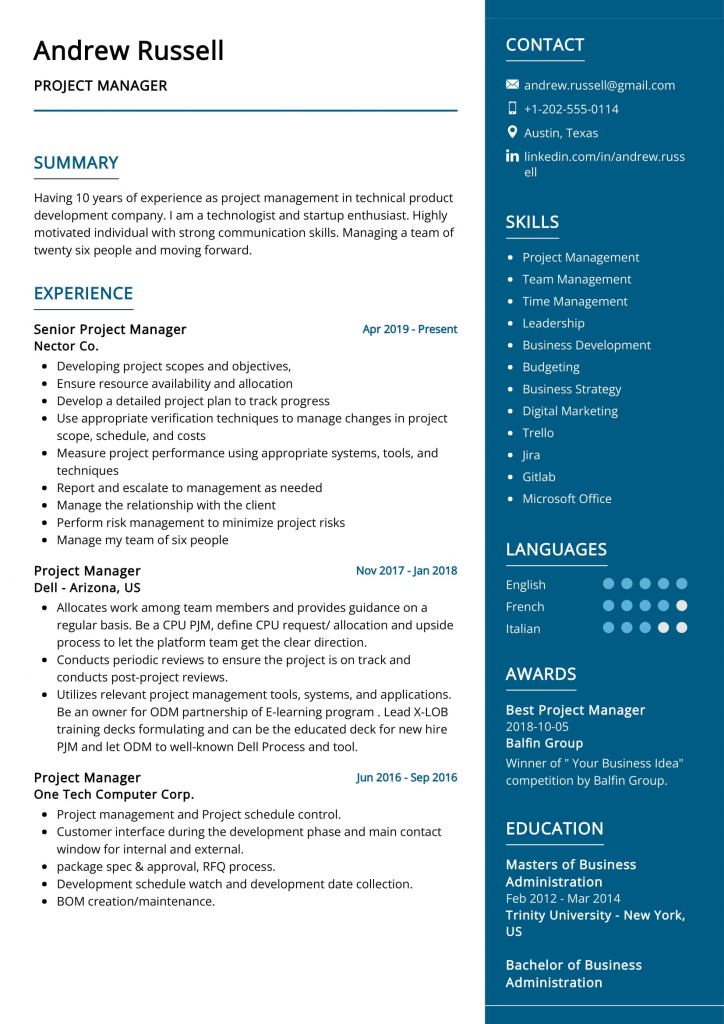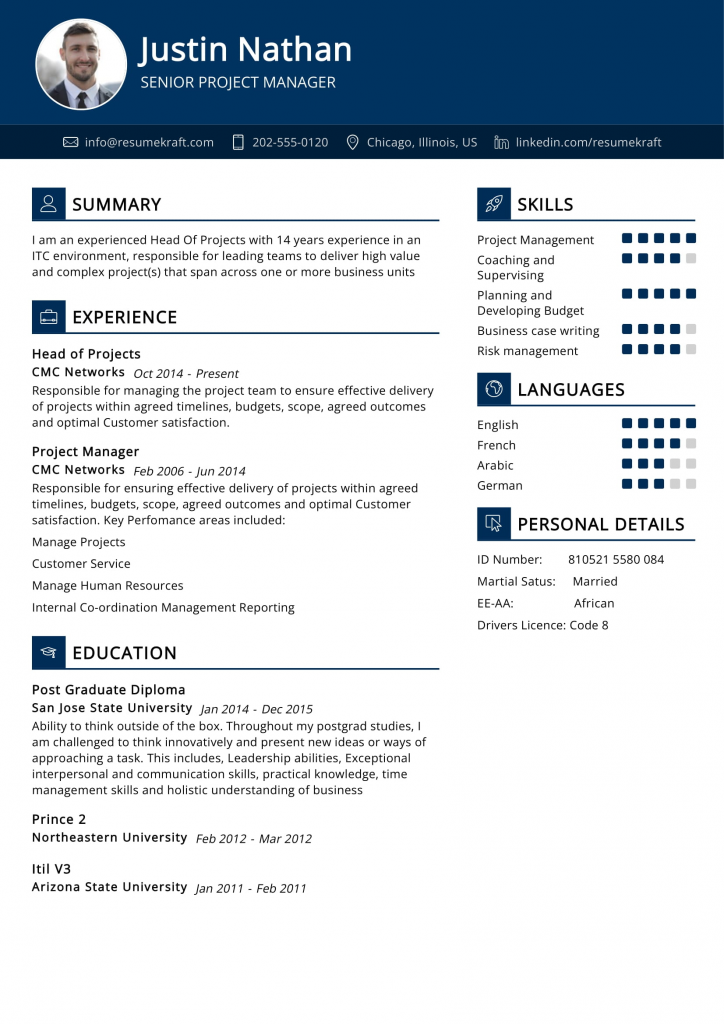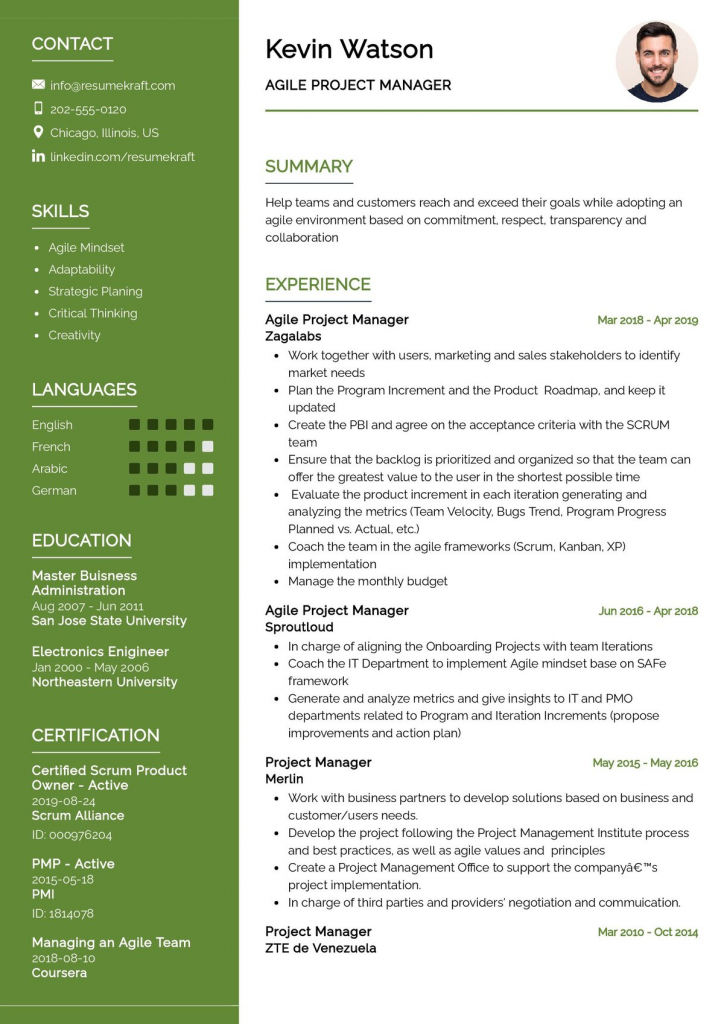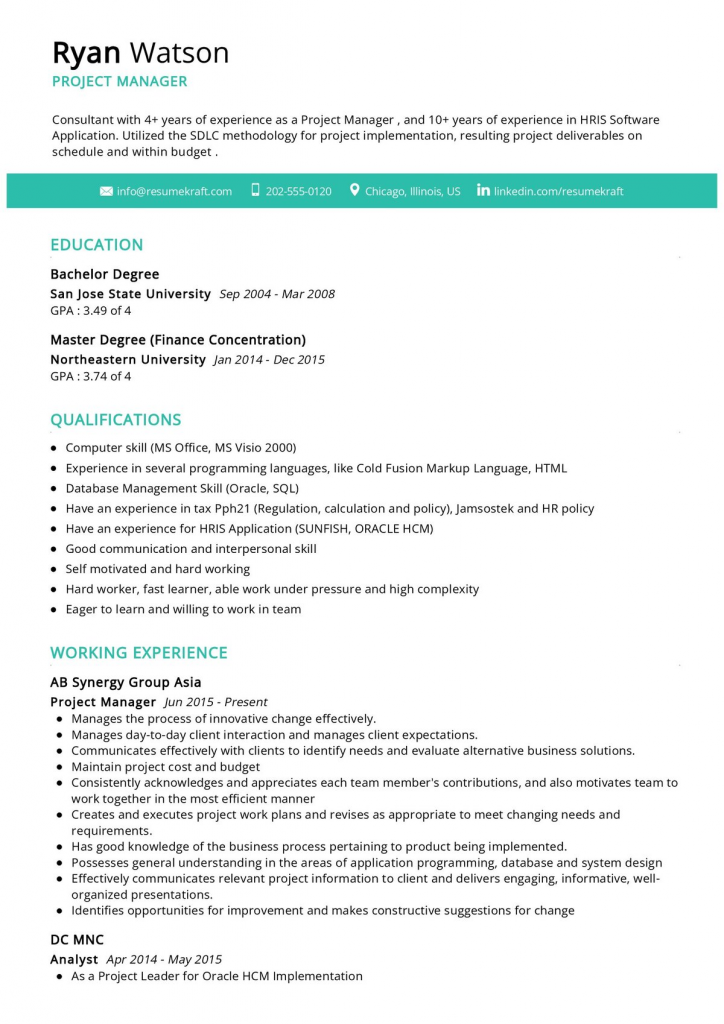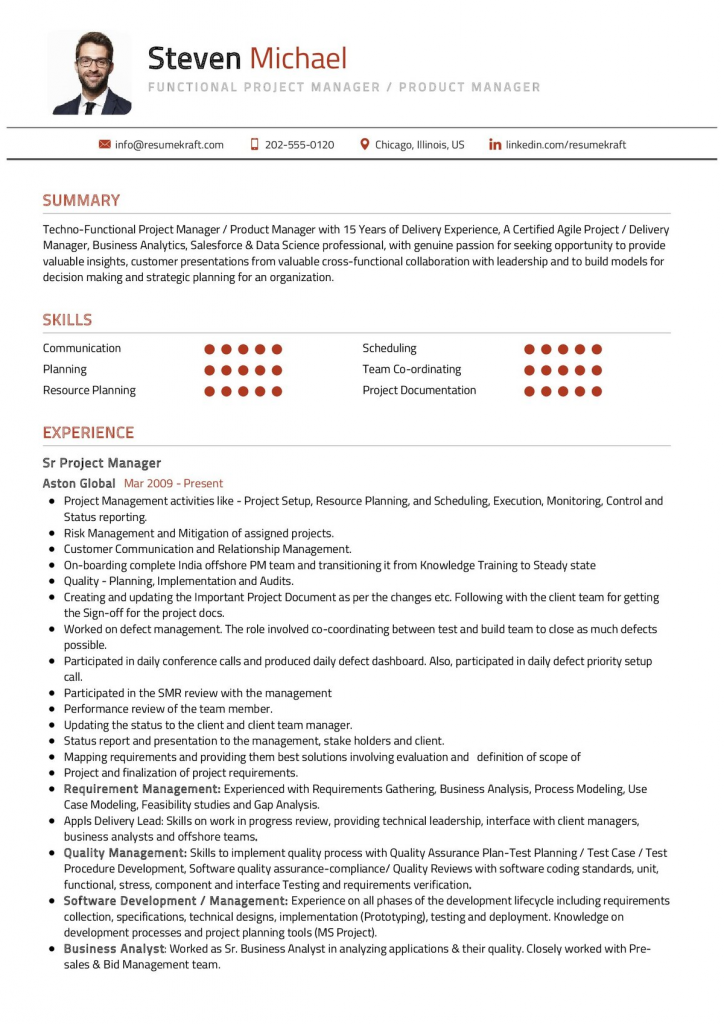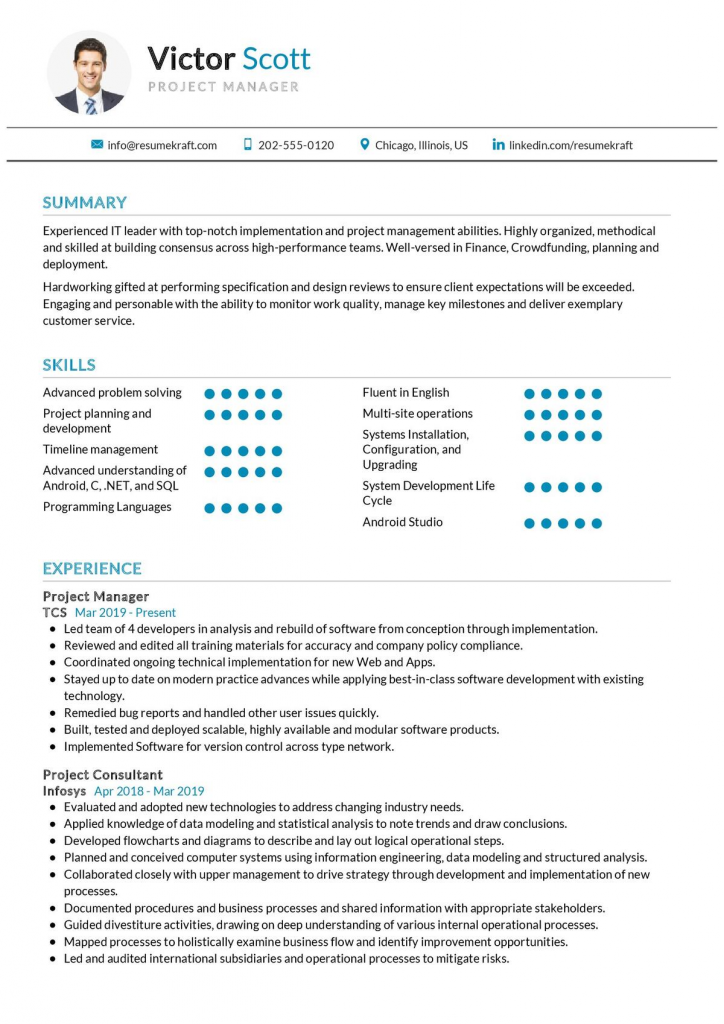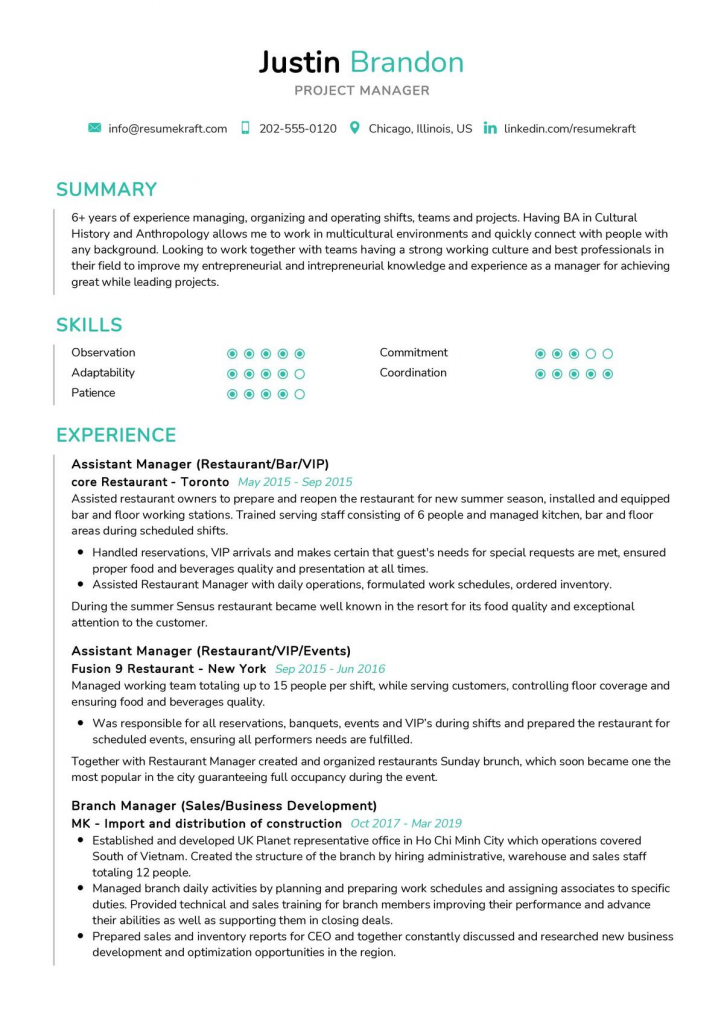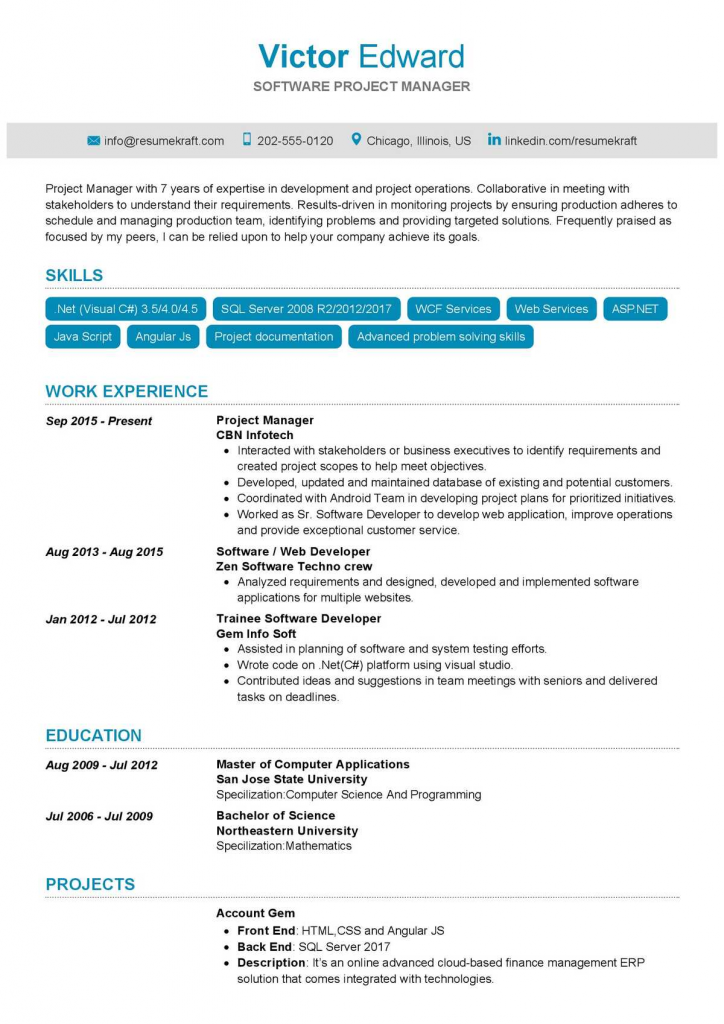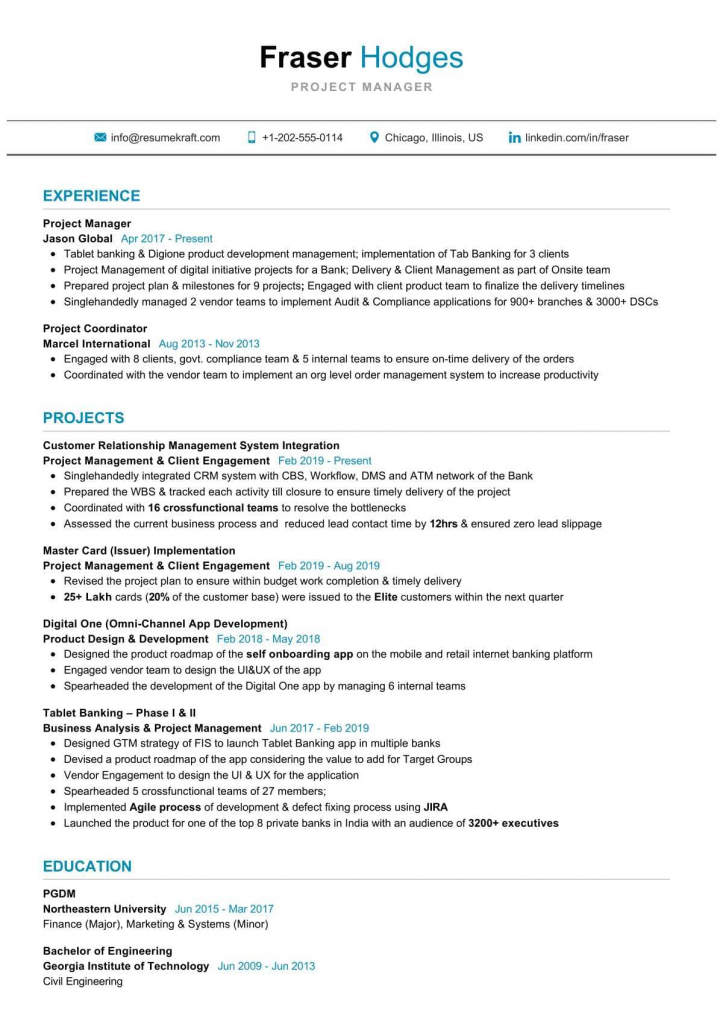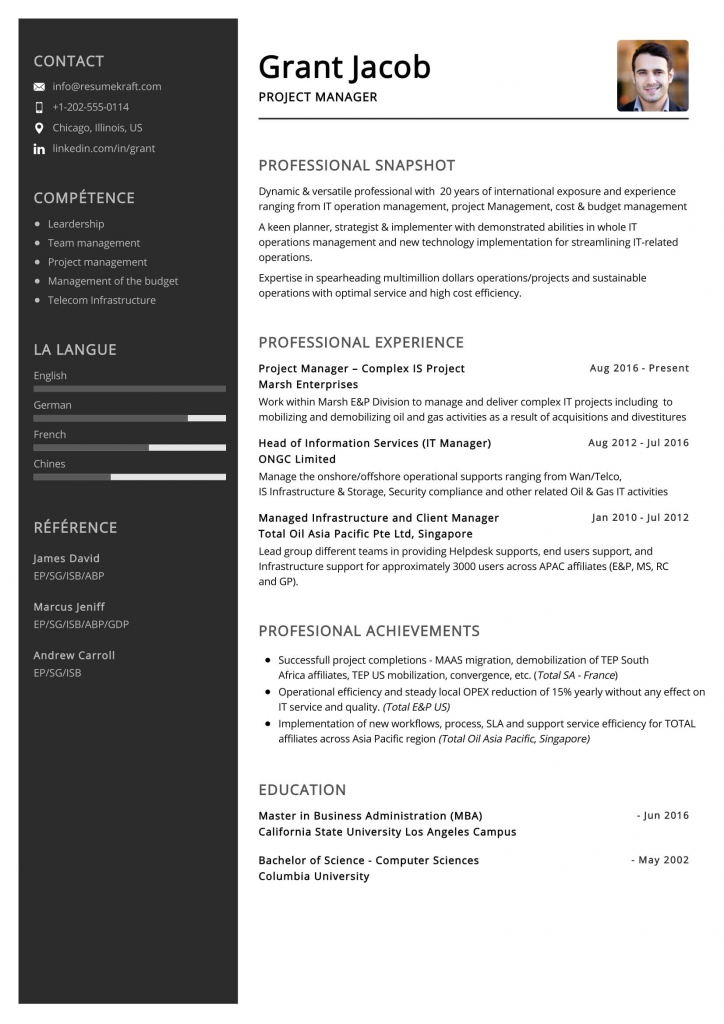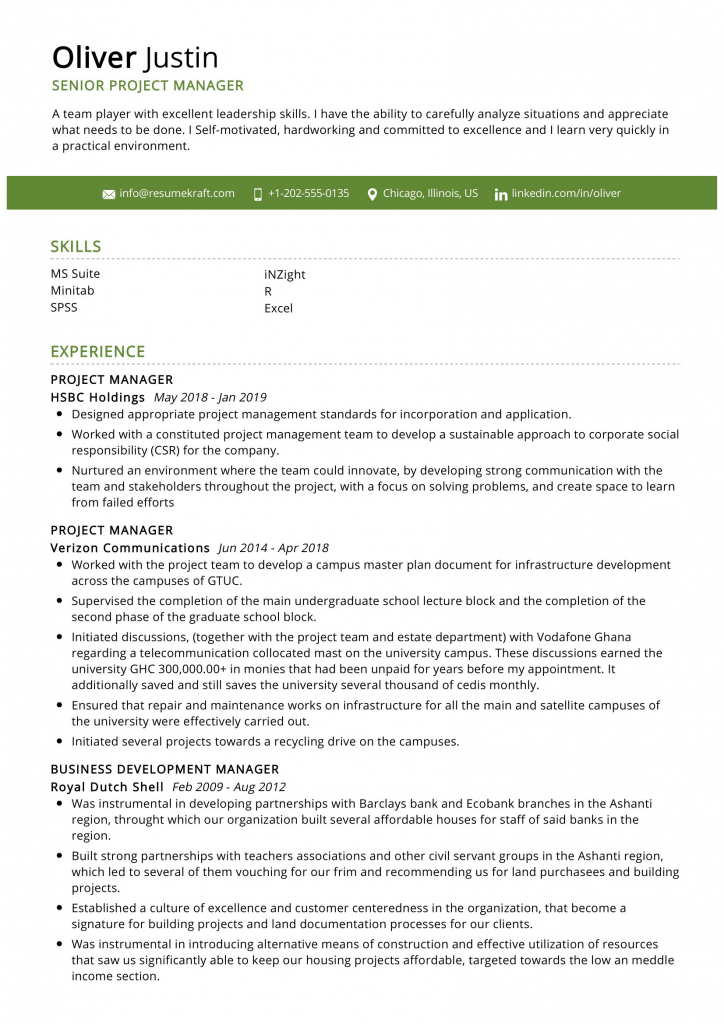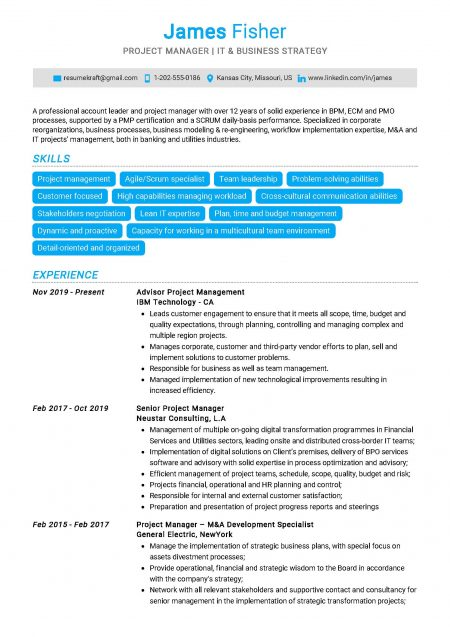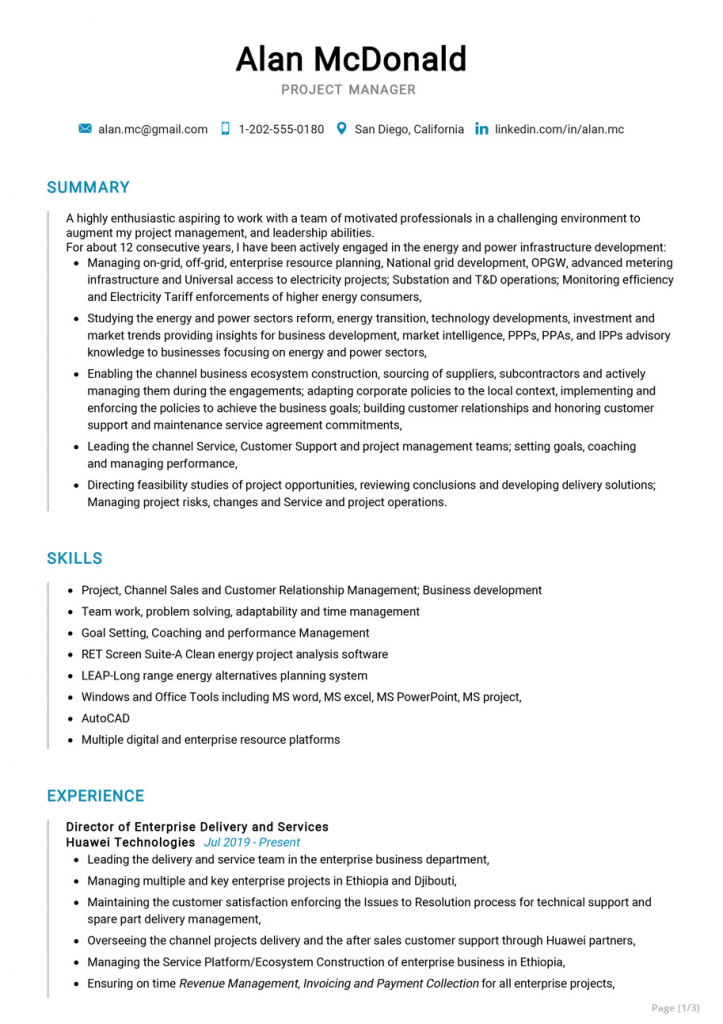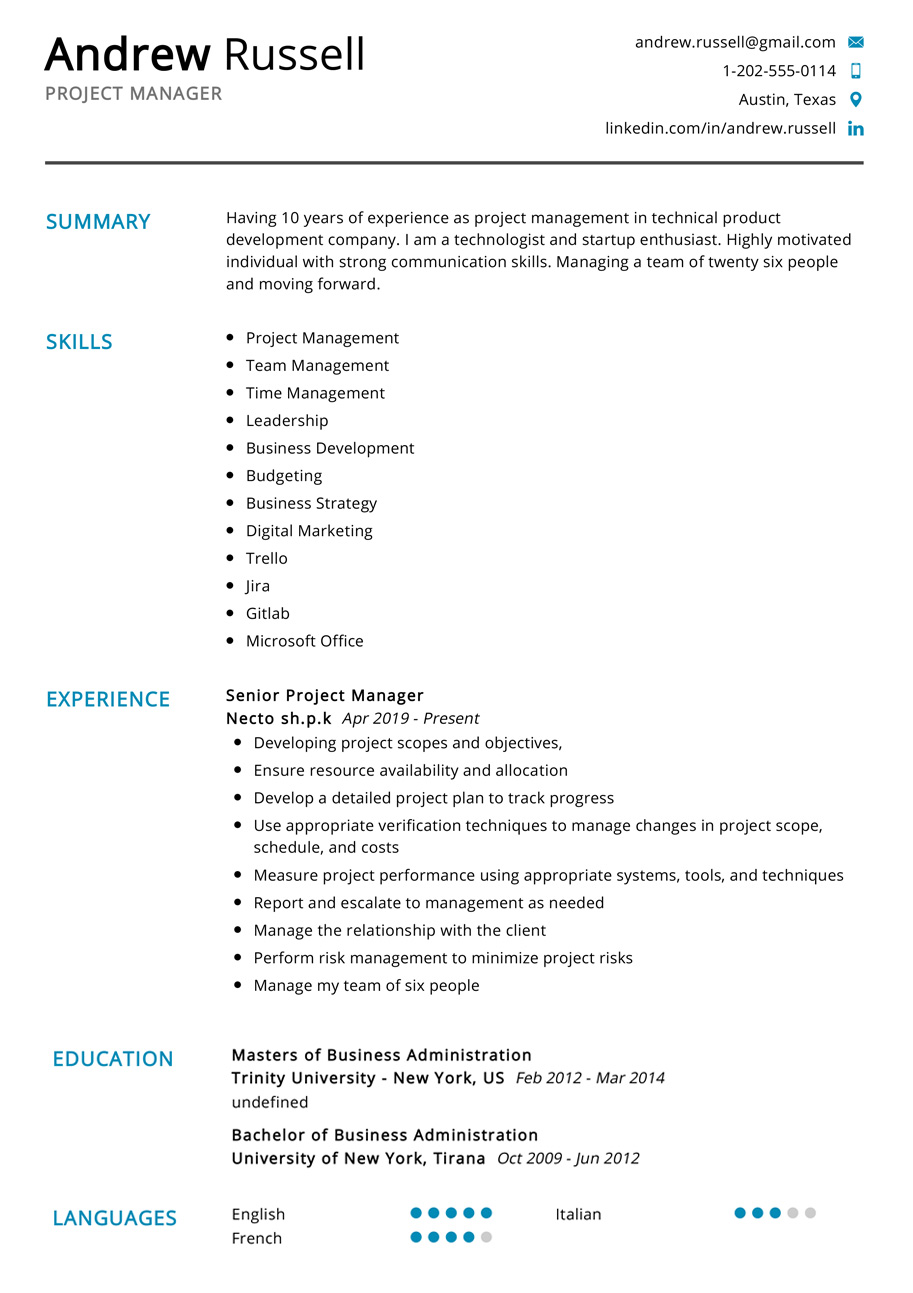 Essential Project Management Skills
Every project manager's toolbox should be filled with a diverse set of skills. These span both hard, technical skills and soft, interpersonal ones. Here are the most sought-after skills in the project management arena:
Leadership: Good project managers are also excellent leaders. They have the ability to inspire their teams, guide project execution, make tough decisions, and take accountability for the project's successes and failures.
Risk Management: The ability to identify potential risks and design strategies to mitigate them is paramount. A good project manager will have processes in place for risk assessment and management, increasing the project's chances of success.
Communication: Excellent communication skills, both written and verbal, are crucial. Project managers must effectively communicate project plans, expectations, updates, and feedback to team members, stakeholders, and clients.
Negotiation: Project managers often find themselves in situations where negotiation skills are required. Whether it's negotiating project scope with a client or resolving conflicts within the team, this skill is vital.
Budget Management: Successful project management involves completing the project within a set budget. Understanding financial planning, cost estimating, and budget monitoring are all part of this competency.
Time Management: Project managers juggle multiple tasks, deadlines, and dependencies. Time management and organizational skills are crucial for ensuring everything runs smoothly and tasks get completed on time.
Entry Level Project Manager Resume
Breaking into the world of project management as an entry-level professional can be challenging, but a well-crafted resume can make all the difference. Here's how to structure your entry-level project manager resume to showcase your potential.
Highlight Your Education and Internships
Your educational background and internships are crucial at the entry-level as they provide the foundation for your understanding of project management.
Education: If you've completed a degree in project management or a related field, be sure to mention it. Include any relevant coursework, such as project planning, risk management, or team leadership. For example:
"Bachelor of Science in Business Administration, University XYZ, 2023. Focused on Project Management, with coursework including Project Planning, Risk Management, Team Leadership, and Business Communication."
Internships: Internships provide valuable real-world experience. Detail the organization's name, your role, and the key responsibilities you handled. Mention any projects you were part of and explain how you contributed to them. For instance:
"Project Management Intern, Company ABC, Summer 2023. Assisted in planning and executing a major software upgrade project impacting 500+ users. Responsibilities included developing project timelines, assisting in risk assessments, and coordinating with the IT and user teams."
Showcase Transferable Skills
Even without extensive project management experience, you can demonstrate potential through transferable skills. These are skills you've gained in other roles or experiences that are relevant to project management.
For example, if you've worked in a customer service role, you've likely developed strong communication and problem-solving skills. Or, if you've been part of a club or sports team, you may have gained team leadership or organizational skills. Example:
"Customer Service Representative, Retail Store DEF, 2021-2022. Enhanced communication and problem-solving skills while handling customer inquiries and resolving issues. Frequently praised for excellent customer satisfaction ratings."

"Captain, University XYZ Football Team, 2022-2023. Led a team of 15 players, organizing schedules, coordinating with coaches, and resolving conflicts. Under my leadership, the team made it to the regional finals in 2023."
Certifications and Professional Development
Any certifications or professional development courses you've completed can strengthen your resume. These demonstrate your dedication to learning and understanding the field of project management. Include any relevant certifications like CAPM (Certified Associate in Project Management) or courses from platforms like Coursera or LinkedIn Learning.
"Certified Associate in Project Management (CAPM), Project Management Institute, 2023."

"Completed a professional course on 'Introduction to Project Management Principles and Practices' from Coursera, 2023."
Strengths and Skills
Highlight your strengths and skills relevant to the project management field, such as time management, attention to detail, leadership, communication, and risk management. Be sure to give examples of how you have demonstrated these skills in the past.
"Strong Time Management: Balancing rigorous academic coursework with a part-time job and leadership role in the university football team, demonstrating the ability to prioritize and manage time effectively."
Remember, an entry-level resume's goal is to showcase your potential, dedication, and understanding of project management principles. With this structure, you can build a strong resume that highlights your abilities and sets you on the path to a successful project management career.
Final Thoughts
A stellar resume can open the door to the next level of your project management career. Whether you're just beginning as an entry-level project manager or are an experienced professional looking for advancement, crafting a resume that showcases your skills, experiences, and achievements is paramount.
Always remember to tailor your resume for each job application, aligning your qualifications to the specific needs of the role. This comprehensive guide has provided you with an array of examples, from emphasizing your project management skills, designing a construction project manager resume, to writing an impressive project manager resume summary. Best of luck in your job search and future project management endeavors!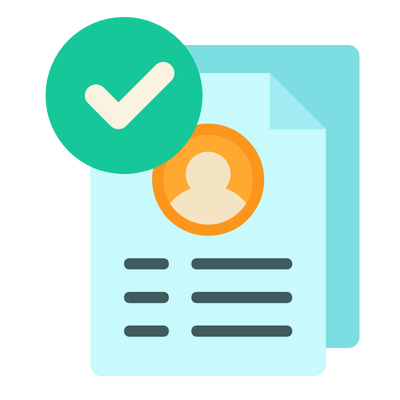 Build your resume in 5 minutes
Our resume builder is easy to use and will help you create a resume that is ATS-friendly and will stand out from the crowd.
Recommended Reading: